The Flames of Paris, Bolshoi Ballet, Royal Opera House |

reviews, news & interviews
The Flames of Paris, Bolshoi Ballet, Royal Opera House
The Flames of Paris, Bolshoi Ballet, Royal Opera House
Emotion and politics skilfully combine in Ratmansky's old-new ballet about the French Revolution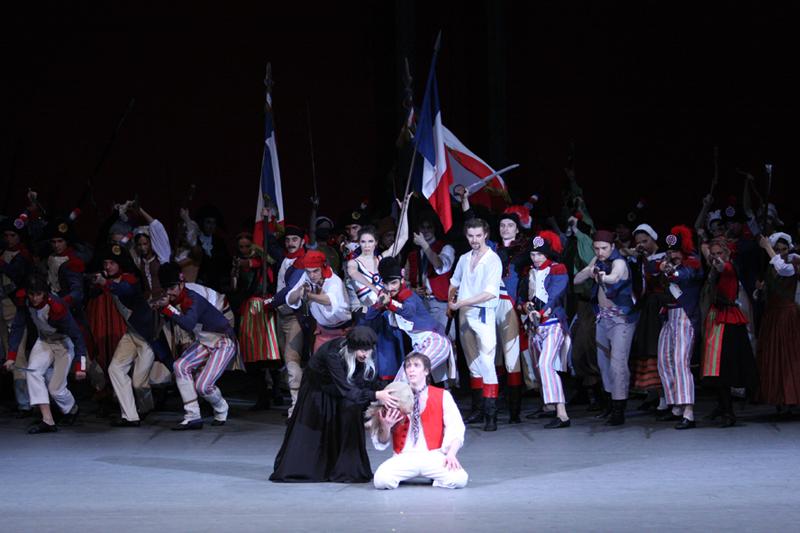 Revolutionary injustice: Denis Savin as Jerome in the final tableau of Alexei Ratmansky's 'Flames of Paris'
The Flames of Paris, in Alexei Ratmansky's 2008 reworking, is a ballet of contrasts. Between the first and second acts, so different in pace and quality, between the naturalistic intimacy of certain pas de deux and the stylised posturing of the crowd scenes, between the tedious masque in Act I and the fireworks show-off variations in Act II, between the liquid velvet blood-red curtains and the flat black-and-white line drawing sets.
But it works, and that's down in large part to the choreographer's clever transformaton of the Stalin-pleasing Soviet ballet by Vasily Vainonen into something much more equivocal and critical – without losing the charm and energy of the 1930s, an era of ballet innovation Ratmansky admires. The heroes may be cheery sans-culottes who storm a royal palace and execute the courtiers, but the final tableau, of a heartbroken man kneeling alone with the head of his innocent, guillotined girlfriend while his comrades cavort joyously en masse to Ça ira, is a nicely chilling reminder that class warfare is no respecter of individual happiness.
It's a ballet with plenty to say about ballet itself The force of this twist is no less for its being unexpected after a first half which sets the honest, fraternal forces of revolution against cartoon feudal baddies: a Marquis (Semyon Chudin) who gropes peasant girls and imprisons peasant boys, and a powdered, bewigged and out-of-touch court complete with childish Louis XVI (Denis Medvedev) and lascivious Marie Antoinette (Maria Zharkova). Though sitting through the first act was tedious at the time, in the retrospective light of the ending it felt like a deliberate slow build; a lesson, too, in the deceptions and confusions of history as lived experience (it's rarely clear until afterwards who the real villains were).

It's a ballet with plenty to say about ballet itself, referencing both the art form's origins in decadent Versailles and its 20th-century evolution into a much more versatile, popularly expressive genre, but drawing a cynical question mark under any idea that high art can ever shake off its partnership with power. The masque performed for the courtiers in Act I is not so different from that performed for the revolutionaries in Act II; art can be the tool of power, whatever colour its cockade, and as such has a certain complicity. The actors Mireille de Poitiers and Antoine Mistral, who were the heroes of the original ballet, here appear as much more slippery characters, switching a little too easily from aristocratic masque to tricolore-spangled allegory.


Ballet as propaganda and proxy arena of politics are themes close to the bone for the Bolshoi, giving a genuine bite to the company's obvious love of the ballet, which also plays to their strengths in character acting and technical display. Ekaterina Krysanova as straightforward peasant heroine Jeanne has not just the red hair but the sweetness, spark and cleverness of Anne of Green Gables; her Jeanne is a timid girl at the beginning, whose shedding of inhibitions as she imbibes revolutionary spirit is both charming and an understated picture of how enthusiasms and ideologies can warp personalities.
Igor Tsirkvo plays her love interest Philippe, a role strongly associated with loveable Ivan Vasiliev and his improbable jumping powers. The obvious extra concentration Tsirkvo needs to execute the leg-twising fireworks of his Act II variations ends up working well as a character trait, giving his pleasant-faced Philippe an undertone of plausibly grim revolutionary determination which is not evident in Vasiliev's more nonchalant joie de vivre. The emotional heart of the ballet is carried by Denis Savin, who plays Jeanne's brother Jerome as a sweet, gangly, idealist – a slightly shambling, open-hearted complement to Krysanova's crisp little firecracker. He and Nina Kaptsova, as the aristo girl he loves then loses, share a deeply touching pas de deux, full of hope and love tinged with fear and uncertainty – a real slice of Ratmansky at his best. (Pictured above right: Kaptsova and Savin)
It's a shame that the first act masque is such a crashing bore, since both Anna Tikhomirova and Artem Ovcharenko (a late subsitution for Yulia Stepanova and Denis Rodkin, due to injury) are well worth watching: Tikhomirova combining the languid arms of a Smirmova with the snapping black eyes of an Osipova, while Ovcharenko is blessed with impeccable lines and natural, if diffident, stage presence; in his account of the dying Rinaldo (one of the ballet's daftest moments, with those Furies in black fairy wings) was the clear shadow of the fine Albrecht he must be.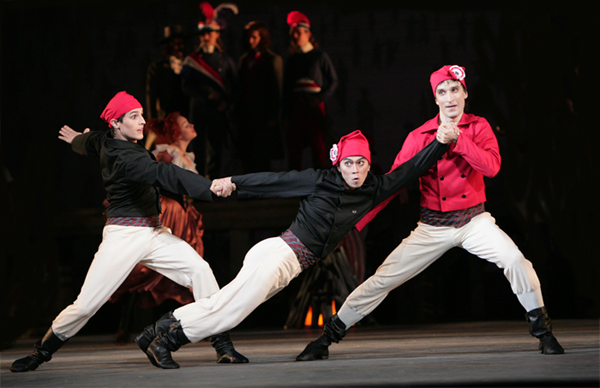 There is not much to say about the corps de ballet except that they were enthusiastic; the choreography for them (whether playing courtiers or sansculottes) veers between massed character dances, which ride Boris Asafiev's music charmingly but have little intrinsic choreographic interest, and the slightly Expressionist sequences that are the balletic equivalent of muscular propaganda posters; Vainonen's regional dances in Act II (pictured above) are the high-spirited exceptions which complement the show-off pas de deux they precede. A certain amount of ragged timing and muddied footwork was noticeable across the board: perhaps first night jitters, perhaps under-rehearsal.
It's not what you expect at the beginning, but by the end, subtlety and emotional honesty have won out over crude cliché. The Flames of Paris is a ballet that sticks in your mind long after curtain down. Vive Ratmansky and the Bolshoi: a fine partnership indeed.