Hobson's Choice, Birmingham Royal Ballet, Birmingham Hippodrome
Hobson's Choice, Birmingham Royal Ballet, Birmingham Hippodrome
Delightful, lovable comedy that's David Bintley's finest and most entertaining work
Thursday, 23 February 2012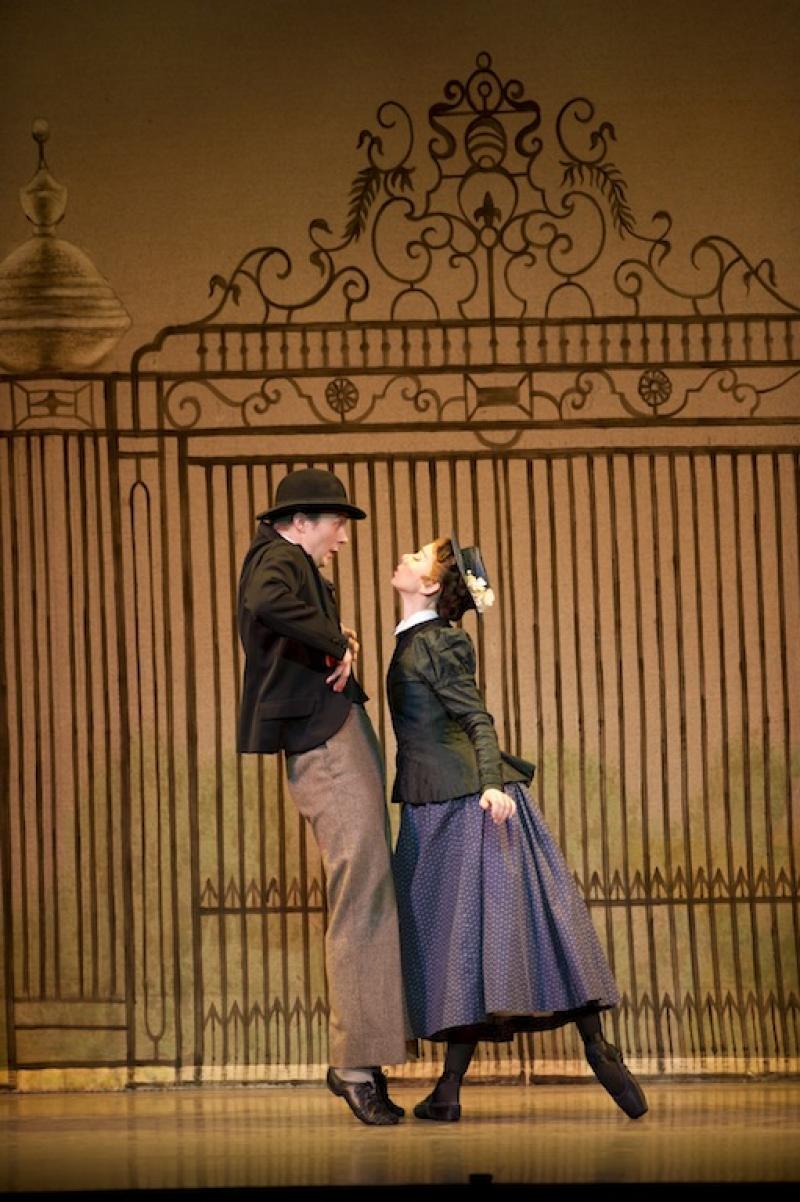 The only way is Lancs: Maggie Hobson (Elisha Willis) makes Will Mossop (Robert Parker) take notice of her
It's a rare ballet where the culmination you hope for is that the young guy gets to take over the business (an idea for a Murdoch ballet there, one day?). David Bintley's Hobson's Choice is surely his very best work, unmitigated pleasure for the spectator - an innocent, beautifully executed period comedy full of atmosphere, good characters, a perfect emotional arc and a perfectly brilliant musical score. None of this is simple to carry off.
Made in 1989 for Sadler's Wells Royal Ballet - as Birmingham Royal Ballet used to be - it takes Harold Brighouse's 1915 play, and possibly more famously the 1954 David Lean film starring Charles Laughton, about an alcoholic shoemaker battling his daughters' predilection to fall in love and leave him, and turns it into something rare: an old-fashioned romcom ballet in the style of Ashton's La fille mal gardée that nevertheless has a strong whiff of no-nonsense Northern English about it.
I sat smiling and laughing at the funny, affectionate humanity of these individuals
How delightfully Bintley lays out the people in the story from the start - drunken old Hobson staggering home in the small hours, his eldest daughter irritably sending him to bed, and the next morning the sneaking into the shop of his younger daughters' intendeds, and a delightful series of wholly revealing pas de deux. Bintley has surely never choreographed so unselfconsciously as he did here, absolutely relishing painting his characters - the sparkly, fleet-footed younger daughter and her dapper beau, the more down-to-earth, goofy marriage likely between the middle daughter and her somewhat more pompous solicitor suitor. In stream a whole bunch of varied customers seeking shoes. And then up, into the middle of the shop, from under the floor, pops Will Mossop, Hobson's secret weapon, his gifted boot-hand who happens to be rather simple and easily exploited.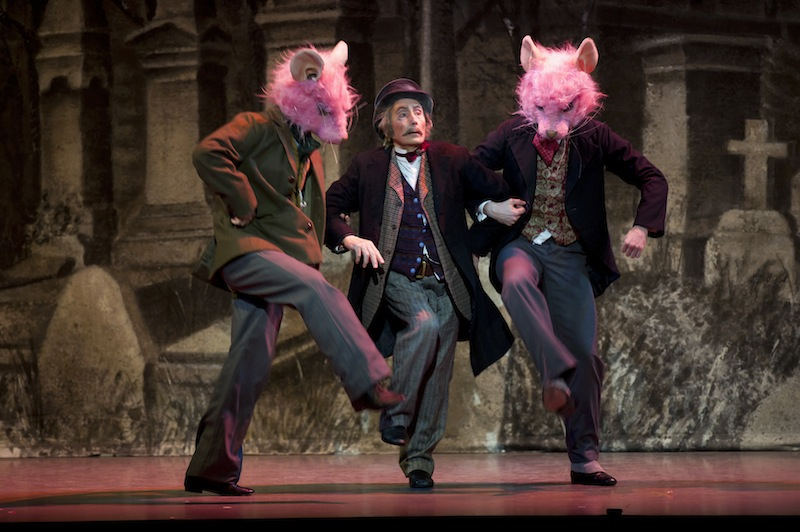 All of this is a cherishably deft and amusing choreographic text, and as performed last night by some of BRB's wittiest dancers, notably Robert Parker as Mossop, Carol-Anne Millar as daughter number 3 and Matthew Lawrence as Fred Beenstock, all unrolls with complete confidence and theatrical amusement, not a foot wrong. The only foot awry, in fact, was the performance as Hobson by David Morse, whose small size kept invoking for me Wilfrid Brambell's immortal old Steptoe, but who never managed to get past a certain staginess to become a man poignantly in thrall to the demon drink. Bintley gives Hobson some wonderful scenes: staggering out of the Moonraker Inn to fall down a cellar trapdoor, or tottering along the churchyard wall where every passer-by seems to be a pink mouse (Morse and mice pictured left). But other performers may take this particular character to greater comedy heights.
There are hugely amusing references back to British ballet heritage - to Frederick Ashton's niftily delineated characters in Les Patineurs and Enigma Variations, or even to Ninette de Valois's rollicking individuals in her The Prospect Before Us (so pleasing, these whiffs of dusty historical store-cupboards). There is what you might consider a formal Act 2 divertissement of the classical 19th-century type, with the Salvation Army prancing in the park with their tambourines in a divertingly tricky set dance, last night cast luxuriously with Nao Sakuma and Tyrone Singleton in pole position (pictured right).
But most of all I sat, smiled and laughed at the funny humanity of these individuals, the affectionate inventiveness with which Bintley finds for each one their own intelligence and articulacy in dance language, and all of it wrapped up in the most delightfully skilled of packages by the late Paul Reade's superbly humorous music - very English, very tuneful, and always entirely fresh - and Hayden Griffin's ideal designs. You can virtually smell the beeswax and paper dust in Hobson's shop, you can breathe in the spring in the backcloth for the park and bandstand. And when Reade offers fragrant orchestral variations on "Ten Green Bottles" as Hobson emerges from the inn, it has to make you happy.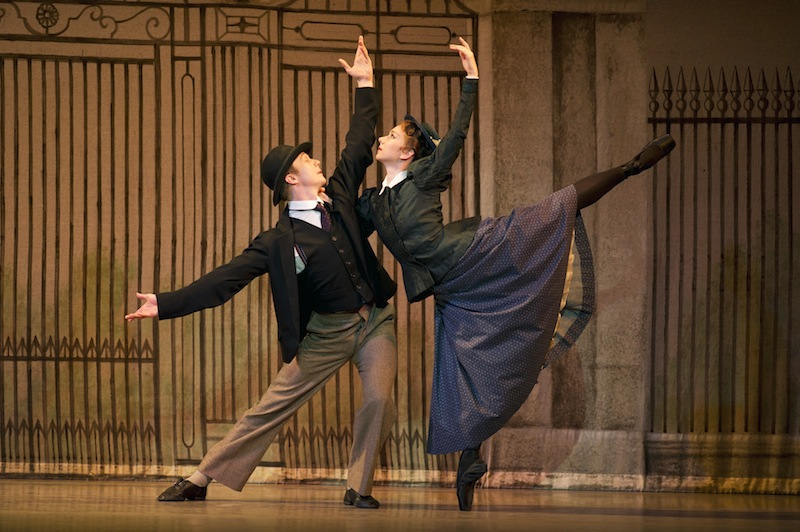 Elisha Willis is more strictly dressed as Maggie Hobson than her cheery little face deserves, and she offers to Parker's blithe Mossop a real wifely warmth under the starch. it's hard to believe Parker is about to retire and go head Elmhurst School, so springy and young does he cut his capers and goof up his mime. They make a perfectly embarrassed couple of newly-weds after their reception, stumbling over wayward trousers and buttons, seizing huge Edwardian nightgowns for decency. Yet the two of them hardly stood out last night from an ensemble who together gave this ballet's warm heart the heat of genuine love. It's lovable, it's joyous and down-to-earth, it's worth a long journey to see.
An old-fashioned romcom ballet that nevertheless has a strong whiff of no-nonsense Northern English about it
Share this article