Birmingham Royal Ballet, 2012-13 Season
Birmingham Royal Ballet, 2012-13 Season
Storytelling for families is the emphasis as grant cuts reduce choice
Wednesday, 22 February 2012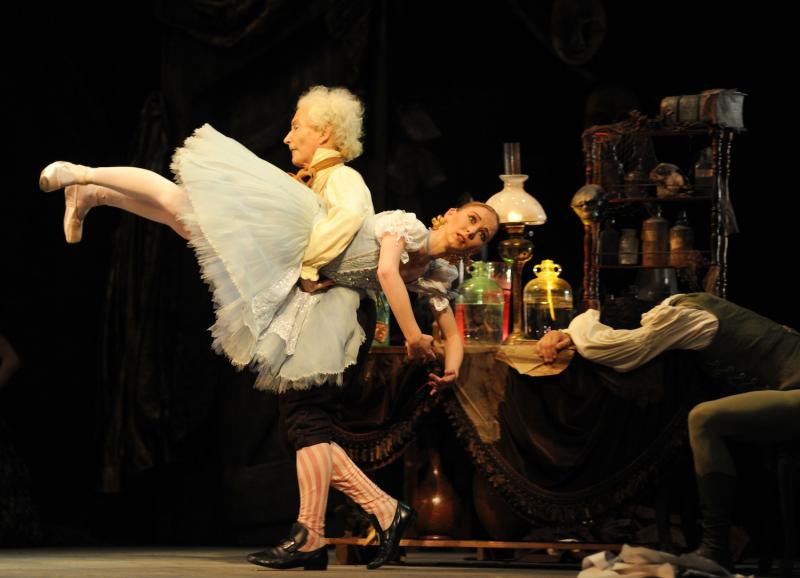 Coppelia: the toymaker and the doll return - David Morse as Coppelius, Elisha Willis as Swanilda
Birmingham Royal Ballet has outlined its 2012-13 season for its home base in Birmingham, indicating a shrunken repertoire due to subsidy cuts, but with a new full-length family ballet by David Bintley, Aladdin.
The season will celebrate the art of storytelling, says the company, and some performances will have early starts to pitch at families. Only one mixed bill is announced, attesting to the damage done to the broader performance repertoire by the swingeing cuts in grant.
Touring dates and venues will be added.
Autumn-Winter 2012
19-22 September, Swan Lake, The Lowry, Salford. Sir Peter Wright's superb production created with former ballerina Galina Samsova in 1991 for BRB, designed with marvellous luxury by Philip Prowse.

26-29 September, Opposites Attract mixed bill: Jessica Lang's Lyric Pieces / David Bintley's Take Five / Hans van Manen's Grosse Fuge, Birmingham Hippodrome. A triple bill features US choreographer Jessica Lang in her UK premiere, set to Grieg's music. Bintley's Take Five is on a jazz theme, set to Dave Brubeck tunes. Grosse Fuge is the Dutch master's response to Beethoven's great string quartet.

2-6 October, Swan Lake, Birmingham Hippodrome. Sir Peter Wright's superb production created with former ballerina Galina Samsova in 1991 for BRB, designed with marvellous luxury by Philip Prowse.

21 November-9 December, Cinderella, Birmingham Hippodrome. David Bintley's Cinderella premiered at Birmingham Hippodrome in November 2010, to celebrate BRB's 20th anniversary. With breathtaking designs by John Macfarlane, designer of the company's famous production of The Nutcracker, and music by Sergei Prokofiev, who wrote the beautiful score to Romeo and Juliet.
Spring-Summer 2013


15-23 February 2013, Aladdin (UK PREMIERE), Birmingham Hippodrome. David Bintley tells the magical tale of love, trickery and triumph in a production created originally for the National Ballet of Japan in 2008, and now aimed to be a popular family ballet for BRB. Music by Carl Davis, composer of Cyrano and numerous well-known TV scores including Pride and Prejudice, Cranford, The World at War and Up Pompeii. Sets are by Dick Bird and costumes by Sue Blane. A run-in with Palace guards leads young tearaway Aladdin into a whirlwind of adventure and romance, involving unbelievable riches, love at first sight, treachery, and a magic lamp, with all that it contains...

4-8 June 2013, Coppélia, Birmingham Hippodrome. Peter Wright's enchanting production of this joyous and witty ballet about a girl whose boyfriend two-times her with a doll is a celebration of love, with a sparkling score by Delibes, designs by Peter Farmer and lighting by Peter Teigen. Dr Coppélius, the eccentric toymaker, wants to bring his mechanical doll, Coppélia, to life – he just needs the right spell. And along comes gullible Franz.

19-22 June 2013, Giselle, Birmingham Hippodrome. David Bintley and Galina Samsova's production, designed by Hayden Griffin. In the ruins of an abbey Giselle tries to stop the ghosts from killing the man who betrayed her love. Giselle stands alongside Coppélia and Swan Lake as one of the great classical ballets.
Explore topics
Share this article