Coppélia, Bolshoi Ballet, Royal Opera House |

reviews, news & interviews
Coppélia, Bolshoi Ballet, Royal Opera House
Coppélia, Bolshoi Ballet, Royal Opera House
Natalia Osipova is one of the most life-enhancing substances on earth today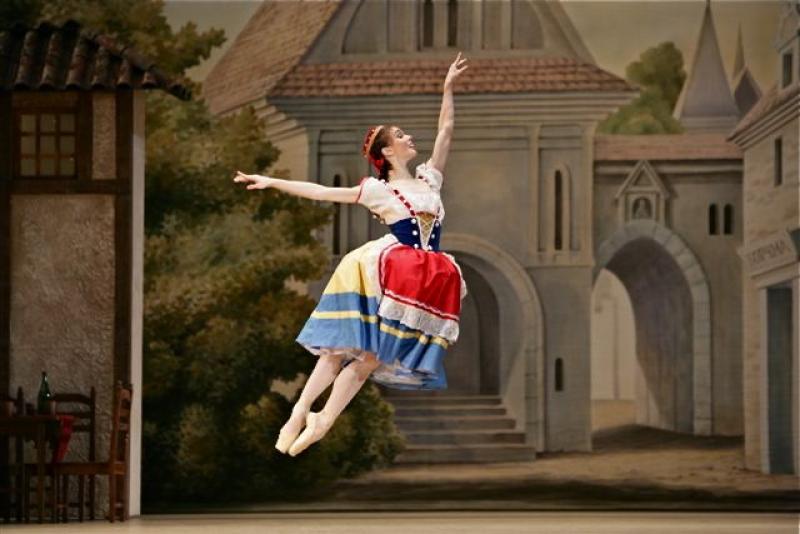 Natalia Osipova as Swanilda: 'her joie de vivre and comic gift shower happiness all over this Coppelia'
Coppélia is the name of the doll in the ballet-comedy - not that of the heroine, who is a bad pixie named Swanilda, a girl of youthful capriciousness but a heart of gold.
What you hope for when you go to see this usually rather quaint 19th-century ballet is a ballerina of such intoxicating personality that she can serve you a ridiculous plot and make you lap it up. It's what makes
Natalia Osipova
one of the most life-enhancing substances on earth today, and last night's opening of the Bolshoi's
Coppélia
was a Champagne night.
This cute little black-haired Muscovite is pure Tinkerbell, mercurial and irresistible, with the flightiest jump and the fleetest feet imaginable. She has a sparkle that no classroom can teach, and surely no classroom gave her that butterfly lightness in her jumps, the fractional hover in the air that rivets your eye and makes you stop breathing for a moment. But though she's one of ballet's most phenomenal athletes, she is also at 24 acquiring a more and more instinctive sense of how to shade and nuance her brilliance to win her audience. As Swanilda, she entered the stage all deceptive grace and prettiness, curtseying politely to the doll in the balcony opposite one moment and catching the audience's eye in complicitous mischief the next. Yet one readily saw in her tear-filled eyes how much she loved Franz, and how hurt she was that the ear of corn refused to tell her he would always be faithful.
Osipova's joie de vivre and comic gift showers happiness all over this Coppélia, and underlines how quick-witted the old 1870 libretto is - and how little it needs heavy psychological interpretation. That first interval is a freeze-frame for half an hour where you resume precisely at the point the action just stopped cliffhangingly, with a whole lot of people inside Coppelius's house who shouldn't be there, and Coppelius creeping up the stairs to catch them. The scene where Swanilda and friends realise Coppelia is a doll unfolds in a blatantly funny mime that is practically cartoonish. And Delibes' musical delineation of the process whereby Swanilda pretends to be a doll coming to life - batting eyelids, shrugging shoulders, a smack in the face for Coppelius - picks instruments like sharpened pens, piccolos, triangles and violins making mincemeat of the increasingly flustered old man.
The champagne was slightly flattened by the cumbersome playing of Léo Delibes' effervescent music under Igor Dronov - charmless horns, inaccurate violins here and there, and a general refusal to seduce - and I wished there'd been a Frenchman in the pit and some lighter-toned instruments. Petipa and Delibes seem to have been an instinctive natural fit, the choreographer knowing that the plainest, simplest mime was the most amusing option with a picturesque musical narrative. (Pictured above, the Mazurka, © John Ross/www.ballet.co.uk/John Ross.)
Such a confident return to mime in a company whose history for 50-plus years has been to abolish it is one of the revolutionary pleasures of this production by Sergei Vikharev, a historic recreation of Petipa's own production in 1894 that feels right, uplifting, as if this particular classic has come home to its origins at last. That the production is uncannily similar in most respects except the luxury and ensemble numbers to the Royal Ballet's is due to London having benefited from Petipa's own regisseur fleeing to Britain after the 1917 Revolution and staging it here.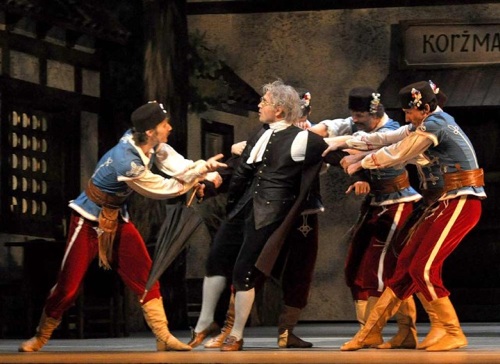 However, there's a peasant pizazz and eclecticism to the Bolshoi show's designs that looks back to 19th-century Russia's bolder colour charts and custom of having several people in on the design committee. Coppélia (once a story by the chillsmith E T A Hoffmann) has a helpfully multicultural setting in Galicia, a land of Austrian, Polish and Russian heritages. So, in front of a most graceful Russian dacha and a solid Austrian pub, girls dance in full white muslin dirndls iced in gold, aqua and red brocade, men wear yellow boots over delphinium velvet breeches, with bronze capelets, and proud plumed hats and moustaches, while priests, dolls, Old Father Time and wedding soloists all have picture-book costumes to make you goggle (recreated by Covent Garden regular Tatiana Noginova from designs in St Petersburg libraries).
Swanilda herself is a tonic for the eyes in colouring-book yellow, red and blue, with a little embroidered red cap, while Franz - in the manly form of Ruslan Skvortsov - is some six foot of handsome hunk in shades of garnet, his long legs smoothly sheathed in velvet, and wearing a straw hat trimmed with more fruit and veg than Carmen Miranda's. It is all simply delectable.
The conscious attempt to respond to a period style leads to some very sexy deploying of bosoms and shoulders
Meanwhile, Gennady Yanin eschews the more grotesque and diabolical concepts of Dr Coppelius in favour of a dotty little man who looks like old Beethoven, and who hardly deserves the cruel tricks that the young play on him. Apart from a slight under-fulfilment of the tremendous musico-dramatic moment when he realises that his Coppelia is after all humiliatingly revealed to everyone as only a broken puppet, Yanin made you want to adopt him. (Pictured above, Coppelius loses his key, © John Ross/www.ballet.co.uk/John Ross.)
Overall, it is fascinating to see the Bolshoi of all companies reining in their natural flamboyance in favour of charm. Franz is not a huge display role, but Skvortsov was uncompromisingly attractive, with luxuriant hair and a face for humorousness, and taking plenty of space for his jumps. (Pictured right, Franz on his way to Coppelia's balcony, © John Ross/www.ballet.co.uk/John Ross.)
The girls plunge deeply in modern fashion into penché, or développé their legs up high. Yet the conscious attempt to respond to a period style leads to some very sexy deploying of bosoms and shoulders, of meaningful glances and head tilts that flash erotic messages between the formal gender divisions in the dances.
The dances follow upon each other like trays of succulent sweetmeats: an ebullient mazurka, a stealthy czardas, the Scottish reel, four difficult female solos in the Bell Ceremony - neat-footed Ekaterina Krysanova in L'Aurore, fresh-faced Anna Nikulina wobbling in La Prière, Anastasia Yatsenko in charge in Le Travail, Anna Leonova a demure La Folie - and a Waltz of the Hours that packs the stage with 24 Hour-girls in front of a gigantic grandfather clock decorated with cherubs whose only job is to stand looking pretty. We've many things to be grateful to the Bolshoi for: their wonderfully imaginative reimaginings of Russian landmarks new to us here - The Bright Stream, The Bolt, Flames of Paris, The Pharaoh's Daughter - but it's seeing a familiar like Coppélia coming up so bright and irresistible that underscores the positive force surging out of Moscow.
Surely no classroom gave her that butterfly lightness in her jumps, the fractional hover in the air that makes you stop breathing
Share this article