JOHN, National Theatre
JOHN, National Theatre
DV8's verbatim physical theatre powerfully relates the life of a social outsider
Wednesday, 05 November 2014
The demon drink: Hannes Langolf's John battles addiction
It is no exaggeration to say that Lloyd Newson has created a new theatrical language. Verbatim drama and intricate choreography would seem, on paper, to be fatally competing elements, yet Newson's hypnotic fusion charges both word and movement with fresh meaning.
Critically, the dance element of this typically confrontational new work from his company DV8, covering such harrowing topics as domestic violence, rape, incest, addiction and criminality, prevents it
from slipping into hackneyed territory. A potential sob story with sermonising framework is reborn as an extraordinarily personal experience.
JOHN was originally conceived as a more wide-ranging examination of love and sex, drawing on the views of 50 male interviewees. However, when the eponymous John shared his remarkable life story, Newson decided to narrow his focus. That decision benefits the work greatly, supplying a compelling central character, strong narrative framework and much-needed specificity. The issues raised are not discussed in abstract but embodied, in every sense of the word.
Working-class Northerner John (Hannes Langolf, pictured above by Hugo Glendinning), caught in a cycle of abuse from childhood, is the clear victim of broken systems and a society increasingly rigid in its divisions. Yet, refreshingly, Newson – who studied social work and psychology – offers nuanced exploration rather than pure polemic, with his protagonist refusing to indulge in self-pity. Both he and the thematically linked subplot stress the importance of individual responsibility.
Langolf's nonchalant delivery makes this a cold horror, with no relief via melodrama or sentimentalising. He finds beautifully precise levels within the unremitting torment, differentiating degrees of grief and frustration. Most striking is his portrait of John's crippling addiction, which renders him rubber-legged, tortuously twisting and dangerously off-kilter. He's also adept at capturing Newson's dark wit, wryly recounting John's chequered dating history, shiftily shuffling while explaining shoplifting technique, and producing staccato tics to match the ticks of a clock when performing a pen-pushing job.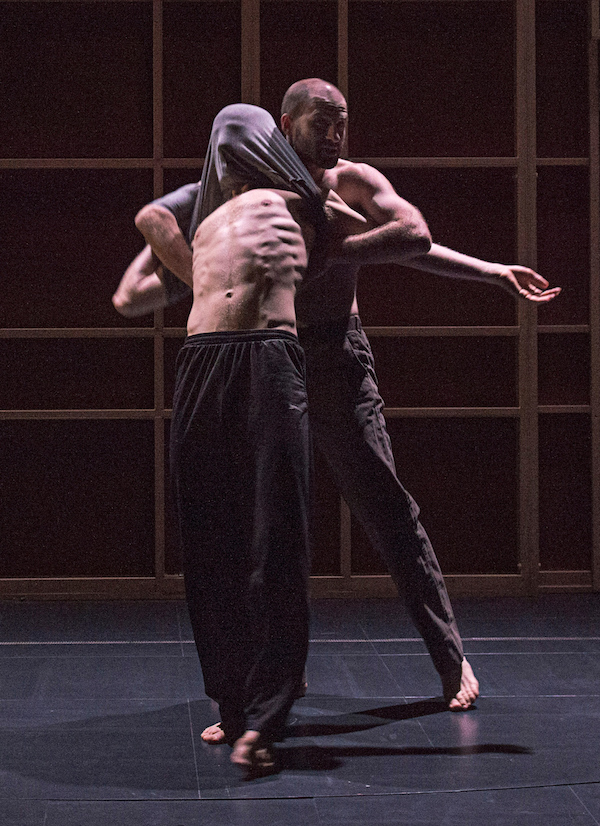 The DV8 company developed this stylised movement while listening to transcripts on their iPods, improvising metaphorical interpretations. Strikingly, they use physicality to build characterisation and subtext, with even briefly glimpsed people vividly drawn. Standouts include Andi Xhuma's (pictured left with Ian Garside by Kris Rozental) Polish absconder, Garth Johnson's twirling tour guide and Ian Garside's sardonic sauna-owner, impressing with sonorous speech and powerful counterbalanced partnering. There's excellent technical support from Gareth Fry's thoughtful sound design and Anna Fleischle's marvellously fluid revolving set, which seems to echo the dancers' rhythms.
JOHN dips in the second half, as the title character recedes during a lengthy profile of gay saunas. The musing on types of intimacy is compelling, the safe sex lecture rather less so. Overall, this section lacks the intensity of John's fight for survival; it's a structural weakness going from the urgent to the meditative. Yet the latter does inform John's understanding of love as hope: hope in a new life, unencumbered by the past. It's a testament to this empathetic work's effectiveness that you share that hope unreservedly.
The issues raised are not discussed in abstract but embodied, in every sense of the word
rating
Explore topics
Share this article