The King Dances, Birmingham Royal Ballet, Sadler's Wells |

reviews, news & interviews
The King Dances, Birmingham Royal Ballet, Sadler's Wells
The King Dances, Birmingham Royal Ballet, Sadler's Wells
A striking new work about the Sun King and the origins of ballet shows BRB at its dynamic best
Saturday, 17 October 2015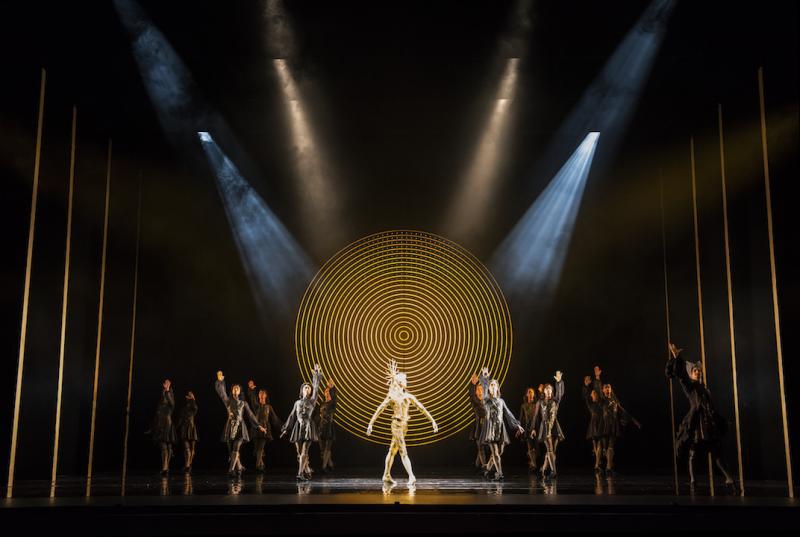 'The King Dances', a new ballet by BRB artistic director David Bintley
For an art form with a marked penchant for looking over its shoulder, it's surprising how rarely ballet has exploited its own origins story – not least given the fabled opulence and style of its leading character. The Sleeping Beauty makes a nod to Louis XIV and the court of Versailles in its final moments, but in most ballet goers' mental archive that's just about it.
Full marks to David Bintley, then, for turning a light on the Sun King and his love of dancing, and for recognising in the story a prime opportunity to create another rare thing: a glamorous showcase for the company's men. Premiered earlier this year to mark Bintley's 20 years as director of Birmingham Royal Ballet, The King Dances is emphatically not a pastiche. Both its choreography and music (of which more later) are primarily 21st-century. In structure, though, the half-hour work takes on the historical identity of Le Ballet de la nuit, a 12-hour court spectacle performed in 1653 in which the 15-year-old monarch appeared in several roles, culminating in a splendid walk-on as Apollo, the Sun god, clad head to toe in gold. Theatrical bling? Louis invented it.
For added interest, Bintley colours this dance-for-dance' sake scenario with dabs of political intrigue. The second lead role is the teenage king's dominating First Minister, Cardinal Mazaran (danced powerfully by Tyrone Singleton) who, while ostensibly protecting Louis from the Frondeurs, a section of French nobility who resisted the authority of the monarch, harboured dark ambitions of his own. Would it have helped identification if the Cardinal had worn red? Amid a sea of whirling black frock coats, it would.
Solos and group dances flow from one to another without strain
Katrina Lindsay's designs are otherwise magnificent. My, how sexy the BRB boys look under flaming torchlight in those long flowing wigs and tooled-leather coats – a far cry from the perfumed effeminacy we associate with Versailles. And Bintley's steps exploit the flare of those coats to the max in pouncing fencing moves, corkscrew leaps and travelling pirouettes. The men stamp a lot too, their feet adding another layer to Stephen Montague's percussion-rich score, a thing of beauty in itself. Hats off to the trumpet section for a heart-stopping duet accompanied by bass drum.
The most satisfying thing about The King Dances is its integrity: no single element stands above the rest, and solos and group dances flow from one to another without strain – the need to find roles for a broad swathe of the company can sometimes be all too obvious, but not here. Masking the women was a good move, emphasising their low status at court. The grotesque terrors of Louis' nightmare sport some fun penile prosthetics. Yijing Zhang is luminous as La Lune, slender as a moonbeam as she wreathes her limbs around the king. William Bracewell makes an appealingly lanky Louis, red ringlets flying. Even his final entry in that ridiculous gold suit leaves you with a lump in your throat. Vive le Roi indeed.
The evening opens with George Balanchine's Theme and Variations from 1947, a Tchaikovsky number that has become a bit of a signature for BRB: it was the first work performed by the newly renamed company in 1990 – a telling choice in that it set the barre sky-high. For this is Balanchine bending the knee to the diamond-bright classical style of St Petersburg, its ballerina role "Aurora written in lightning", in the words of the New York critic Arlene Croce. That BRB continues not only to meet the work's extreme technical challenges, but to relish them (all that smiling looked genuine) is a kite mark of quality.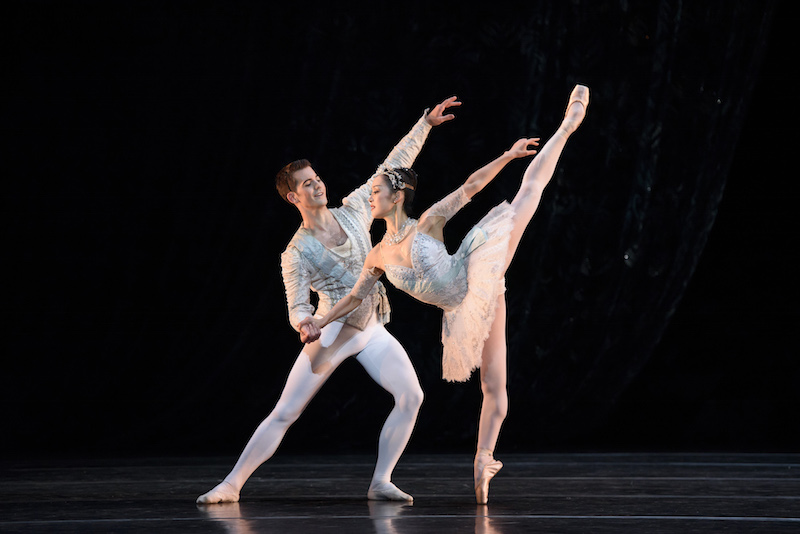 Suffice to say that Momoko Hirata (pictured above) made the 90mph footwork look easy-peasy, Joseph Caley was a cheeringly boyish beau, and the supporting four couples moved as one. "Don't they all look young!" marvelled my companion. And so they do. Balanchine's work, for all its refinements, demands it.
The filling in the sandwich, what one might have expected to be the evening's highlight, turned out to be its single disappointment. Enigma Variations, Frederick Ashton's delicate fleshing-out of Edward Elgar's musical portraits of his friends and family, was over-egged and under-lit. Yes, designer Julia Trevelyan Oman's vision of Edwardian England might be oak-panelled and sepia-soaked, but Mark Jonathan's revised lighting rendered everything murky brown, the equivalent of Windsor soup. The Royal Ballet Sinfonia under Paul Murphy were hard to fault, however.
My, how sexy the boys look under torchlight in those long flowing wigs and tooled-leather coats
rating
Share this article