La Fille Mal Gardée, Birmingham Royal Ballet, Sadler's Wells |

reviews, news & interviews
La Fille Mal Gardée, Birmingham Royal Ballet, Sadler's Wells
La Fille Mal Gardée, Birmingham Royal Ballet, Sadler's Wells
The world's sunniest ballet warms the cold autumn days
Nao Sakuma and Iain Mackay as the lovers: a surprising partnership, yet it works
It may be that there is no sunnier place than Ashton's La fille mal gardée. Certainly there is no sunnier ballet. It speaks not of great drama, nor ecstasy, but instead of gentle happiness, of quiet content and loving kindness. Not, one might think, the stuff of great art. But one would be – one is – wrong, and Ashton is happy to set us straight.
The standard tale of a girl whose mother wants her to marry a rich simpleton, and how she instead gets her way and marries a simple farmer, is not the point. Ashton takes this and embroiders it with magic – a dash of music hall, a splash of folk dancing, a soupçon of burlesque and, courtesy of sets and costumes by Osbert Lancaster, a good shake of English eccentricity.
Birmingham Royal Ballet's sets are looking a touch odd (has something gone wrong with the dyes, or is it a side-effect of the – rather gloomy – lighting?); the company's mime leaves something to be desired, with certain elements of overplaying the comedy creeping in. It might be comic for Alain's father to grope Lise's mother, but it's not in the original, and its coarseness detracts from Ashton's always delicate comedy. (A foundation to preserve Ashton's choreography has just been established, and Fille is ripe for its attentions.) But in general the company's enthusiasm for the piece never falters, and it carries the audience with them all the way.
Nao Sakuma is a charmingly petite, and rather formidably strong-willed, Lise, and is partnered by the deft, elegant Iain Mackay. It is a surprising partnership – Mackay is much taller than Sakuma – and yet it works. Her strength of mind is a foil to his laid-back manner, his elegant stretched feet and pretty ballon give shape to her briskly bright allegro and her beautifully delicate arms and hands. Michael O'Hare is a rather tougher Widow Simone than some – I wouldn't like to meet this Widow in a dark alley – but his clog dance (see video below) is a show-stopper as always. My single reservation in this cast was Robert Gravenor (pictured above right) as Alain. A much more elegant dancer than Alain often is, he overplays the simpleton, and mistimes much of the comedy.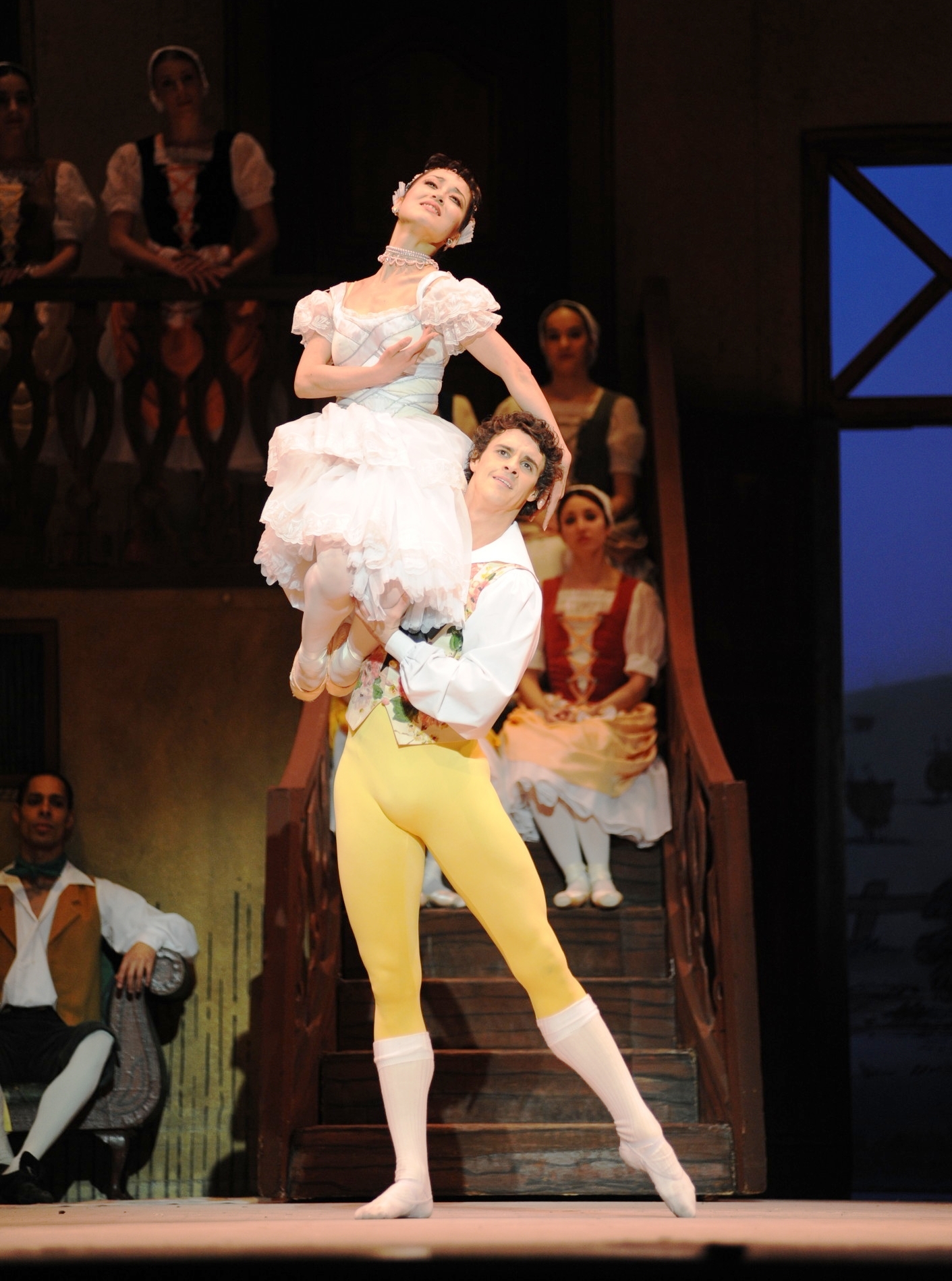 The astonishing thing about Fille, however, is that the more one sees it, the more one realises that the jokes, the travesti role of the Widow, the clog dance – these are not the core of the ballet. While Kenneth MacMillan was the master of the erotic, of lust, in dance, Ashton, very quietly, was the master of passion. His is not strip-tease, in-your-face sex, but it is very real nonetheless, and Fille, overtly a pastoral comedy, is in fact a meditation on types of love: the love of Lise for her mother, and her mother for her; the love of the vineyard owner for his simple son; the desire of the son to be loved by anyone at all; and the love of Lise and Colas for each other. Each is a different kind of love, and each is differently expressed by Ashton.
This is the deep reading of Fille. Its greatness, however, rests in the fact that while one can certainly watch it this way, one can also simply enjoy the romp, the dancing chickens, the maypole, and the splendidly hairy Shetland pony. Nothing keeps La fille mal gardée down.
Birmingham Royal Ballet is at Sadler's Wells Theatre, London until 22 October; then Plymouth Theatre Royal, 27-29 October
Watch Birmingham Royal Ballet's Rory Mackay rehearse the famous Clog Dance from La fille mal gardée
Ashton, very quietly, was the master of passion. His is not strip-tease, in-your-face sex, but Fille, overtly a pastoral comedy, is in fact a meditation on types of love
Explore topics
Share this article