Light of Passage, Royal Ballet review - a new full-evening work by Crystal Pite is eloquent and moving |

reviews, news & interviews
Light of Passage, Royal Ballet review - a new full-evening work by Crystal Pite is eloquent and moving
Light of Passage, Royal Ballet review - a new full-evening work by Crystal Pite is eloquent and moving
Proof, once again, that ballet has the muscle to tackle big topics
Giant steps: Rosie Zhang (in white) with dancers of the Royal Ballet in Crystal Pite's new full-evening work, 'Light of Passage'
Marshalling a mass of bodies around a stage is what all choreographers do. But nobody does it quite like Crystal Pite, the Canadian whose half-hour piece "Flight Pattern" – a comment on the global refugee crisis – was a hit for the Royal Ballet five years ago, earning an Olivier Award.
She now returns with a full-evening extension of that material, adding two new sections that address equally big subjects, not least the rights of children to life and safety. This, along with a final section dealing with what Pite calls "the ultimate border crossing", makes sense of the work's over-arching title, Light of Passage, though its suggestion of a verbal pun is, I feel, slightly misplaced. This is serious, thought-provoking work that dares you to suppose that ballet could ever be anything less than serious. Yet it also delivers eyefuls of glorious synchronised movement that leave you simultaneously wrung out and uplifted.
Henryk Górecki's three-part Symphony of Sorrowful Songs supplies the emotional canvas. Written in 1977 for large orchestra and solo soprano, it sets three texts on the theme of death, addressed either from mother to child, or from child to mother. The short middle movement – a sombre lullaby that rocks softly and mesmerically between repeated chords – became the stuff of recording legend in the early Nineties when, as a result of being played incessantly on Classic FM, it reached No.6 on the UK album chart, briefly outselling Paul McCartney and REM. There's surely a marketing opportunity here for the Royal Opera House. A ticket deal with commercial radio could be just what's needed to broaden its audience.
My guess is that the dancers love being a part of Pite's meticulously wrought patterns as much as we take satisfaction in watching them. The most potent motifs are the simplest, magnified large – 36 heads in tight serried rows dipping and turning just so, 36 bodies swaying or stooping in tight unison, suggesting trudging lines of dispossessed people. When Flight Pattern premiered in 2017, it seemed to be about the asylum seekers who were gathering in knots of misery on many of the coasts of Europe. In 2022 it summons thoughts of Ukrainians fleeing their homes. Pite's genius is not only in making images that are universal, but in making tragic images devoid of mawkishness. Only once does the piece focus on the plight of a couple, picked out from the faceless crowd. Kristen McNally (pictured above) keens over the dead baby – a crumpled coat – in her arms, while Marcelino Sambé kicks off into paroxysms of airborne rage at the injustice of it. Later, Pite shows how a single image can be made to work overtime as McNally becomes the receiver of so many dumped coats that she collapses under the weight of them. Now we not only think of the deaths of children, but also of the clothing collections at Nazi workcamps. The greatest art is rarely tethered to a time or place.
Pite brightens the tone for the second movement, Covenant. Her source for the choreography is striking: the UN Convention on the Rights of the Child, in a version written for children to read. Article 31,"You have a right to play", is an obvious one to dance, but Article 7, "You have the right to have a name" is more challenging. Pite's introduction to the stage of six dancing children – angelically clad in white, to be guided and enabled (pictured top) by the black-clad corps – is inspired. Of many lovely moments, the most touching is when the adults form long corridors along which each child can run – unmolested, confident and free.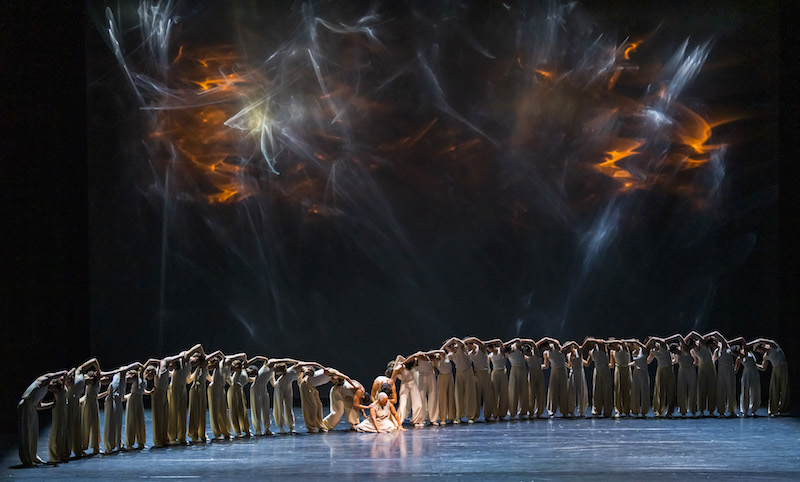 The 20-minute final section, Passage, imagines the end of life, introducing two seniors from Sadler's Wells' Company of Elders to enact some tender scenes of leave-taking. The full corps, now in ivory trouser suits (pictured above), flow around them, couples now and again breaking out into intimate duets. A same-sex duo, Luca Acris and Benjamin Ella, remind us that dying doesn't only happen to the old. But the crowning glory is a long balletic segment in which, as the music's ostinato plods towards its quiet climax, the 36 dancers move in waves of perfect unison, silkily turning and scooping the air as if stirring double cream. Too bad the ecstasy gives out a few minutes short of the ending, but there's too much to love about this work to quibble.
Górecki's music is given admirable restraint by the Orchestra of the Royal Opera House under conductor Zoi Tsokanou – a fitting choice, being the first woman to head up a major orchestra in her native Greece, a country which has had more than its share of migrant grief. As the solo soprano, Francesca Cheijina finds just the right note of instrumental plangency, sounding for all the world like part of the orchestra.
This is thought-provoking work that dares you to suppose that ballet could ever be anything less than serious
rating
Explore topics
Share this article