The Weathering/Solo Echo/DGV, Royal Ballet review - the dancer as chameleon |

reviews, news & interviews
The Weathering/Solo Echo/DGV, Royal Ballet review - the dancer as chameleon
The Weathering/Solo Echo/DGV, Royal Ballet review - the dancer as chameleon
Strong one-act works by Kyle Abraham and Crystal Pite show the dancers at their adaptive best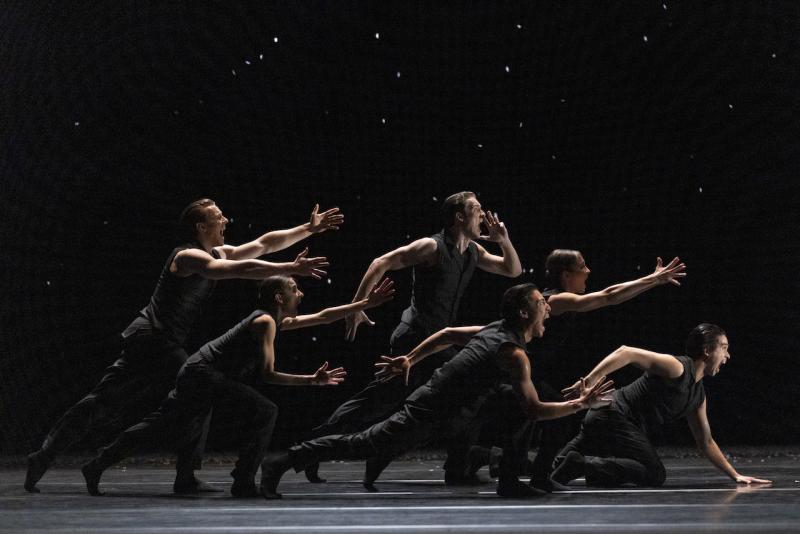 Hey, you, wait: Members of the Royal Ballet in 'Solo Echo' by the Canadian choreographer Crystal Pite
Of all the expectations one might have of a new ballet from a choreographer raised on street dance who has made work about the American prison system, serene loveliness isn't one of them.
The name Kyle Abraham is not new to
Royal Ballet
audiences, but the squib of a piece he made for a mixed bill last year,
Optional Family
, gave scant idea of what he would do given 35 minutes of stage time, several more dancers and an orchestra.
The Weathering
, premiered as part of a
contemporary triple bill
, is surprisingly classical and utterly gorgeous.
Abraham – who turns out to have a string of awards stateside and to have worked with some key ballet luminaries – is living proof that you don't need to have grown up with the ballet canon to learn to speak the language. His first and only encounter with Giselle and Romeo and Juliet was on a visit to London earlier this year. Yet The Weathering, made for seven dancers, matched by seven instrumentalists in the orchestra pit, mines similar seams of love and devastating loss with a command of dynamics and texture that sets the stage alight.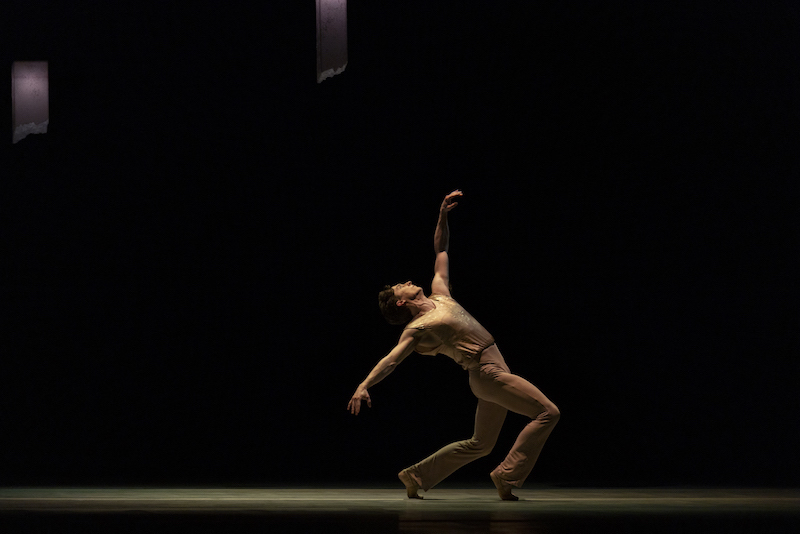 There is no narrative, yet within the work's distinct sections are discernible life experiences – love affairs and friendships, illness and recovery, illness and death – threaded through with resilient optimism. In an exuberant solo, Anna Rose O'Sullivan reels off streams of bubbly piqué turns like a lark riding the thermals. Lines of boys leap and turn in joyful unison, and there's an especially touching duet for Liam Boswell and Joshua Junker (pictured above), whose loosely twining upper body movements tell you at once about their intimacy. Dan Scully's lighting scheme of lanterns, raised or lowered over a dark stage, tracks the changing moods.
Ryan Lott's musical score is an equal player, pitching a live ensemble of single strings and wind against a ghost ensemble that gives the aural impression of its instrumentalists roving the dress circle. I'm not sure on opening night that the levels were set quite right – a sforzando outburst of disembodied clarinet near my right shoulder gave me quite a fright, which I doubt was the intention. Such glitches are easily corrected. Lott's music is of a quality that will repay a second and third hearing, a perfect match for Abraham's choreography in its balance of beauty, innovation and surprise.
Crystal Pite's Solo Echo – originally made for Nederlands Dans Theater – cleverly works the disjunct between that company's exclamatory, almost cartoonish contemporary style and the melodious lushness of Brahms' cello sonatas. The Royal Ballet first staged the piece last year but it remains astonishing that these dancers managed to overhaul their movement style from top to bottom to accommodate it – roughly akin to pro golfers turning themselves into soccer players in a matter of weeks. Watching the dancers' muscular antics (main image), pugilistic, hard-edged, low-slung, it's hard to believe that they are currently also engaged in a long run of Swan Lake. Kudos too to cellist Christopher Vanderspar and pianist Robert Clark for their full-colour rendition of the Brahms.
The evening's closer demands another style-change, but a less interesting one. The best thing about DGV: Danse à grande vitesse is its title, a twist on the TGV train for whose inauguration in the city of Lille Michael Nyman's juggernaut of a score was commissioned in 1993. In his turn, Christopher Wheeldon clearly struggled to fill the stage with choreographic train-themed ideas, lumbered as he was with the wave upon wave of Nyman's tediously chugging crescendos. As for Jean-Marc Puissant's set, what looked like a train crash at the 2006 premiere still looks like a train crash. Even the luminous soloistic talents of Marianela Nunez and Yasmine Naghdi fail to make much impact with their long, lean, neo-classical balances – curiously static, going nowhere, and certainly not fast.
Abraham proves that you don't need to have grown up with the ballet canon to learn to speak the language
rating
Explore topics
Share this article