Lo Real, Israel Galván, Edinburgh Festival Theatre |

reviews, news & interviews
Lo Real, Israel Galván, Edinburgh Festival Theatre
Lo Real, Israel Galván, Edinburgh Festival Theatre
Uncompromising look at gypsies under fascism is hard going, but rewarding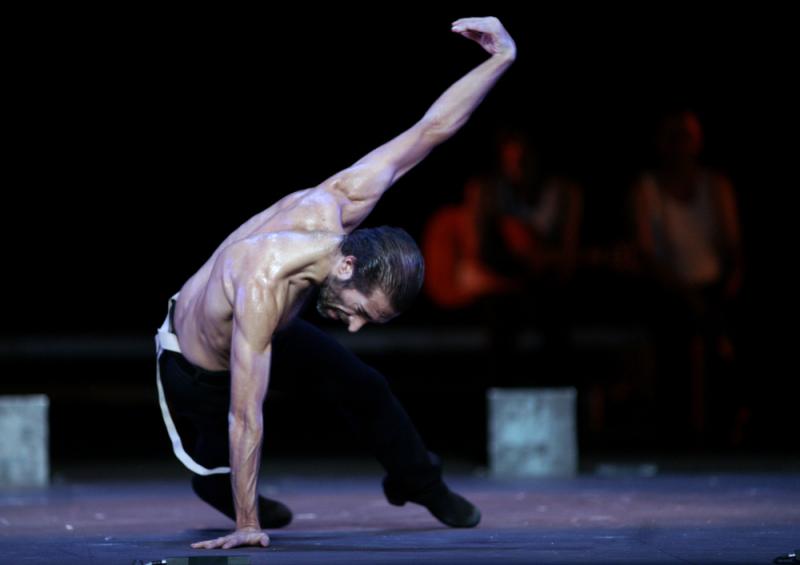 In tension: Israel Galván mixes flamenco with tortured introspection.
It is an axiom of Israel Galván criticism to say the Spaniard is wired differently. He's the "Bowie of flamenco" - leggy and intense, unpredictably sparky, intemittently brilliant, and sometimes incomprehensible.
His new show,
Lo Real/Le Réel/The Real
which had its UK premiere at the Edinburgh International Festival last night is about gypsies under Nazism and in the Holocaust, but it approaches its subject in an impressionistic, roundabout way that during the performance feels a lot more like a journey into Israel Galván's oddball consciousness than a history lesson.
Of course, that is a kind of history lesson in itself: as it happens, it's just a series of events, their connections and significations unclear. It's only afterwards, looking back over it, that one begins to see patterns, cause and effect, deeper meaning.
In the main, Israel Galván is angry about the way gypsy culture is glamorised, sexualised, commercialised, orientalised (and not just by Nazis); angry not only because it has done violence to the people and the culture, but because it problematises all attempts to speak through that culture. Lo Real is full of communication problems. Words are projected onto big screens that cut off the stage like a fence; some songs are translated and others are not; often music and lyrics fight each other, with angry percussion drowning out twee lyrics, or bitter words making jazzy chords ring hollow.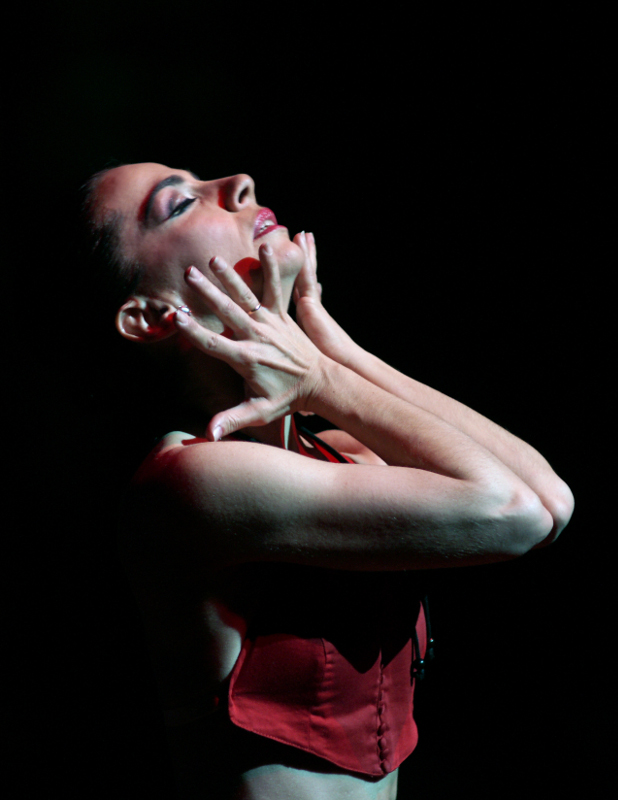 Galván's dance style switches up flamenco with loose-limbed leaps and contortions, and he refuses to use the familiar trappings of flamenco except ironically - beating castanets on his head, or using his heeled boots to scrape the wires of a battered old upright piano. This resistance to flamenco tropes is even more marked in the women performers. Carmen Lérida, her Buddha belly picked out by an unflattering downward spotlight, patters off a commercial for washing power made sinister by its proximity to talk of "the flea and the bedbug", while Belén Maya makes an appearance in a cheap floral skirt, lilac leggings, and clogs. Both she and Isabel Bayón (pictured right) - who dances in heels, revealing red top and cabaret style top hat - draw our attention to the objectifying gaze of the people watching them, and not just the circle of other performers on stage: we as an audience rewarded Bayón's solo in cabaret guise with the only spontaneous applause of the evening, a lesson in the extent to which we all participate in the exploitation of gypsy culture as entertainment.

Lo Real is emphatically not entertainment, nor does it resort to any comforting falsehoods about the redeeming power of dance. Every solo ends in a seeming death, rather than triumphant applause, and the final segment of the show is harsh and fragmented, with metal girders that suggest rails and fences being moved around to the sound of a chilling (though inexplicably untranslated) narrative in German: "school's over for you...get out and get in the cattle wagon..."

At an hour and 45 minutes without interval, and requiring constant effort to interpret what's going on, this show was hard going. Yet its uncompromising intensity is precisely what, in retrospect, is most satisfying about it. Israel Galván's approach may be offbeat in the extreme, but his commitment and seriousness are beyond doubt; deserving of respect, and curiously haunting.
We all participate in the exploitation of gypsy culture as entertainment
rating
Share this article