Onegin, Royal Ballet review - vivid and intelligent dance drama |

reviews, news & interviews
Onegin, Royal Ballet review - vivid and intelligent dance drama
Onegin, Royal Ballet review - vivid and intelligent dance drama
The production may feel old-fashioned, but Cranko's graphic dance images still have power to startle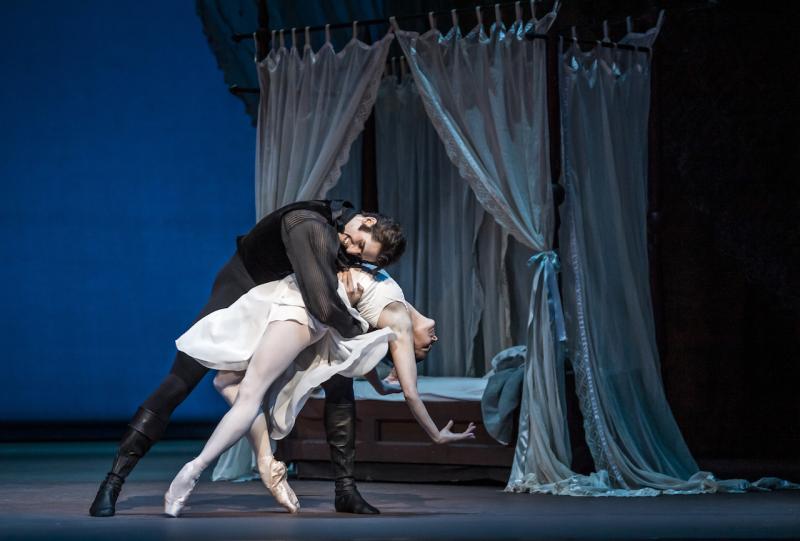 Dream lover: Natalia Osipova as Tatiana and Reece Clarke as Onegin
It's no surprise that audiences love John Cranko's Onegin, with its vividly economical narrative (close to Tchaikovsky's opera), attractive decors by Jürgen Rose, and intelligent drama. True, it feels a tad old-fashioned – although that, as my neighbour observed, is part of the charm.
Performers love it too, for the meaty roles it gives to its principals and the emotional swoop of their dances. You just have to make sure that you are absolutely right for the task, as the otherwise irreproachable Vadim Muntagirov found out at the eleventh hour, causing him to be replaced in the title role by Reece Clarke.
In adapting Alexander Pushkin's long poem Eugene Onegin, Cranko created remarkably graphic dance images to express the emotional states of the characters. The trilling backward bourréeing of Natalia Osipova's Tatiana (pictured below) lays bare the giddy palpitations of her heart; the vertiginous lifts of her duet with an imaginary Onegin are ecstatic metaphors that show her reaching for the stars. With her tremendous technique at the service of palpable expression, Osipova's body seems to liquefy and cascade in Reece Clarke's arms.
Onegin is the quintessential romantic (anti) hero, a self-absorbed outsider, saturnine and cynical, and to convey this Cranko gives him long slow straight lines. To this, Reece, making his debut, adds an arched back, puffed chest and exquisitely pointed feet, all of which comes close to cartoon-character territory, especially when you factor in a 19th-century flapping tailcoat that does no favours to ballet dancers. He is much better in the toned-down version of the older Onegin, re-appearing in the story after a long absence, still self-absorbed and impervious to the ravishing young women who surround him hopefully, but suddenly attracted to the now-sophisticated Tatiana, a princess through her marriage to Prince Gremin.
Before, Tatiana had been a gauche, intense young girl, lost in a world of frivolous fiction. Her sister, Olga, was more carefree, more charming; portrayed by Francesca Hayward, she dances beautifully, but lacks projection, as if the stage were too big. Olga is engaged to Lensky, Onegin's friend, and both sisters are distraught when Lensky (excellent Matthew Ball), in a terrible falling out with Onegin, challenges Onegin to the duel which kills him. With the pre-duel dance of Lensky and the sisters, Kurt-Heinz Stolze's workmanlike composite of Tchaikovsky pieces wakes up with a new urgency that fuses perfectly with the desperation of the dancing trio.

When Tatiana had met Onegin for the first time, she had fallen head-over-heels with this mysterious, lofty stranger and foolishly written him a declaration of love. How cruel her paralysed incomprehension, wonderfully conveyed by Osipova, when Onegin rejects her, tearing up her letter so that she can finally, properly, completely understand what he is saying. But now, years on, the tables are turned, and it is Onegin who is suddenly extravagantly in love with Tatiana, and it is she who ultimately rejects him.
The closing pas de deux is very different from the first, Tatiana no longer reaching for the stars, but trying to escape, dragging the clinging Onegin behind her. For a few seconds, she yields to the wild passion he has awoken in her again, but comes to her senses. Her husband Prince Gremin has brought her a marriage of calm tenderness. Prince Gremin, in Gary Avis's pitch-perfect portrayal, may not have the dangerous glamour of Onegin. He is kind and dependable, possibly even a little boring, but sometimes boring is a virtue.
With her tremendous technique at the service of palpable expression, Osipova's body seems to liquefy and cascade
rating
Explore topics
Share this article