Richard Alston Dance Company 20th Anniversary Performances, Sadler's Wells |

reviews, news & interviews
Richard Alston Dance Company 20th Anniversary Performances, Sadler's Wells
Richard Alston Dance Company 20th Anniversary Performances, Sadler's Wells
Two gems and two duds in celebratory mixed bill with live music
"Silly fellow"? Nicholas Bodych as Christopher Smart in Richard Alston's 'Rejoice in the Lamb' (2014)
Testament to the work of Richard Alston Dance Company (RADC) over the 20 years since its foundation was not just the première-filled celebratory programme performed at Sadler's Wells last night, but the enthusiastic audience there to see it.
Alston's own choreography never excites me particularly, but there's no denying his company has done sterling work for the British contemporary dance scene over the years, both through its association with the Place and London Contemporary Dance School, and through its extensive regional touring schedule.
The first London première of the night, Rejoice in the Lamb (2014) is Alston's homage to the rather marvellously odd poet Christopher Smart, as captured by Britten in his playful, mystical 1943 choral setting of Smart's poem "Jubilate Agno". The Britten is adored by choirs for its rhythmic and emotional variety and its beautiful writing for all voice parts, as well as for giving them the opportunity to sing about cats and mice, so it was good to see a choir (from Montclair State University, for some reason) on stage last night, while Nicholas Bodych (main picture), representing Smart in a loose-sleeved shirt, encountered the famous cat, Jeoffry (Ihsaan de Banya) and otherwise tried to echo in dance Smart's wondering attitude to the world and the bubbling joy in Britten's music.
The premise is lovely – not least because Smart himself actually spent some time on stage, playing a character called Mrs Midnight in his own revue show, Henley in Petticoats – but the execution is uniformly disappointing. Alston's choreography, in a very bland contemporary idiom, seemed to have little to say, sticking too tightly to the music's (admittedly very dance-y) rhythms to be in any way exciting. There was not much of either conviction or craft on display from the dancers either, whose arms and heads were flung all over the place. Performing from the back of a stage with a naff electric organ and the inevitable Sadler's Wells miking was always going to make it very hard for the choir to produce the kind of airy, resonant sound we expect in a piece written for, and usually performed in, churches, but their singing wasn't up to the job either, with a huge vibrato range messing up the clarity of those tripping, tricky "...and the like" evocations of different instruments. My favourite way to hear Britten's Rejoice in the Lamb is still, by a long shot, in purely choral, rather than danced, performance.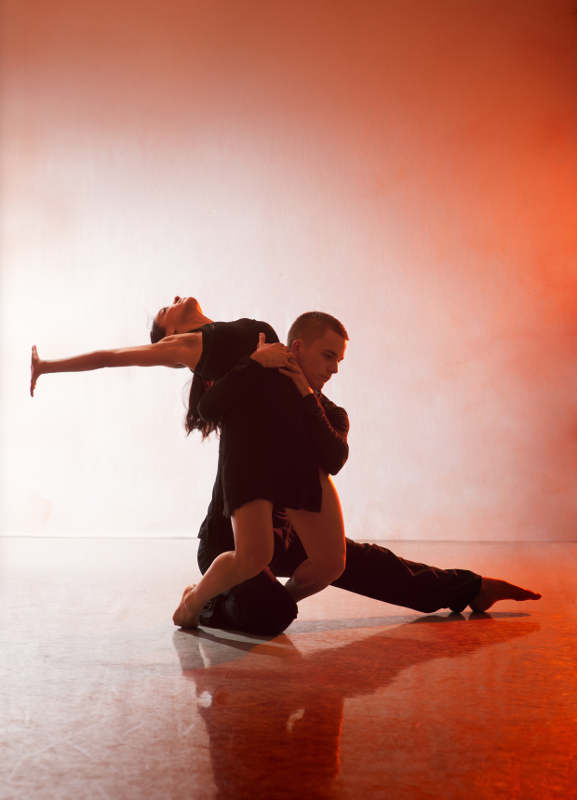 The other London première, Burning (2014), by Martin Lawrance, suffers somewhat from eliciting direct comparison with pieces by Sir Frederick Ashton. Its score, Liszt's Dante Sonata, was used for Ashton's 1940 piece of the same name, which is legendary for its impact on wartime audiences. But even if Dante Sonata is unlikely to be a reference point for many dance-goers today, the premise of Lawrance's Burning recalls Ashton's more familiar Marguerite & Armand (also set to Liszt) in its focus on the stormy affair between a pair of headstrong 19th century romantics. In Burning it's Liszt himself and long-term lover Marie d'Agoult who take centre stage, along with a bunch of Liszt's other women, on whose omnipresence the relationship eventually foundered.
Appropriately for a piece about a pianist, the piano sonata was played live on stage (and un-miked; will wonders never cease?!) but the technical challenges of Liszt often got the better of Amit Yahav. He undoubtedly did it with feeling, but his playing was rarely subtle even when it was correct. In fairness to him, nothing else about Burning was subtle either: it presented passion as rather like wrestling, complete with heavy breathing and pained expressions. The pas de deux (pictured above left) were prolonged bouts of grappling and histrionics in a style I am sad to say reminded me slightly of Boris Eifman. Neither Lisztomania nor artistic love affairs in general were at all well served by this portrayal.

Everything changed after the interval with Nomadic, a collaboration between Alston and younger choreographer Ajani Johnson-Goffe here receiving its world première. The dancers' saggy pyjama bottoms and T-shirts don't promise much, but the music is taken from what sounds like a fantastic album, Urban Gypsy by Shukar Collective, who blend traditional Roma singing with modern electric beats for an effect both soulful and hip-hoppy. That's the kind of blend achieved by the dance at its best too, a kind of slow funk feel with B-boy moves, and a bit of more traditional contemporary lyricism thrown in (Alston's contribution?). The speed is relaxed for most of the time and dancers who stand out are those who can inhabit and fill the leisurely spaces of the music: Ajani-Goffe himself, looking unsurprisingly at home in his own piece, and Nancy Nerantzi and Ihsaan de Baya, whose duet has a vibrancy not really picked up by the other dancers until the final cheerfully upbeat ensemble section, which ends the piece on a definite high.


The evening ended on a high as well thanks to Martin Lawrance's Madcap, a 2012 piece much more in the style I remember liking from his To Dance and Skylark. The engaging soundtrack is by Julia Wolfe: two energetic pieces, "Lick" (1994) and "Believing" (1997), played live in the pit by a small band, and Peter Todd presents his best costumes of the night in the form of leggings and T-shirts in rich grey, burgundy and navy. Ihsaan de Banya features prominently again, contorting himself into crisp, spidery shapes at the beginning, and company star Liam Riddick delivers real excitement in the form of blistering turns and a taut duet with Nancy Nerantzi (pictured above right).
The group sections have a Broadway feel, in a good way – in fact, at its best, Madcap approaches the kind of music and dance flair and synergy I associate with Robbins and Bernstein in West Side Story. It certainly showed RADC off to best advantage, making a convincing case for the company's bright future over the next 20 years and beyond.
Richard Alston Dance Company perform this programme again tonight (27 January) at Sadler's Wells and a selection of these pieces and others on tour until Saturday 13 June
It certainly showed RADC off to best advantage, making a convincing case for the company's bright future over the next 20 years and beyond
rating
Share this article