Wheeldon Triple Bill, Royal Ballet |

reviews, news & interviews
Wheeldon Triple Bill, Royal Ballet
Wheeldon Triple Bill, Royal Ballet
New work about a 19th-century It Girl's dramatic fall sheds a welcome light on John Singer Sargent
Saturday, 13 February 2016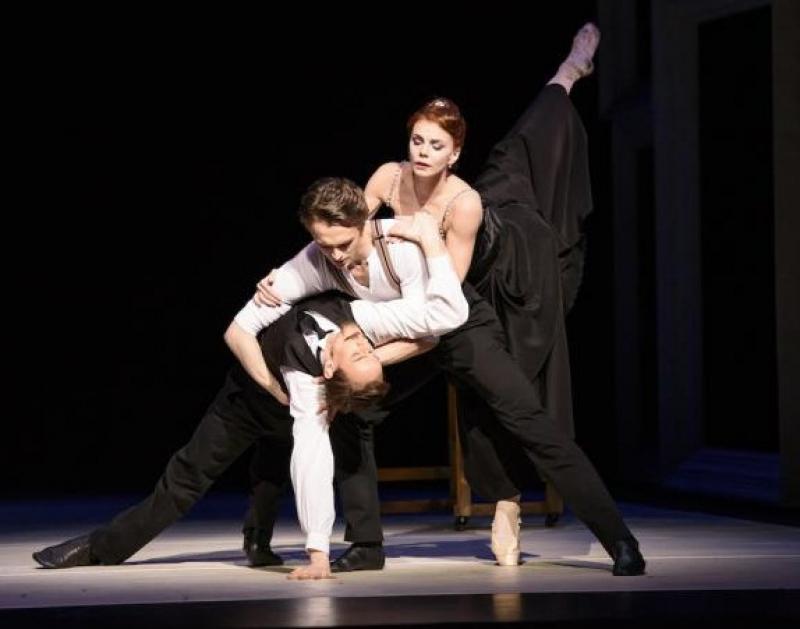 Three-point turn: Edward Watson as John Singer Sargent, Matthew Ball as his lover Belleroche and Natalia Osipova as Amélie Gautreau in 'Strapless'
Christopher Wheeldon's new ballet Strapless scores a first on a number of counts. It's the first co-production between the Royal Ballet and the Bolshoi (London gets first dibs – Moscow doesn't get the goods for another 12 months). It forms part of the first ever triple bill the Royal Ballet has devoted to its most famous son. It's the first ballet music Mark-Anthony Turnage has written to order.
And it's the first ballet on the Covent Garden main stage to feature a passionate gay male kiss.
But that's incidental. The thrust of the Strapless narrative – based on a book of the same title by the American author Deborah Davis – is the story of the Belle Epoque socialite Amélie Gautreau, subject of an infamous portrait painted by a young John Singer Sargent. The painting scandalised Parisian society when unveiled at the Salon of 1884, reportedly on the grounds of offended propriety: it showed the famous beauty in a deeply decolletée gown, with one jeweled strap carelessly slipped from her shoulder.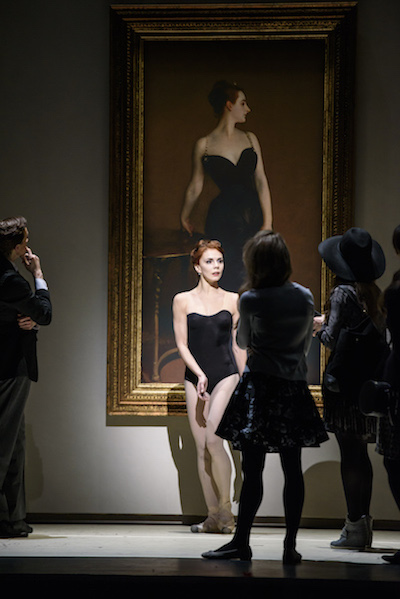 There was clearly more to the offense than this. After all, Manet's Olympia, shown at the Salon the following year, showed a defiantly fully naked prostitute with her black maid and her cat. The point, surely, was that Amélie was a wealthy married woman who was seen to be breaking the terms of her contract. Wheeldon's ballet is clever at setting up characters and scenes but never quite nails the full social picture. Yes, he shows Amélie (Natalia Osipova, pictured above right) fleetingly on the arm of her dull, business-tycoon husband, he shows her in flagrante with a lover, but this cannot make us feel, or empathise with, the shock of a minor wardrobe malfunction set down in paint. Nor does he ever give us the queasy sense, as Kenneth MacMillan did in Manon, and Frederick Ashton did in Marguerite and Armand, of the whole world salivating over the flesh of a woman who dares fly the flag of her sexuality in public.
Perhaps if the ballet had been 20 minutes shorter this wouldn't have mattered. At 50 minutes, it sags in the middle and outweighs its place in a triple bill. But this could be fixed, and must be, as this is essentially a fine piece of work.
As ever, Wheeldon has shown himself to be a fully hands-on collaborator. Turnage, his composer, has made no secret of the fact that he rewrote the score in its entirety after Wheeldon rejected his first version for not giving enough idea of the period. I'm not sure that the second version says "City of Lights, 1884" either, but it bowls the action along in high style, topping and tailing the ballet with a terrific brassy fanfare whose motifs appear throughout in different guises. One of the marks of a good score for narrative ballet is that it directs the gaze rather than drawing attention to itself, and Turnage certainly does that.
Natalia Osipova is a superb instrument which Wheeldon doesn't exploit to the full
Bob Crowley's designs are a joy – memorably in the sliding gallery walls thick with gilt-framed pictures whose top-hatted and bonneted subjects step out into the room to become the Salon's milling public. Natasha Chivers' lighting takes shared credit for this coup de theatre, and full honours for another, more subtle special effect in which the painter's young male love interest, the beauteous Albert de Belleroche, is silhouetted behind the painter's canvas before which Amélie is posing, merging their profiles. The implication is that Sargent's inspiration for what many consider one of his finest female portraits – the scandal notwithstanding – sprang from his love of a man.
I had expected to be bowled over by Natalia Osipova – the first dramatic role to be made on her since she joined the company. That I was left unmoved by her character's ruin is no reflection on her performance. She is a superb instrument which Wheeldon doesn't exploit to the full, though the pas de deux with Federico Bonelli's magnificent Dr Pozzi, her celebrity lover, is surely the best treatment of coitus in ballet since MacMillan made it his specialist subject.
Edward Watson brings his customary dramatic depth to the role of Singer Sargent, shining a light on the painter's pained ambiguity in relation to his celebrity subjects, and his private life, with Matthew Ball making a splash as the gorgeous love interest. Kristen McNally carves out a sharp and amusing cameo as the prim wife of the priapic Dr Pozzi.
Painters and painting have become a favourite theme of screen and stage of late, and not all treatments leave you with any desire to seek out the original work. For all its faults, Strapless compels you to get to know Sargent's better.
The bill is bookended by ballets from Wheeldon's back-catalogue, both new to the Royal and made for American companies. After the Rain (2005), set to music by Arvo Pärt, including the over-used pop classic Spiegel Im Spiegel, was choreographed on dancers from New York City Ballet, Wheeldon's other alma mater. Its second section, an extended pas de deux, very slow, was made to exploit the qualities of two highly idiosyncratic stars, Jock Soto and Wendy Whelan: he stocky, she tall and angular.
Marianela Nuñez and Thiago Soares (pictured above right) are not that at all, and the shapes they make lose some of their point. Nonetheless Soares' muscular heft and dependability are clearly in evidence, enabling some extraordinary feats of balance and flex from Nuñez, mostly startlingly when she stands on his braced thigh and breasts the air like the prow of a ship. I'm personally averse to the slightly icky emotional timbre of this piece, but have to accept that audiences seem to love it.
Likewise, Within the Golden Hour went down a storm with this packed house, yet to my mind it missed the mark. As performed by San Francisco Ballet – who brought it to London in 2012 – it had a delightful hang-loose, West-Coast vibe. The Royal's dancers, with some exceptions, looked awkward and clumsy in its non-classical moments, as if trying on clothes in the wrong size. It was the musicians in the pit (and conductor Koen Kessels) who nailed the ballet's backwoods spirit, delivering Enzio Bosso's folksy string writing with light-fingered finesse.
The implication is that one of Sargent's finest female portraits sprang from his love of a man
rating
Share this article