DVD/Blu-ray: 23 Seconds to Eternity |

reviews, news & interviews
DVD/Blu-ray: 23 Seconds to Eternity
DVD/Blu-ray: 23 Seconds to Eternity
Collection capturing the berserk, exhilarating vision of music-art mavericks The KLF
Tuesday, 14 November 2023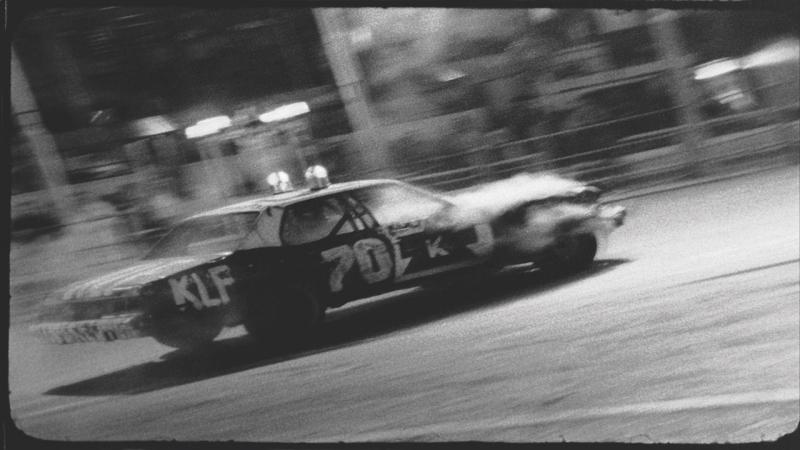 Ford Timelord on the way to meet his end...
The KLF are endlessly fascinating. There's never been a "pop group" like them. From the late Eighties into the early Nineties, they treated music, especially electronic dance music, as a laboratory for lunatic experiment. Unlike most avant-garde thinkers in pop, though, they made a glorious and highly unlikely commercial success of it, via a series of globally successful singles (and, to some degree, the album, The White Room).
From their beginnings to demise, filmmaker Bill Butt was an accomplice, creating films and videos as asked. The BFI's 23 Seconds to Eternity gathers these together chronologically, with occasional, simple white titles telling a version of the KLF story.
Although they've reappeared sporadically in enigmatic guises since, and their work has become more available in recent times, The KLF famously deleted their back catalogue in 1992. Many of these films are rare and, in one case, previously unavailable. The KLF, Bill Drummond and Jimmy Cauty, both with extensive experience of the music industry already, began as The Justified Ancients of Mu Mu in 1987, but the first video here is for their chart-topping Gary Glitter'n'Doctor Who-sampling hit "Doctorin' The Tardis" from 1988, introducing the world to their star performer, Ford Timelord, a 1968 Ford Galaxie police car. It's a magnificently lo-fi romp, as it skids around knocking over Dalek-alikes made of old packing crates.
There are two longer films, the 45-minute The White Room from 1989 and the half-hour Rites of Mu from 1991, of which more in a moment, but the rest of 23 Seconds to Eternity, and the best of it, is the music videos wherein The KLF's genius is distilled into demented, exhilarating snapshots. The stadium house trilogy – "3 a.m. Eternal" "Last Train to Trancentral" and "What Time is Love" - are strung together, just as they were filmed together, a posed stage-set melange of robed mystical gameplay, rave euphoria, Zulu drummers, and soul divas. That the songs are fantastic helps.
"It's Grim Up North", "America: What Time is Love" and "Justified and Ancient" see The KLF put their money where their mouth is. The condensed combination of their honed aesthetic and Bill Butt's direction is rowdily compulsive. "It's Grim Up North" sees them perform in black'n'white in a howling storm, on a disused section of motorway which Butt's wife located. "America: What Time is Love" was shot on the 007 Stage at Pinewood Studios, an epic wherein The KLF and raving'n'rowing accomplices are, again, storm-swept, this time in a Viking ship upon a roiling ocean, with Glenn Hughes of Deep Purple and Black Sabbath belting the chorus like a Norse god.
Both these videos boast a Hollywood action film aesthetic, and a sense of exultant pandemonium, with Drummond and Cauty, as so often, draped in preposterous over-sized rainwear/cowls while havoc reigns around them. "Justified and Ancient", meanwhile, is, in video terms rather than musical terms, the highlight of the whole Blu-ray. The band's final massive international hit, from 1991, again shot on the 007 Stage, it features Tammy Wynette, queenly atop a pyramid of completely over-the-top band and dancer action, and a mass of imagery drawing from the band's rich mythology and history.
Yes, mythology. To the advanced KLF freak, this is as much what they're about as the music. Mischievous pranksters in the situationist/discordian tradition, they actively seeded all their work with mysterious signifiers, explicit hints at Illuminati-Masonic weirdness, at unknowable levels of meaning. John Higgs' excellent book, The KLF: Chaos, Magic and the Band Who Burned a Million Pounds, explores this in depth, a tome that intoxicatingly highlights the manner in which the band dove hard into the liminal space between freeform intuition and art, even magic. They were, Higgs suggests, pursuing the ineffable, something they could only find - or, perhaps, even recognise for what it was - by seeking it (the DVD/Blu-ray concludes by stating that The KLF acknowledged, at their initial end, that they failed – perhaps in this task?).
Which brings us to their longer films. The supposedly unfinished The White Room is, basically, Ford Timelord being driven about in London and Spain, faintly akin to the 1971 road movie Vanishing Point in tone, and boasting an excellent soundtrack (albeit, like much KLF music, repurposing motifs from their recognizable palette of sounds). It features occasional interludes with Drummond, dressed like a 1920s mountaineer, looking at contract paperwork, exploring the "liberation loophole", and climaxes in a haze of dry ice as the duo ascend to… well, where? Why? Rites of Mu, on the other hand, features a voice-over from Martin Sheen in full Apocalypse Now mode, and colourfully documents the occasion in summer 1991 when The KLF transported a bunch of journalists to the Isle of Jura for a series of robed rituals and a burning man ceremony. It looks great, very The Wicker Man, obviously, and can be seen as a dry run for their infamous burning of a million quid on the same island in 1994. The latter was also filmed but not by Bill Butt so not here.
The two longer films are, objectively, a bit boring after a while, although not as boring as the deliberately boring 42-minute Waiting video from 1990 (also, thankfully not here), which sees the pair wander about Jura doing not much at all (I was and am a KLF enthusiast, and sent off at the time for the VHS video, which was the only way to obtain it). For the real KLF nuts, though, the treat on 23 Minutes to Eternity is the previously unavailable KRASH, a four-minute film of Ford Timelord being destroyed at a Wimbledon stock car derby. It's an end as violent and conclusive as The KLF's machine'gun'n'dead sheep exit at the 1992 Brit Awards. Best of all, it's soundtracked by music from the never-released Black Album which The KLF were working on with grindcore outfit Extreme Noise Terror at the time they dissolved. This grubby blurred dark-metal stew is a teasing glimpse of what might have been.
Extras on the Blu-ray/DVD include a new interview with Bill Butt by KLF press officer Mick Houghton, which illuminates the former's background with Drummond, going way back, and provides practical details on how the films came about. There's a couple of behind-the-scenes footage pieces, This is Not What The KLF is About, 15-minutes of clips around the Stadium House Trilogy, and KLF: Unfinished, 30-minutes around the making of "Justified and Ancient" with Tammy Wynette. These extras demystify (maybe too much: seeing Drummond relaxed on-set, red-robed hood down, talking on a brick-sized mobile phone is a Wizard of Oz moment!).
In the end, despite the above criticism of the longer films, the Nineties were a last climatic, hedonist-celebratory peak for UK counterculture, with all the rampageous mind expansion and occasional damage that implies. If I'd seen 23 Seconds to Eternity 30 years ago at a rave-tastic gathering, ripped to the gills on bonker-blitz boo-boo's, I'd likely have been blasted to the moon by it. However, in our current age of gyms, coffee and the triumph of self-absorbed anxiety over free-thinking mayhem, some of it comes across as dusty memorabilia. But it's also often extraordinarily joyous and, if you lived those times, poignantly nostalgic.
As for The KLF, no-one will ever get to the bottom of them. Like much great art, that's just how it should be.
Below: watch the trailer for the KLF film collection 23 Seconds to Eternity
The KLF actively seeded their work with mysterious signifiers, explicit hints at Illuminati-Masonic weirdness
rating
Explore topics
Share this article