Pavarotti review - enjoyable but superficial survey of a superstar |

reviews, news & interviews
Pavarotti review - enjoyable but superficial survey of a superstar
Pavarotti review - enjoyable but superficial survey of a superstar
Ron Howard's portrait of the fabled tenor leaves his inner life unexamined
Luciano Pavarotti: one of the most distinctive and beautiful voices in history
One of the most memorable moments in Ron Howard's documentary about Luciano Pavarotti is one of its earliest scenes. It's a chunk of amateur video shot when Pavarotti visited the Teatro Amazonas in Manaus, a splendid Belle Epoque structure in the midst of the Amazonian jungle. In front of a handful of curious onlookers, Pavarotti climbs onstage and sings Tosti's "A Vuchella", a favourite piece of his idol Enrico Caruso, who also used to sing at the Teatro Amazonas. It's a lovely tribute from one superstar-tenor to another from an earlier generation.
Modern technology and media meant Pavarotti really did bring opera to the masses, and here we see him doing it repeatedly. His hit single with "Nessun Dorma", used as the BBC's theme for the 1990 World Cup, became his calling card, and the World Cup concert by the Three Tenors in Rome powered the trio to global hugeness. "We didn't realise we created The Beatles for senior citizens," as their promoter Tibor Rudas remarked. Pavarotti's magnetic aura fuelled his star-studded charity concerts in Modena (featuring the likes of Bono, Liza Minnelli, Sting and the Spice Girls) and won him the fan-worship of Princess Diana. But of course as Pavarotti's commercial profile soared his credibility with opera critics waned, as he steadily narrowed his operatic repertoire and opted instead for lucrative recitals in arenas. The rise of Pavarotti, the outsized celebrity fund-raiser, could never compensate for the loss of one of the true greats of the operatic stage (Pavarotti with the Three Tenors, pictured below).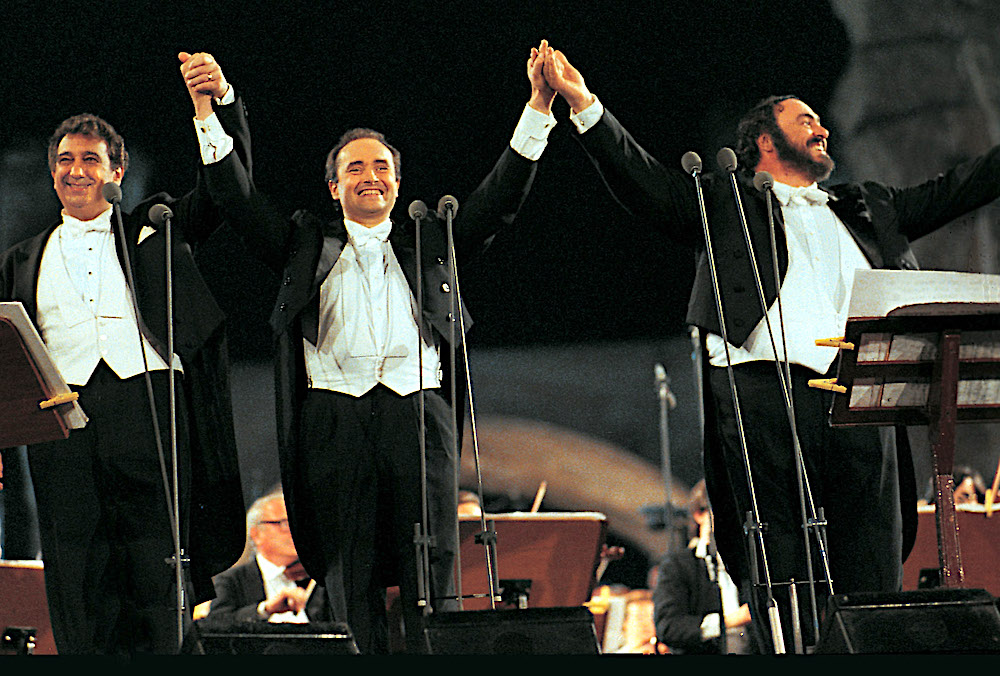 The film runs at a hefty two hours, though there's never a sense that Howard had any particular sense of mission about the project. Nor is it clear why it's been made now – 12 years after Pavarotti's death doesn't seem an especially meaningful milestone, though it does chime nicely with the 90th anniversary of Decca, for whom he exclusively recorded.
As a tribute to a man gifted with one of the most distinctive and beautiful voices in history, it offers spine-tingling musical moments from the likes of Tosca, La Bohème and Pagliacci, and the audio quality is so vivid you may find yourself leaping up to shout "bravo!". Pavarotti's natural wit and warmth are nicely captured in various interviews and television appearances, like the one where he cooks pasta on American TV, and there are touching insights from his widow and daughters, who were pained by Pavarotti's infidelities. His second wife Nicoletta Mantovani talks candidly about her relationship with the tenor and the uproar it caused. A mysteriously large chunk of space is devoted to the singer's liaison with the American soprano Madelyn Renée, who could hardly claim to have enjoyed a monopoly of his affections.
It's an enjoyable watch, but the greatest hits aside, Howard has no real interest in opera or Pavarotti's place in it. There's no mention of such significant collaborators as Herbert von Karajan or James Levine at the Met, nor his teacher, conductor and music director Leone Magiera, nor his childhood friend from Modena and frequent singing partner Mirella Freni. Some of the interviewees offer merely generalised off-the-peg assessments of the tenor, though promoter Harvey Goldsmith brightens the proceedings with some colourful yarns about working with Pav. It's a broad-brush portrait of a superstar, but his inner life remains unexamined.
Adam Sweeting was writer and producer of the BBC Arena film Pavarotti: The Last Tenor