'I loved being a dresser': Sir Ronald Harwood, Oscar-winning writer, dies at 85 |

reviews, news & interviews
'I loved being a dresser': Sir Ronald Harwood, Oscar-winning writer, dies at 85
'I loved being a dresser': Sir Ronald Harwood, Oscar-winning writer, dies at 85
A memorial interview with the playwright and scriptwriter who enjoyed a remarkable Indian summer
Wednesday, 09 September 2020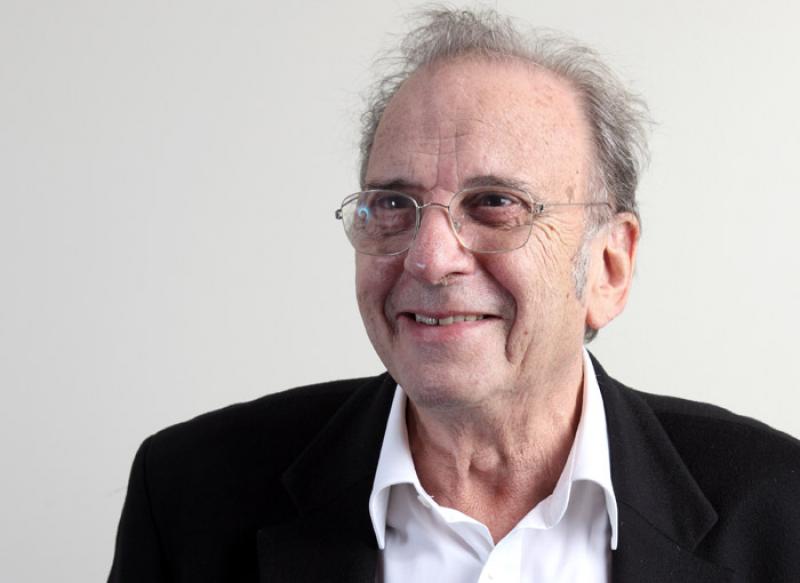 Ronald Harwood: 'The actual art of performing absolutely fascinates me'
Ronald Harwood, who has died at the age of 85, was best known for his play about tending to the needs of the larger-than-life actor-manager Donald Wolfit.
The Dresser
,
adapted
by Harwood, went on to become a great film success starring Tom Courtenay and Albert Finney. His career in the theatre thrived without quite ever scaling the heights of Harold Pinter or his other great friend Simon Gray, but past the official age of retirement he enjoyed a remarkable Indian summer in both film and the stage.
It began in 2002 when he won his first Oscar for the script of The Pianist, directed by Roman Polanski. Other scripts have followed: Being Julia for István Szabó (2004), Polanski's Oliver Twist (2005), Julian Schnabel's compelling The Diving Bell and the Butterfly, Mike Newell's Love in the Time of Cholera (both 2007), and Baz Lurhmann's Australia (2008), the second highest-grossing Australian film of all time. In 2010 Harwood was knighted, and in 2012 his 1999 play Quartet, set in a retirement home for superannuated opera singers, was made into a film directed by Dustin Hoffman and starring Courtenay, Maggie Smith, Billy Connolly and Michael Gambon.
Despite these late forays into locked-in syndrome and magic realism, Harwood's interest was always pricked above all by the moral dilemmas thrown up by the Jewish experience of the 1930s and '40s. He was born and brought up in South Africa, where his parents had drifted in the early part of the 20th century - Harwood's epic novel Home recounts the exotic melting pot of genes in both his and his wife's parentage, from the shtetls of Eastern Europe to the court of the Tsar. The final product of that fascination was his play Collaboration, about Richard Strauss's friendship with Stefan Zweig, which suggested in 2008 that here was a playwright still capable of producing powerful theatre deep into his seventies.
In this conversation Harwood talked to theartsdesk about his first 10 years in the business, and his autumnal success.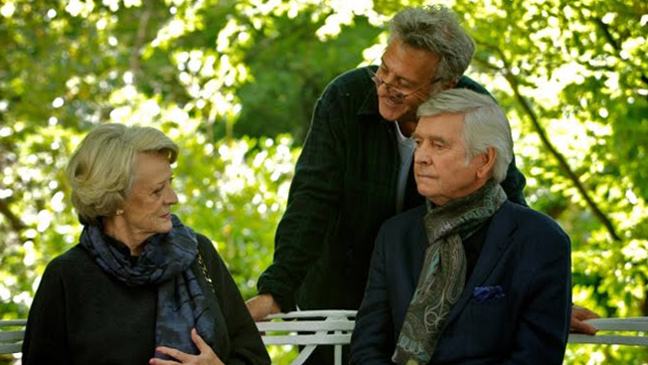 JASPER REES: What was the origin for the idea of a play, now screenplay, about a retirement home for old opera singers? (Pictured right: Dustin Hoffman directs Maggie Smith and Tom Courtenay).

RONALD HARWOOD: It came from seeing a most moving documentary called Tosca's Last Kiss. It was about Verdi's home near Milan which he left as a home for old opera singers and musicians. And years later it came back to me as an idea for a play. I know more of actors than old opera singers but performers are performers. The terrible thing about an opera singer is that the career is short because the voice goes. I was very flattered when I went to see the Italian production in Milan the president of the home said to me, did I go there to do research? The story also has to do with tolerating old age and not giving into it. That's why it's a comedy. It's a wonderful vehicle for old actors. The first dress rehearsal in Guildford in 1999 there were some hairy moments where I went out with my wife and said, "Well, this won't come into London, they'll never know it." And on the first night it was faultless. Actors are very extraordinary beings.
I'm very fascinated by performers. It's like sportsmen. They go into an arena. They're on the line - what they look like, who they are, what they can do. Whereas a writer hides behind them. The actual art of performing absolutely fascinates me. Also with solo musicians. I happen to know several of them and they are extraordinary human beings. They are quite different offstage. On the whole the singers I've known are not really artists in the sense that actors are. They're singers and then they're learnt to do another thing. They just have this gift in the throat.
I loved being a dresser. And when Wolfit found out I was Jewish he made me his business manager. I was 21
You were an actor yourself before you were a writer. What age were you when you came to the UK?
Seventeen. I knew one person in England. I wanted to be an actor. My mother said, "If you want to be an actor you'd better find out if you're any good. You'd better go to England. Anybody can be a good actor in South Africa." There were about five at the time. My father was already dead. He had died in '50 and I came here in December '51. My mother joined me here a few years later in about '54, and she lived here for quite a long time until I started doing well and got married and I was able to support her and then she went back to South Africa where my sister looked after her until she died.
Did she meet Wolfit?
She looked after his house for a long time while he was away.
How good an actor were you?
Not very good. If I was a good actor I'd have gone on being an actor. I wasn't very good. No, I was a show-off really, I wasn't an actor. I knew when I saw Finney and O'Toole that I wasn't in the real world. Their performances were so remarkable, and new, they were a new style of acting that they'd brought to the theatre, and movies of course, Finney especially in Saturday Night, Sunday Morning. I saw O'Toole in the theatre and could not take my eyes off him. It was before he had his nose job. He had a long thin nose. It was to do with his fascination. His personality on stage was riveting. I perhaps didn't admit as much as I admit it now but I thought, this ain't for me.
Was there a moment where you said, "I'm stopping"?
Not at all. Harold Pinter had had some success as a playwright and there was a man called Alan Owen. We were all actors with Wolfit, all three of us, and I thought if they can do it I can do it. My father-in-law gave me a typewriter for Christmas in 1959 and I wrote a novel and a play. I had nothing else to do. I was out of work. I was about to take work on the flyover at Hammersmith. I was on the dole. And the novel was published and the play was done and that was that. I found it very fraudulent to say I was a writer for a long long time and then I got used to it. They did my first television play as a little hour-long movie called The Barber of Stamford Hill, and then my second one was called Private Potter with Tom Courtenay. He was already becoming a big star. It was helpful to all of us. And then I got A High Wind in Jamaica with Twentieth Century Fox (pictured above left: Anthony Quinn and James Coburn). I was very well taught by Alexander MacKendrick, a great director, about economy and planning sequences and thinking visually and then I worked with a man called Ken Hughes. He made two or three very good films. One was with Peter Finch about Oscar Wilde. He did Chitty Chitty Bang Bang and Cromwell. I helped him on a couple of those screenplays.
I then got into a funny line of business. God knows how it happened but the Italians used to send for me and I'd go out maybe twice a month. They have literal translations done of a screenplay and they'd want it put into decent English. And I'd do that. It paid me terribly well and I worked with some terrific people. [Mario] Monicelli and Suso Cecchi d'Amico. And that taught me a lot. One of them was the biggest-grossing film in Italian history with Monica Vitti, called La ragazza con la pistola, part of which was shot here in London. I can't remember all of them. Some of them weren't made.
What was your last acting job?
In a play of mine on television called Take a Fellow Like Me.
When?
'61, '62.
What did Donald Wolfit (pictured above right) say about your acting?
He liked my acting. But he liked me better as a factotum. I was a very good dresser, a very good servant, it never demeaned me. I loved being a dresser. And when he found out I was Jewish he made me his business manager. I was 21, I think. I learned the theatre that way. We were touring. I knew how to book actors on trains and get scenery from one town to another and how to see that the box office weren't cheating us. I did that until '56, '57. I'd had another work too. I was in rep. I met my wife in Chesterfield.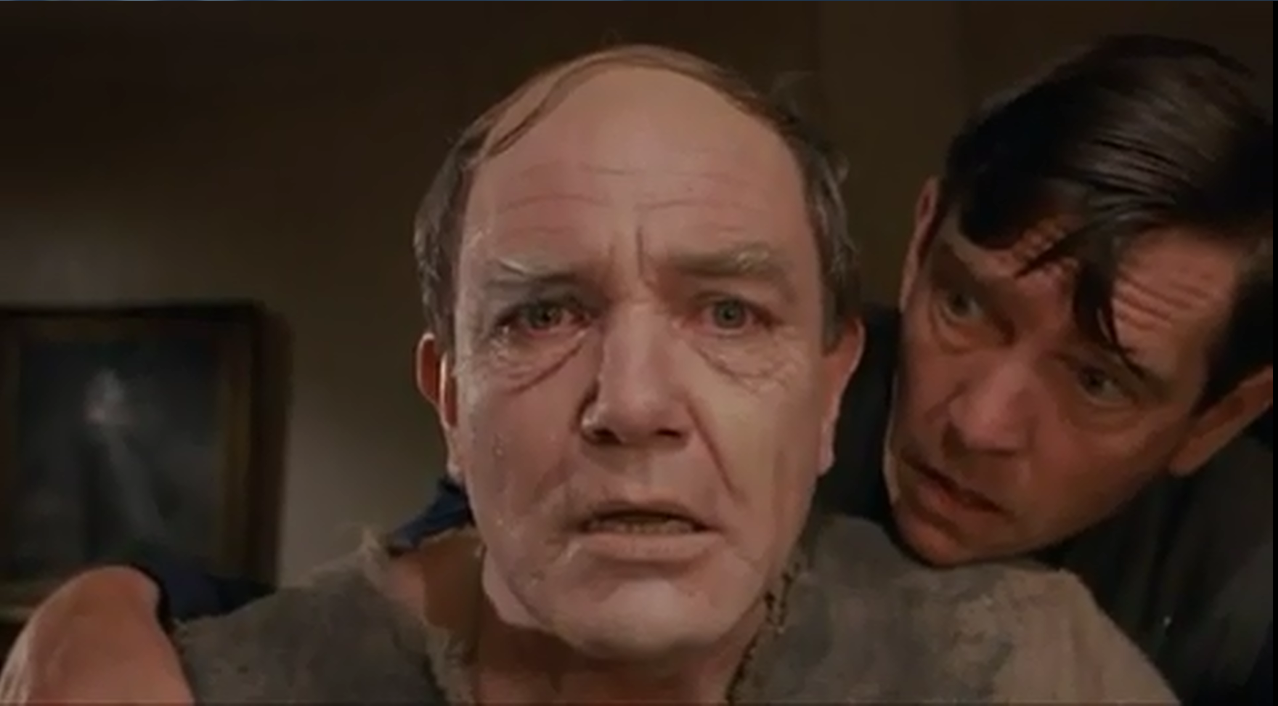 Were you ever in the same cast as Pinter?
Oh sure. In Wolfit's company. Macbeth, Lear, Twelfth Night, Taming of the Shrew. We were small parts. In Oedipus he was in the chorus and I was one of the guards. He'd been writing before that. He'd written poetry. I just accepted the world. Nothing much surprises me and didn't then. Alan Owen took me more by surprise. He was hailed as the great television poet-playwright. He wrote a play called No Trams to Lime Street and the screenplay for Help! and was nominated for an Oscar. He was more unlikely. Harold was a very intense, inward, brooding sort of guy.
Eventually you put those experiences into the play The Dresser. But at what point did it become clear to you that the character based on you would need to be effete? (Pictured above, Albert Finney and Tom Courtenay)

They were a breed of dressers that I knew, especially in the West End. They were mostly that kind of figure. Paul Schofield's dresser called Johnny was flamboyant. He was totally anonymous in the theatre but when he went out he was very swish and camp. And it seemed right. It's not always played camp. I've seen it played very straight and it's still effective. Tom played it very camp. But not too camp. He played it as written. It's written camp.
It's the game. I think you have to make so much money that they can't hide it
The Dresser was your first big film success but you remained better known as a playwright for years. In recent years you've written more screenplays than plays. Is it because scriptwriting pays?
I've been a writer of screenplays for over 40 years. I've had a piece of every picture I've ever written. I've never had a penny, not even from The Pianist or The Dresser, and they were big successes.
Where do they hide the money?
I've no idea. If I knew I'd find it. David Lean said to me at a party just after The Dresser how much he liked the film. He said, "Have you made a lot of money out of it?" And I told him I'd had one accounting. The film cost four and a half million dollars. The first accounting I got said we were in the red for nine million dollars. And there was a little asterisk and you went down and it said, "Interest not included." And he said to me, "Do you want to make money out of movies?" I said, "I'd love to." He said, "Go into the film studio, go and find the office where they're counting the money, you'll see men in suits on their knees stuffing money into sacks. The money they can't get in, grab, because that's all you're going to get." And then he told me it was 21 years before he got any money out of The Bridge Over the River Kwai. It's the game. I think you have to make so much money that they can't hide it. There is nothing you can do about it, except if you're like Sean Connery who employed a famous accountancy firm in Hollywood who went in and found whatever it owed from the Bond films. And it broke United Artists. We were very upset with The Pianist in Japan. It took an awful lot of money and our producer was tempted to send accountants in because it got nothing.
Do you ask for a percentage?
I do. It's a matter of pride. And I never get it. Terrible. Polanski has the same definition. It's the definition of profits that you can achieve is the crucial thing. It's just how the world works. That's why actors get $20 million a picture, because they're screwed too and they want it up front. But I love writing and I've had a privileged time so it's no point in complaining. I'm terribly well paid. I do think that when people take down our stuff from the net we should get something.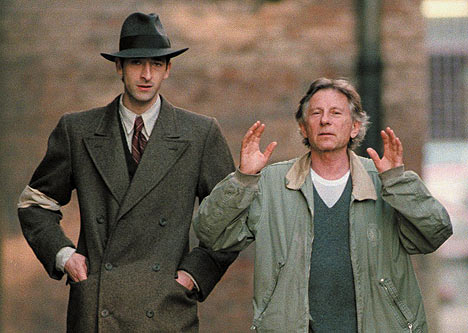 How did it all start with you and Roman Polanski (pictured left on set with Adrien Brody)?
I can't give it the exact year but my play Taking Sides was playing in Paris. Brilliant production with two great French actors. It ran a year in Paris and Roman went to see it. He had already acquired the rights of The Pianist. He thought this is a play about Nazis and music, perhaps this is the guy to write The Pianist. I've always said to him, "You're so unimaginative, Roman, because it's so obvious." I'd never met him and he phoned my agent and I was very flattered that he approached. He sent the book, I read it in a single sitting, telephoned him the next morning and said "yes". I probably said "yes please". We had just previous to that taken a flat in Paris, so it was an amazingly convenient thing. The curious things about Roman and me is we were both in our mid-sixties and we became friends instantly. Which is rare at our age. We are more cautious.
Why did you?
I have no idea. Why do you fall in love? We just became friends, we laughed an awful lot. After I finished the first draft we locked ourselves up in a house south-west of Paris for five weeks and we laughed all day long. We were dealing with pretty gruesome stuff. We made awful jokes about Jews and Germans and Poles. He was very meticulous about the look of it because he had experienced it, he had been in the Krakow ghetto, so he absolutely insistent on certain kinds of views and how people moved. We had watched a lot of archive material previous to my starting. We were in Warsaw for three days watching terrible terrible stuff. Really ghastly archive that won't be shown to the public. That's how it happened.
Did he tell you about his childhood?
No he never talks about it. Occasionally he would say, "I tell you what happened to me," but it's always as if it happened to someone else. He doesn't dwell, he doesn't indulge. The book of The Pianist has exactly that feeling. It's a memoir, but the author talks about it as if it's something over there. One of the first things I said to Roman was "We've got to keep our distance from the pianist because that's the real heart of the book." I always give as an example when the man is thrown out of a window in a wheelchair we stay on the other side of the street. In an American movie you may have gone into that room and seen close shots of faces. It's all seen from his point of view. That wonderful upside down shot under the piano.
Were you been part of his creative renaissance?
I seem to have been. The Pianist must have released something in him. He always wanted to make something about that period. His lawyer found the book and said, "You should think about doing this." These things happen. All these meetings happen and sometimes they are very productive and sometimes they can be destructive. Years ago starting writing in films I met Antonioni. He was the most famous film director in the world. He said, "I always make the same film and the public crosses my path and that moment is the explosive moment." Roman has had that moment several times and then there will be moments when the public haven't wanted to watch him. Now they do. It's a mysterious thing.
Did this late-flowering collaboration work so well because you are both essentially rootless, or have strayed far from your roots? I read Home about your coming from everywhere and being the product of serial migrations. He is also an émigré who has subsequently been turfed out of places that he isn't allowed back into.
I think there is something in that. My mother's family comes from Poland, so I've always had foreign things around me. My wife's family is Russian. I'm not very English in that way. Not at all in fact. I think that was a reason we were able to be sympathetic to each other. No one I know has had a life like Roman. No one. Sometimes I look at him and think, well he survived. That's the beauty of Roman, he's a survivor, and he has survived well. A lot of people could be very badly damaged by what's happened.
You made a very different film with him next in the shape of Oliver Twist. How come?
After we finished The Pianist, Roman said to me he'd like to do a picture for children. I think what he really meant was his own children. He sent me stuff and I found stuff and I'm not good at that kind of thing. I really don't like The Lord of the Rings and Harry Potter. It's not my game and I'm not good at writing it. So I was rather worried that he'd come up with something that I didn't want to do or couldn't do. And as we'd had such a terrific time on The Pianist I was a bit concerned but I read what he sent and suggestions were made. I was being interviewed funnily enough and the telephone went. He said, "Ronnie? Roman. I'm going to say two words. 'Oliver Twist'." I said, "Terrific," and put the phone down. It was announced the next day in Variety and I started work on the Monday. All the money was there by the Monday. Never happened to me before and I don't think it happened to Roman before. We may have had a couple of telephone conversations and I worked. I must have seen him but I don't remember. All I know is I worked solidly till Christmas and delivered it at Christmas. I worked 10, 12 hours a day, and I loved every second of it. I'd read the book when I was 11, in South Africa. And I'd seen the David Lean film, I'd obviously seen the musical because I've got children and grandchildren. I knew it.
Can you put your finger on why no one went to see it?
Impossible to say. I think it's a pretty good film. Nobody went. I think the musical is the reason. People are waiting for the songs. But Polanski said to me, "In 10 years' time they'll tell you it's a classic."
You've been having an Indian summer in your seventies. Can you explain why?
It all comes at once. I wish it didn't but there's nothing you can do. It's just accidental. I never complain. I don't know how long it can go on. But I just take full advantage of it. At my age I find it amazing. I have to pinch myself. I was pretty surprised by it.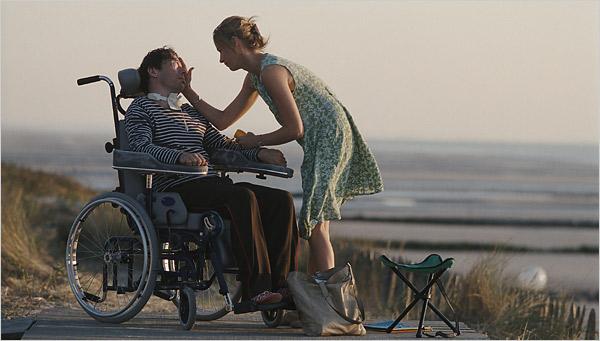 How did you as an English writer get involved in adapting The Diving Bell and the Butterfly in French?
I did it in English. I read it five years before. It never occurred to me it could make a movie. And then five years later Kathy Kennedy who was the producer phoned me and said, would I adapt it? And I said yes without re-reading it. Very rash thing to do. I had a memory of it. I thought, marvellous book, of course I'll do it. We went to our place in Paris, I thought a good place to write about a Frenchman, re-read it and I thought, I'm absolutely mad, this can't be done. It's absolutely impossible. And I was stuck for about two or three weeks. I saw the mother of his [Jean-Dominique Bauby's] children, and the woman who took the dictation when he blinked. She recited the alphabet for me that they'd invented. The only note I made in the interview was "alphabet like music". And I was about to tell Kathy that I couldn't go on with it and this idea came that I should do it from his point of view, that the camera should be him. I rationalised it afterwards. You couldn't look at him in that state for two hours. I mean it's a dreadful sight, the total paralysis of the body. And also it didn't allow me to enter him in some way. And so it helps. The audience is able to experience what locked-in syndrome is. Then after that it was not so difficult and I finished six, seven, eight weeks later. It was greenlit immediately by Universal. The first time it ever happened to me. And they wanted Johnny Depp to play it. He said he loved it and he would like Julian Schnabel to direct. Depp was in London for Finding Neverland, I think. And I went to see the premiere and he said he'd like to meet me and I went up and he took my hand and held it warmly and he said, "Just a great script, I can't wait to start on it." As we turned away I said to my wife, "He's not going to do the movie." And I was absolutely right of course. I've been around actors a hell of a long time.
Watch the trailer to The Diving Bell and the Butterfly
What was the sign?
The sincerity. Absolutely blinding sincerity was the sign. I just knew it. Tell the agent to talk money, that's when you know. There's a reality. They all bullshit. Especially the bigger the star, the bigger the bullshit.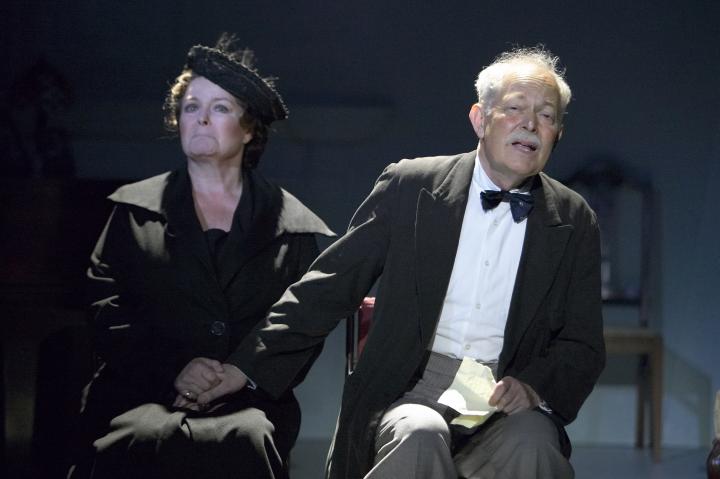 In 2008 Chichester revived Taking Sides alongside Collaboration about the creative relationship between Strauss and Zweig. Taking Sides was about Furtwängler's war record. Was it your perception that the jury is still out on Strauss's war record (pictured right, Michael Pennington in Collaboration)?
It's not in my play. Here's the facts. His son married a Jewish girl. He had half-Jewish grandchildren. The Nazis used that to put pressure on him. What would you have done? It exonerates him. In the Thirties he wrote the Olympic hymn. He didn't want to write the Olympic hymn. He didn't want to write the ceremonial music for the visit of the Japanese royal family. It was kitsch and he knew it and said it in his letters. And he didn't want to be chairman of the Reichsmusikkammer. They needed him because they needed respectability. Furtwängler was the deputy chairman. He didn't stand up to them as much as Furtwängler but they were both compliant in their way. He admired Hitler, Strauss admitted in his deNazification.
But I'm much more virulent about Zweig. He settled in Persépolis in Brazil and then committed suicide with his young wife. They took poison together. I think the suicide was a dreadful act with a young wife because he couldn't face the future and you need people like that, he was a man of great integrity and culture. No, I think Strauss has less of a case to be answered. I wouldn't like to have pressure put on me through my grandchildren. Your grandchildren taken away and murdered? "Do what we tell you." "Yes I will." The easiest thing for all us is to judge from a distance, both geographical and historical. I used the whole suicide note and the wonderful line of Strauss when the Americans came into the village where he lived. He said, "Don't shoot, don't shoot, I am the composer of Rosenkavalier!"
I've never thought of myself in a category. I just think of myself as a writer. I write every day, I love writing
Explore topics
Share this article