All the Beauty and the Bloodshed review - superb documentary about a campaigning artist |

reviews, news & interviews
All the Beauty and the Bloodshed review - superb documentary about a campaigning artist
All the Beauty and the Bloodshed review - superb documentary about a campaigning artist
Nan Goldin's fight against the makers of Oxycontin is as gutsy as her work
We will overcome: Nan Goldin denounces the Sackler pharmaceutical family
A film telling just the story of photographer Nan Goldin's campaign against Purdue Pharmacy would have been worth the ticket price alone.
But Laura Poitras's documentary All the Beauty and the Bloodshed offers so much more. It moves between two interlocking strands: the twin stories of Nan the activist and Nan the artist, and, fascinatingly, shows how one informed the other.
Goldin grew up in New Jersey but at 14, silenced by her older sister's death, was sent away to reforming schools and was only saved when she ended up at a hippie establishment that didn't believe in expelling difficult pupils. Once she had moved on, first to Provincetown, where she wore pearls to the beach, then New York, she became a queen bee of the alternative scene, surrounded by other young people "trying to escape America", who were gay, transvestite, transsexual. Along the way, a beautiful young man who became a lifelong friend gave her the name Nan and a camera. "It gave me a voice, a way to walk through fear."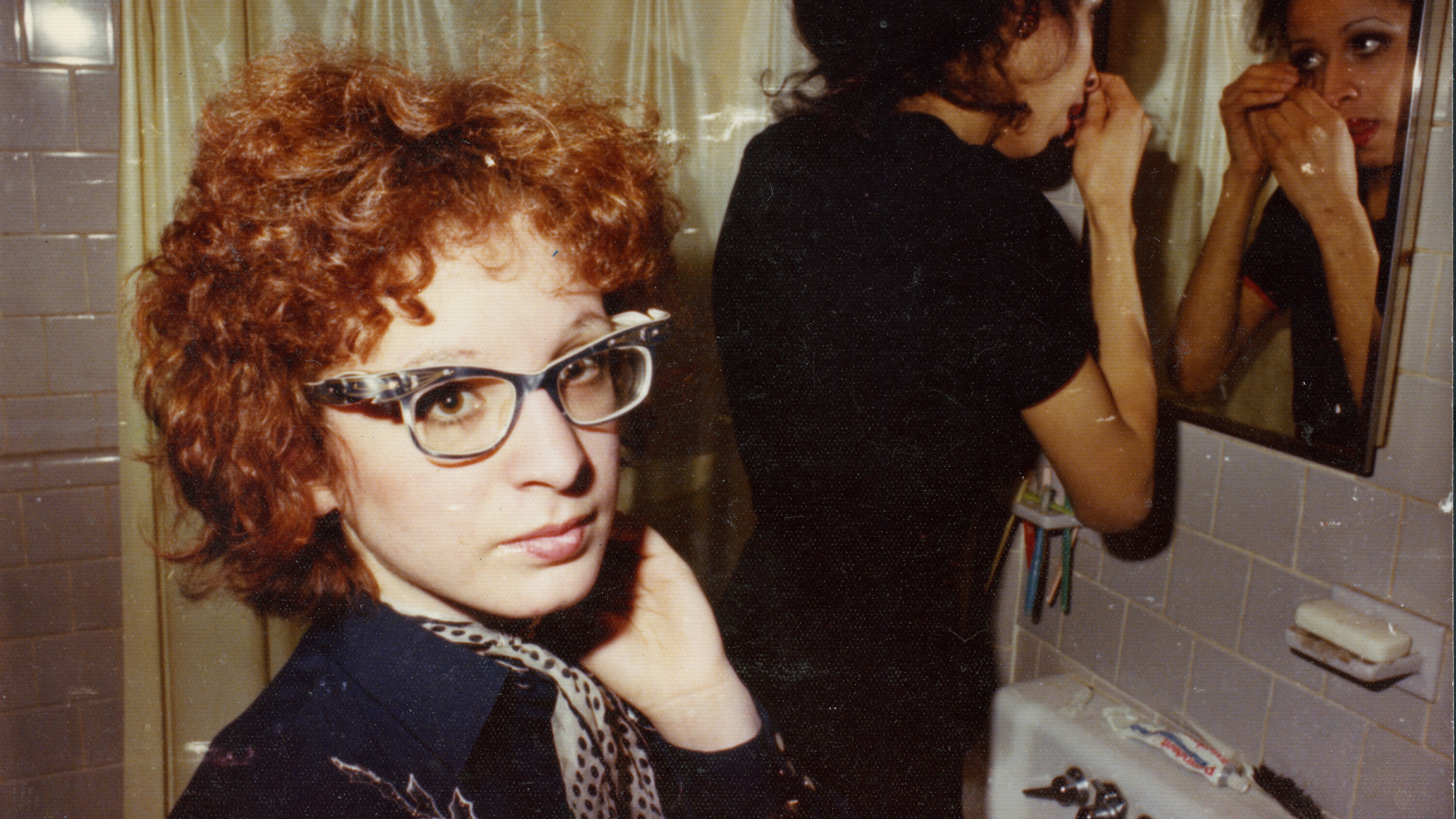 Slideshows became the core of her work: selections of shots with accompanying music that spoke to the lives of the real people in them. They form the core of the film, too, with a running voiceover from Goldin, a wise, wry commentator. In particular, she was a chronicler of the 1980s AIDS epidemic – "It is still going on," she notes – which wiped out so many of her friends.
Goldin's colour shots of herself and others in bed, in bars, in clubs, sexy and strung out, may not seem controversial nowadays, but when she was first touting her work around the NYC galleries, she says, photography was considered art only if it came as monochrome A4 uprights. It seems unlikely that any of the revered photographers of the time carried their "portfolio" around in a crate and got a cabbie to help carry it to a gallerist by giving him a blow job Pictured above: Goldin out in New York).
The film really nails the vital trigger for her work as her suburban upbringing. Most artists rebel against conformity, but Goldin chose as the form of her revolt a total lack of a filter and a devotion to self-exposure. This has nothing to do with vanity or narcissism: it is the diametric opposite of both selfie-dom or its opposite, denial. She embraced photography as a way to learn to trust herself, and to get others to trust her, too. When a NYC bar-owner made her realise her art was political, that it was about men's power over women, she went ahead and published shocking pictures of her horribly bruised face after an ex attacked her, hoping to destroy her sight.
Right at the heart of her work, the film shows, is Goldin's despair at losing her older, non-conforming sister to suicide. Nan, too, was sent away because her mother was terrified of another suicide in the family. "My parents were not equipped to have children," she drily notes. But sending her away would arguably give Nan her life back.
When Nan comes nose to nose with the billionaire Sackler family, to that point the leading benefactors of the art world and owners of Purdue Pharmacy, she has an instinctive technique for her campaign against them. She makes it a gutsy art form, again with no filter.
She had been prescribed Oxycontin, like so many millions of others, and was instantly addicted. After two years recovering, in 2018 she became intent on documenting her campaign to make the Sacklers accountable for the opioid crisis.
Enter Poitras, whom she invited to film her PAIN protest group's "die-ins" at leading US museums and galleries, where the group simply lay on the floor and played dead. At the Guggenheim they threw down the "blizzards of prescriptions" promised in Purdue internal memos about the future success of Oxycontin. In other venues they surrounded themselves with fake pill bottles and specially printed OXY dollars covered in "blood" (Pictured above: Goldin and others play dead).
We watch as their campaign slowly gains traction, as one leading museum finally gives back its Sackler grant and others follow. But Goldin needs more: to see the Sackler name wiped off the galleries they have funded, some of which are major exhibitors of her work. Most gratifying of all to watch is the footage of Goldin and families that lost loved ones testifying in a court session at which senior Sacklers are forced to be present. In relentless close-up, their minute facial expressions, or lack of any, are there for all to see as they listen to these tragic witness accounts.
Poitras was aided in making this film by the unstinting co-operation of her subject, who even chose the soundtrack music. Her input is everything her director could hope for: she's tough but vulnerable, funny but angry, brave but modest. And this rich film is both hugely engaging and seriously rage-making.
Goldin has an instinctive technique for her campaign against the Sacklers: she makes it no-filters art form
rating
Explore topics
Share this article