At Eternity's Gate review - Willem Dafoe excels in hyperactive biopic |

reviews, news & interviews
At Eternity's Gate review - Willem Dafoe excels in hyperactive biopic
At Eternity's Gate review - Willem Dafoe excels in hyperactive biopic
Willem Dafoe's Oscar nod as Vincent Van Gogh was well-deserved
Loving Vincent: Willem Dafoe as Vincent van Gogh
It's all go – no, make that Van Gogh – when it comes to the Dutch post-Impressionist of late.
Opening the same week as the Tate Britain's blockbuster
exhibition
about his years in London comes the artist-turned-filmmaker Julian Schnabel's biopic of the tragically short-lived artist, for which its star Willem Dafoe was an unexpected
Oscar
nominee last month for best actor.
Ravishing to the eye as one might expect, and acted with a near-ferocious empathy by Dafoe (who, thank heavens, doesn't worry about an accent), the film as a whole is sure to divide opinion. Shot with a ever-busy restlessness as befits the fraught man at its centre, the movie all but cries out for moments of calm to allow filmgoers to take stock, not least of the pictorial splendour that Schnabel puts before us. At the same time, one feels what it might have been like to be inside the head of a genius that Schnabel, an artist himself, surely himself understands. The result is compelling moment by moment but also vaguely exhausting, it must be said, as well. (Tatiania Lisovkaia's score, for one thing, rarely lets up.)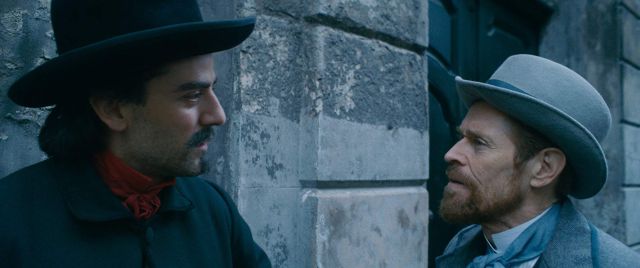 The film begins in Paris where Van Gogh is being urged by his buddy Paul Gauguin (a naturally authoritative Oscar Isaac, pictured above left, with Dafoe) to go south, where the light is better. And so he dutifully does, showing up in Arles amidst mistral season where, we learn, he completed 75 paintings in 80 days. Taking succour from Shakespeare (Richard III, it would seem, in particular), Van Gogh finds a natural subject in a blade of grass or branch of a tree. And Dafoe, eyes shining, is at his considerable best when words fall away and Van Gogh interacts with a world towards which he has a sensibility so acute that it risks driving him mad: an asylum soon beckons.
While Benoît Delhomme's camerawork speaks volumes, the screenplay by Schnabel, Jean-Claude Carriere and Louise Kugelberg contains several especially striking set pieces. One of them finds the painter all but waylaying a peasant woman whom he approaches as a would-be subject with an avidity bordering on the fearsome. On several other occasions, Van Gogh's distance from his community is keenly felt, whether via a community of youngsters who don't get his work or in the decision of the Arles townspeople to sign a petition against him.
Throughout it all, Schnabel traffics in the intensity familiar from such previous films of his as Before Night Falls and the Oscar-nominated Diving Bell and the Butterfly, whose French lead, Mathieu Amalric, shows up here in at least one faux-canvas of an actual Van Gogh. "Maybe God made me a painter for people who aren't born yet," muses Dafoe's shimmering Van Gogh, the pastor's son who only made it to 37 (Dafoe is now 63) and whose cause of death is debated to this day – suicide most likely, but perhaps not. At Eternity's Gate to its credit doesn't claim to be the last word on any of these topics beyond acknowledging its subject's gifts as God-given, which one can't imagine many would quickly refute. You might question a filmmaking aesthetic that seems not to want to come to rest, but the Van Gogh mystique swirls ever-onwards: for eternity, indeed.