Van Gogh and Britain, Tate Britain review - tenuous but still persuasive
Van Gogh and Britain, Tate Britain review - tenuous but still persuasive
The artist's London years provide an insight into his inner life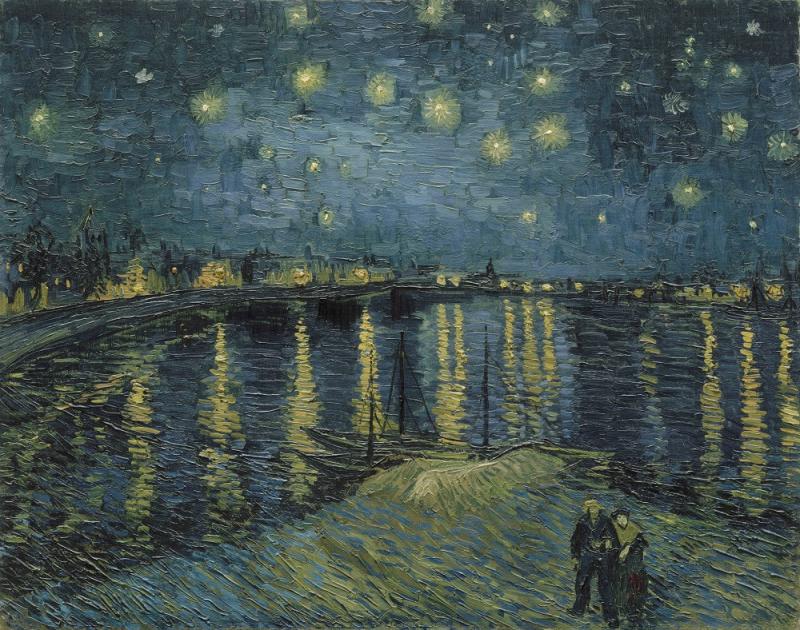 Van Gogh, 'Starry Night', 1888
Soon after his death, Van Gogh's reputation as a tragic genius was secured. Little has changed in the meantime, and he has continued to be understood as fatally unbalanced, ruled by instinct not intellect.
Van Gogh's characterisation of himself as a blue-collar artist-worker has only compounded this, so that the real revelation of
Tate Britain
's new show is not Van Gogh's affection for this country, or the influence he would himself have on British art, but the sophistication of his inner life, which acquired breadth and depth through his lifelong interest in British art and literature.
Van Gogh was a voracious reader with a surprising appetite for Victorian novels and particularly Dickens, whose books he read from boyhood, both in English and in translation. He moved to London in 1873 aged 20 to work for the art dealer Goupil, and his daily walks from Stockwell and the Oval to his office in Covent Garden immersed him in city life. The famous landmarks of London were there to see, but also the social inequalities, which to a young and sensitive man from the relatively provincial city of The Hague must have struck him much as if he were stepping into the pages of a Dickens novel.
London in the 1870s was ripe for social reform: the first Barnardos home was established in 1870, the same year that compulsory education was introduced for children up to the age of 12. Van Gogh was clearly receptive to these concerns, as he was to popular religion, and in the latter part of his stay in England, having lost his job at Goupil, he tried both teaching and preaching before returning to the Netherlands in 1876 (pictured right: The Prison Courtyard, 1890).
Though Van Gogh did not take up painting until 1880, his experience of London was viewed not just through the prism of literature, but also through art. His job at Goupil took him to galleries and salerooms, his signature in the Dulwich Picture Gallery's visitor book a tantalising trace of his wanderings. In a superbly well-researched room, a selection of paintings seen by Van Gogh while he was in London gives a vivid sense not only of the artist's own visual experiences, but of prevailing tastes in the early 1870s. His fondness for the Pre-Raphaelites, and the historical and literary subjects that today are categorised as the most extravagant Victoriana, is unexpected perhaps, though Millais's bleak Chill October, 1870, is echoed in Van Gogh's own atmospheric landscapes.
In some cases, Van Gogh kept these works with him by acquiring prints, and his 1882 painting Bleachery at Scheveningen draws heavily on Richard Parkes Bonington's A Distant View of St-Omer, c.1823, of which Van Gogh had a print. London in the 1870s was at the heart of a thriving market for prints – black and whites, as they were known – and the black and white aesthetic, and a fashion for depicting types, emerges in his early portraits, such as Old Man with Umbrella and Watch, 1882, which though made back in The Hague is persuasively Dickensian in character. Even Van Gogh's celebrated painting Starry Night, 1888 (main picture), with its pulsating southern sky, is treated here as a memory of London, those streaky lights reflected in the water reminiscent perhaps of gaslights reflected in the Thames.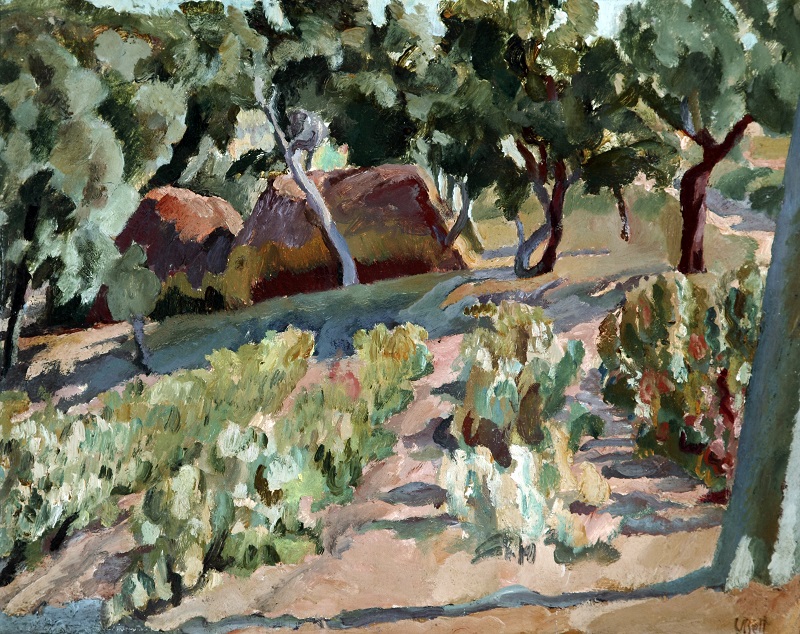 If this connection seems tenuous, it is surely because Van Gogh's vivid colours and gestural brushstrokes are so far removed from Victorian England that this exhibition triggers an unsettling cognitive dissonance that requires an imaginative leap to resolve. Perhaps this is a hangover from Van Gogh's late introduction into British cultural consciousness, which only occurred in 1910, 20 years after his death, as part of Roger Fry's now legendary exhibition Manet and the Post-Impressionists. It is hard to appreciate now just how significant this exhibition was, but it was sufficiently transformative that Virginia Woolf described its opening as the day "human character changed".
Something of its impact, and specifically that of Van Gogh, is marked in a room dedicated to British artists, including Vanessa Bell, Samuel Peploe and Matthew Smith, who all experimented with aspects of his idiosyncratic style, applying vivid colours in bold dashes and sweeps (pictured above: Vanessa Bell, The Vineyard). Van Gogh was by no means the only modernist painter to revive the staid and rather scorned genre of flower painting, but Van Gogh is here credited with its rehabilitation as a subject well-suited to experiments in colour and form, with Christopher Wood's Yellow Chrysanthemums, 1925, recruited as a homage to Van Gogh's Sunflowers, 1888. Some of the claims made by this exhibition seem more hopeful than accurate, but the insights are so instructive and thought-provoking that one is inclined to take them in good spirit: for an artist as thoroughly picked over as Van Gogh, this journey through his early years in Britain only reinvigorates the works we thought we knew so well.
Starry Night, with its pulsating southern sky, is treated here as a memory of London
rating
Explore topics
Share this article