10 Questions for Actor Toby Jones |

reviews, news & interviews
10 Questions for Actor Toby Jones
10 Questions for Actor Toby Jones
The English everyman is now the king of a make-believe Italian castle in 'Tale of Tales'
If the face fits: Toby Jones in 'Tale of Tales'
What is it about Toby Jones? A decade ago he had a stroke of luck when a film producer spotted his physical similarity to Truman Capote and cast him as the lead in Infamous. The luck wasn't unadulterated. Philip Seymour Hoffman played the same role in a different film and won an Oscar. While Infamous was overshadowed, Jones wasn't. The latest advance in his career finds him playing a medieval king in a film from the director of Gomorrah, the ultra-violent portrait of organised crime in Naples.
Matteo Garrone's Tale of Tales adapts three of the many fairy stories anthologised by 16th-century Neapolitan courtier Giambattista Basile. In a story known as "The Flea", Jones plays a king who promises to marry his daughter off to anyone who can identify the pelt of a mysterious creature. The clue is in the title, but this is no ordinary flea, which under the king's care has grown to monstrous proportions before dying.
There's a strong moral dimension hidden behind this fantastic imagery
Jones has a face for make-believe and the role continues a fantastical thread in his CV which began when he was cast as the voice of Dobby the house elf in Harry Potter and the Chamber of Secrets. But more than any other screen actor of his generation he has also come to embody the ever-changing face of Englishness. Recent roles have included Neil Baldwin, the Stoke City fan with learning difficulties in Marvellous, Alfred Hitchcock in The Girl, Captain Mainwaring in the Dad's Army remake, and the terminally single obsessive Lance in Detectorists. One day he'll make a wonderful Falstaff (he had a brief run-out in the role for the Globe's 400th anniversary celebrations). So how come he's the king of a castle in the middle of southern Italy?
JASPER REES: Where was your section of Tale of Tales filmed?
TOBY JONES: The Castel del Monte in Puglia. You can look out from the roof and you might as well be in the Middle Ages. It's absolutely amazing [see trailer overleaf]. It's in the middle of nowhere. It's intact and we just filmed there. There's hardly any CGI in the film. The flea stuff is just puppets.
It's very different from your last visit to Italy, Berberian Sound Studio.
Yes, very different, although the making of it was kind of similar. What's refreshing about making an Italian film – even though it's English-speaking – is there's a certain chaos on the set which is all about the energy and the enthusiasm of making films. Sometimes in England and America the industrial process takes over to such an extent that it's all a bit systematic and everything's been thought to the nth degree and there doesn't seem to be that same "we've got this and we can do that!" There's people losing their tempers because it matters. It's not all executives whispering to each other. It's out there. Matteo – because he was producing the film as well – he's passionate about this material. In a weird way I think it's quite closer to Gomorrah. When he said, "I'd love you to be in my next film" I said, "Absolutely, loved Gomorrah, I loved Reality." And then this script comes. What the hell's this? But when you look at what it's about, it's treating the same kind of humans in thrall to their own desires, in thrall to their own instincts, misbehaving adults. And here the root of all of that is these fables about people who can't control themselves who succumb to their own weakness. And clearly there's a strong moral dimension hidden behind this fantastic imagery. It's not Gomorrah but there is a banality to the fantastic that's a bit like the banality of the violence in that film.
Your section feels like the most rounded narrative. The king condemns his daughter Violet to a terrible ordeal. Is it a parable about the perils of paternal self-obsession? (Pictured below, Toby Jones with Bebe Cave).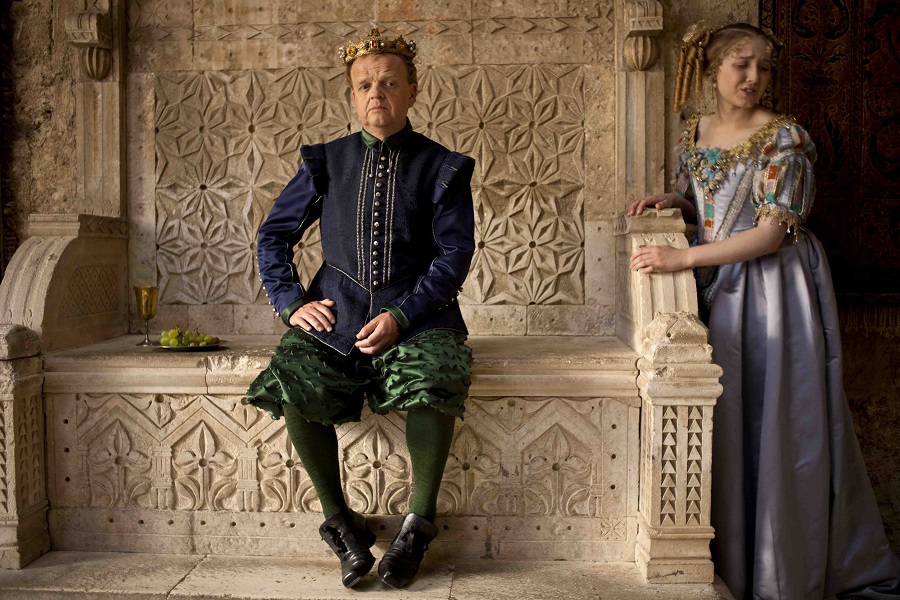 That's what I was thinking about when I was making it. Everyone goes on about the flea and you go, "the flea is a bit of a McGuffin." When I think about my daughters growing up, one's fear for the future means that I tend to become nostalgic about the past. "Don't change, don't change." The change that will happen is that your daughter will leave and you yourself will become a child again in old age. There is a reversal in the story. I think it is about paternity and about complacency and about not seeing what is in front of you.
Were you able to draw on your own relationship with your father [the actor Freddie Jones] in any way?
Not directly but when you say it like that I think there is a connection. I think that in his job and in my job you're often disconnected from your family and you're coming back in and having to retrieve time to become reconnected with your daughters. And they have their own lives. They're not daughters, they're people, and in a sense that's what she's fighting for in this film.
There's been quite a lot of you in the fantasy genre - Captain America, The Hunger Games, Dobby. You were one of the seven dwarves in Snow White and the Huntsman and had a role in the spoof Your Highness. Regardless of where you're filming it, whenever the original material was written, are you occupying a different world and mental space, and are there different requirements to doing fantasy storytelling?
To a piece of naturalism or social realism? I think you spot actors who think there is. I don't think there is a big difference. In a way your job as an actor is to know what your character wants from the scene, what are your character's needs, short term and long term, why they're there, what they desire. Even Dobby, there's this tremendous heart and desire to serve and you cheapen that by going, "But he's only a house elf!" The audience loves it if they feel it's a truthful need that you have. I think there are technical differences. When you work on those big big films like Captain America or Harry Potter it'll be a scene that you return to over several months, then you reshoot, then you return to it again, dub, redub, it gets re-cut, you do it again. Any initial thought you ever had about it has become compromised by the sheer macro-economics of those franchise. Whereas a film like this, it's a big-budget film but it's tiny compared to those films. It's a hugely ambitious film for Italy. You get one go at it and there isn't the money for loads of retakes and reshoots. But in both films it's the same thing. If people like Dobby it's because they think Dobby's a person.
You attended the French clowning school, L'Ecole Jacques Lecoq. How much did it help you inhabit that world?
It's counterintuitive but I think it helps me massively all the time. It's such a practical concrete training about space, and about breathing and telling stories with breath, not just with words, it's a visual training, it's about economy of sign-making. And often in film, it's understanding the space you're in and how far away you are from the camera and what the nature of the space is which is effectively a proscenium arch anyway. The further away from the Lecoq I get the more I realise that training has had a profound effect on the way I work on a film set because it just gives you a very quick sense of what you're doing. Other techniques you use on top of it but it's just very very practical. It's about what your body is saying whether you like it or not. Whatever you mouth is saying your body can be saying something totally different or it can be sympathetic or consonant with what you're saying. There is a sentimental side of me as I get older that goes, "It really was the best decision I ever made," because it's proved so useful in so many ways, just as an outlook, feeding your curiosity as an actor about what you can use and how you can use it. If you've done two years at that school you're interested for the rest of your life in drama.
You just never know what you're going to get with you next. Do you know what directors and casting directors are looking for when they want you to play a stressed banker in Capital or Neil Baldwin in Marvellous (pictured below, Jones with Baldwin).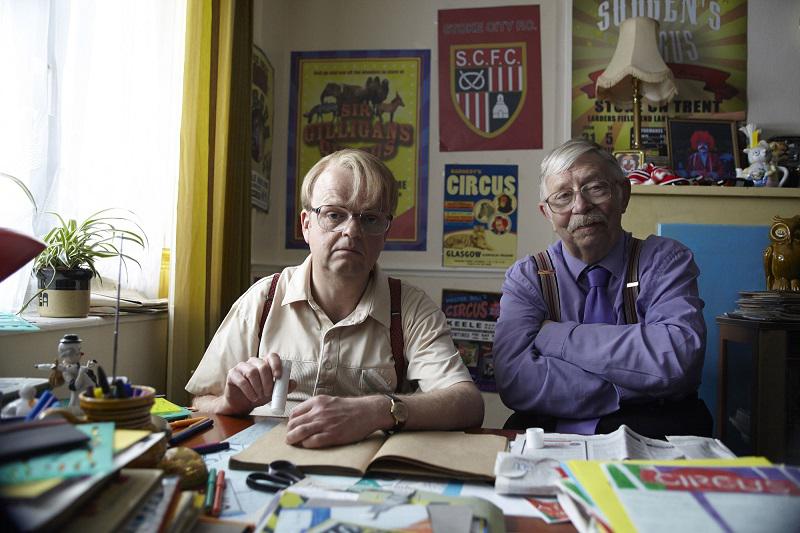 The really honest answer is that if I was to try and answer that it would get me into an area which I really more than anything else try to avoid. As I get older the less clear I am about what I convey… that's why it's no use to me to go and look at a monitor after a scene. Because I just see what I always see which is me on a monitor. But they see the character. If I'm doing it properly they see the character. If I see me, I don't want to see me, I want to see the characters and I won't see the character, but they see the character.
Is it difficult to watch your work when completed then?
Yes I have to be careful about this because it's really bordering on cliché, this, about not wanting to watch your work. I don't get anything from it because I only see what I didn't do and it never looks like it felt to do.
What didn't you do in Marvellous? Or did you not watch it?
I did watch that because I was so intrigued to see what he [director Julian Farino] made of what we shot and how he cut it. And also because I'm interested to see the films. Whether I enjoy them or not is a different issue.
It's been announced you're to be chief villain in the new series of Sherlock. Can you say who you are playing?
Can't say. Very short answer. Not allowed to say. Signed something.
Why was Detectorists (pictured below) so good?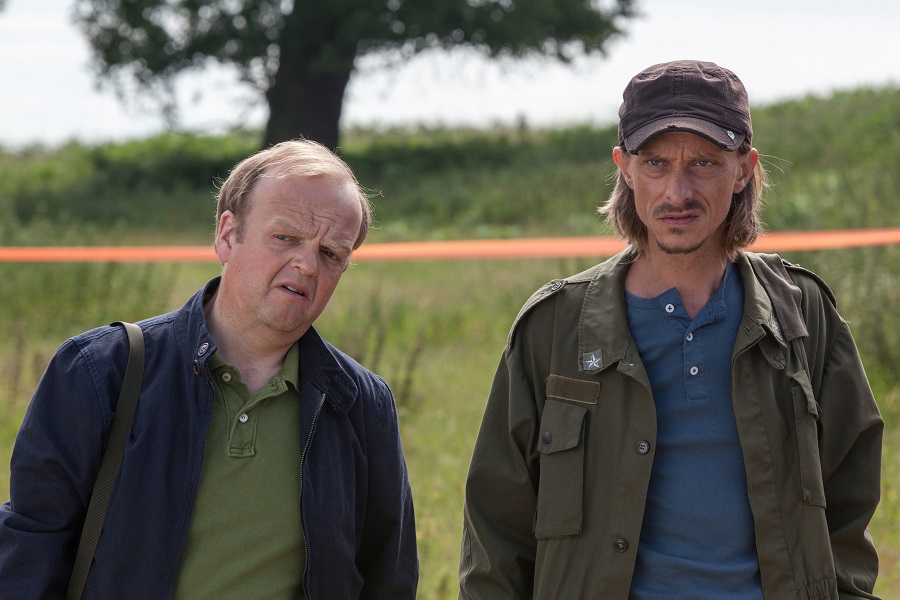 Because Mackenzie Crook didn't write comedy, he wrote characters. I was dead set against doing it. I was dead set against doing any kind of comedy show, and he said, "I've written it for you, but if you don't like it just be clear." But it was so clearly written for people like with their mates shooting the breeze, trying to cope with banter.
Is there another one coming?
Having spoken to him I think there might be another one but I don't think it would be in the same format and I don't think it would be a movie. But I think there might.
Are you over Capote (Jones pictured below with Sandra Bullock as Harper Lee)?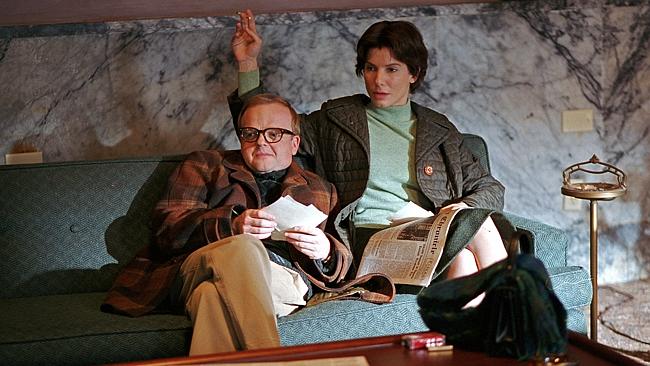 It was never a problem [giggles]. It was never a problem! It was a problem that was projected onto me by so many interviewers going, "Here's a good spin." As I always said, the idea of me playing an iconic American author surrounded by those actors in a lead part when I'd just been doing theatre for 10 years, it was so unlikely, how could I possibly feel disappointed? I think people projected stuff onto it.
You last acted in the theatre five years ago, playing Turner in The Painter. When is your next appearance in the theatre?
I hope it's soon. I haven't got anything planned. I'd love to do something in theatre, I really would. I'd love to do some Shakespeare.
Your job as an actor is to know what your character wants from the scene, what are your character's needs, short term and long term
Explore topics
Share this article
Subscribe to theartsdesk.com
Thank you for continuing to read our work on theartsdesk.com. For unlimited access to every article in its entirety, including our archive of more than 10,000 pieces, we're asking for £3.95 per month or £30 per year. We feel it's a very good deal, and hope you do too.
To take an annual subscription now simply click here.
And if you're looking for that extra gift for a friend or family member, why not treat them to a theartsdesk.com gift subscription?