360 |

reviews, news & interviews
360
360
The director of City of God and writer of The Queen play away in a multinational rondo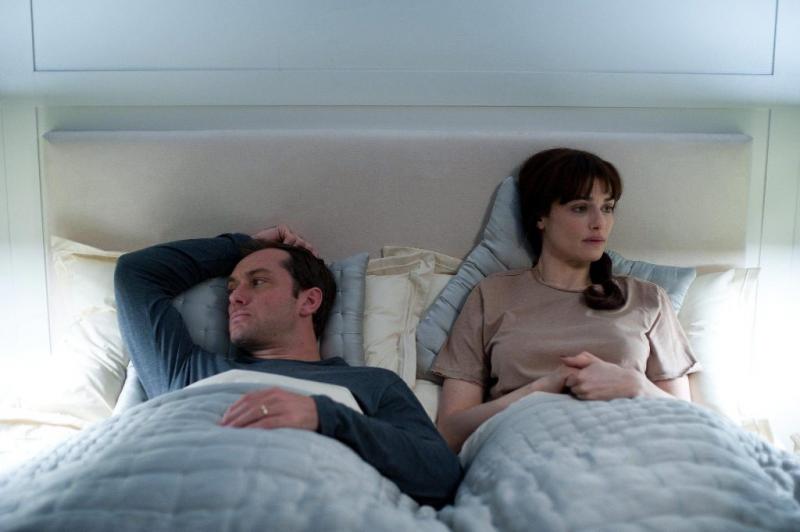 Marriage, actually: Jude Law and Rachel Weisz in '360'
In the end only Robert Altman really knew how to do it: to take a spread of characters and somehow knit their stories together into a satisfactory whole. When filmmakers have attempted it in recent years they've tended to self-importance – Paul Haggis in Crash, Alejandro González Iñárritu in Babel – or risibility – Richard Curtis in Love, Actually.
And now here comes
360
, which riffs on
La Ronde
to daisy-chain the lives of several characters across the planet. Bring your passport.
You've got to hand it to director Fernando Meirelles and writer Peter Morgan: they've aimed high with a story which argues that we're all linked by whims and urges it's not always possible to control, whose consequences are unknowable. So advises a helpful epigraph as we embark on this globe-trotting roundelay: "A wise man once said, 'If you see a fork in the road, take it.'"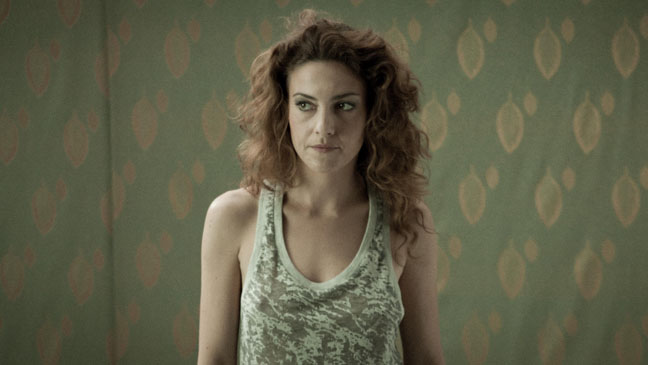 The title refers to the full circle travelled by the plot, though with its focus on the western hemisphere – and the tendency of its characters to do about-turns - it might as easily have been called 180. We begin with a freshly recruited Slovak prostitute (Lucia Siposová, pictured right), who has been booked by Jude Law's nervous Englishman on business in Vienna. Meanwhile, in London his wife (Rachel Weisz) breaks off her fling with a Brazilian photographer, but not in time to prevent his girlfriend (Maria Flor) finding out and fleeing. On her journey home to Rio she encounters a father (Anthony Hopkins) whose infidelities have long since estranged him from a daughter now presumed dead. Their meeting has a profound effect on him, as he subsequently explains at a drop-in AA meeting also attended by a Russian woman (Dinara Drukarova) visiting family in America but resident in Paris. She is tacitly adored by her French-Algerian co-worker (Jamel Debbouze) but ignored by her husband, the bodyguard (Vladimir Vdovichenkov) of a Muscovite hoodlum for whom he hires the same prostitute we met in the first reel. While they do their thing in a swanky hotel, the bodyguard and her sister (Gabriela Marcinkova) hook up more innocently at street level.
Phew. Plot-wise, that's about the size of it. The performances are mostly decent, although those acting entirely in their own language are at an advantage. Weisz is luminously believable as a wife sadly turning away from temptation. In his dramatic monologue at the AA meeting Hopkins (pictured left) semi-adlibs his most interesting two minutes of acting in years. As sometimes happens with Law, you slightly struggle to believe that those are his specs, let alone the cards his character's been dealt. But the rest of the cast, though allowed now and then to slip into their native tongue, are passed through international cinema's lingo-mangler which finds most acting mostly in globish. When the Moscow gangster slings his bodyguard's teach-yourself-English DVD out of the car window, you want to high-five him. And all of them have been given thin pickings to work with courtesy of the film's overweening one-size-fits-all moral vision.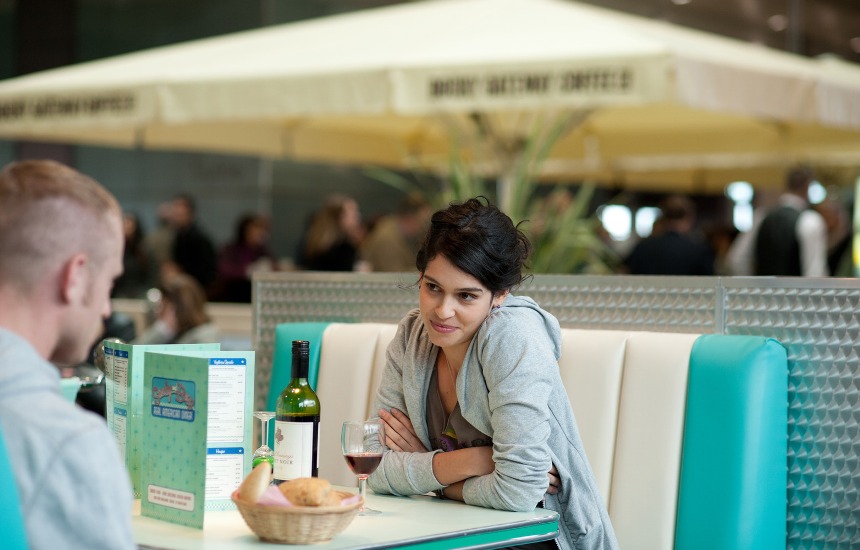 Maybe it's understandable that the director of City of God had nothing more to say about his own culture, but it feels odd that Meirelles has least interest of all in the Brazilians. One the script dumps altogether, while Flor's character hastily recovers from heartbreak by picking up a stray man (Ben Foster, pictured right with Flor) in an airport stopover, who just happens to be a convicted sex offender journeying to a new life on the outside and grappling with unquashed urges.
This is one of several instances in which Morgan's script flirts with the prospect of incident only to withdraw and instead pat his characters on the back. It's as if he's taken the advice of the Algerian's imam, who counsels sexual temperance, rather than his shrink, who perches on his other shoulder and sulphurously recommends taking the romantic plunge. As character after character opts for the decent moral path (while the bad guys get their comeuppance), the whole project feels in hock to a bland sermonising optimism that is gladly absent from both City of God and Morgan's grounded dramas about real-life contemporary figures. At least they know their Wildean aphorisms: "the good end happily, the bad unhappily," said Oscar: "that's what fiction means." It's an irony they seem to have missed that Meirelles and Morgan have made a film about the perils of playing away and not heeded their own warning. Instead, 360 takes the fork marked glib.
Watch the trailer to 360