Aladdin review - live-action remake in classic Disney mould |

reviews, news & interviews
Aladdin review - live-action remake in classic Disney mould
Aladdin review - live-action remake in classic Disney mould
Will Smith has the only magic in update of 1992 animation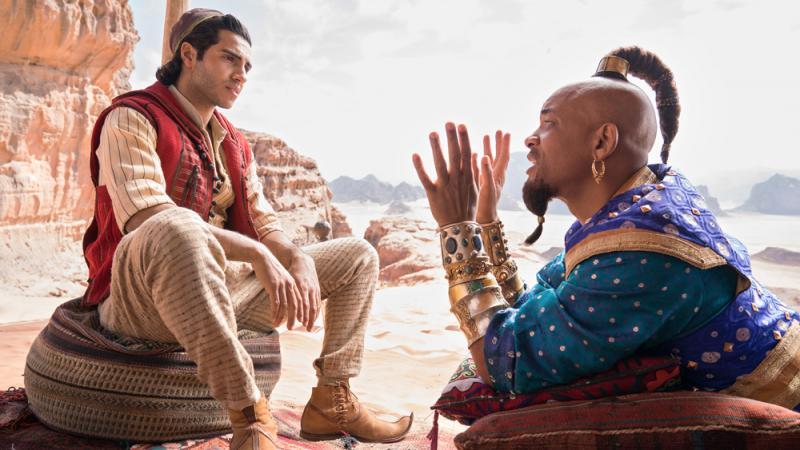 Making plans: Aladdin (Mena Massoud) and the Genie (Will Smith)
The other recent re-dos –
Cinderella
,
Beauty and the Beast
,
Dumbo
– just about managed to overcome the remake challenge: be faithful to an original that will remain definitive for audiences, whilst updating the material enough to obtain contemporary relevance. A re-jigged plot with fresh surprises is an added bonus. Aladdin, like the others, just about does the job.
And so we return to fictional Agrabah and meet the city's most wily young street urchin (and his even wilier pet monkey). It's the archetypal rags-to-riches tale: the lowly thief falls for the sultan's daughter, Princess Jasmine (Naomi Scott), and in his attempts to gain her love, must conquer the sultan's sinister second-in-command Jaffar (Marwan Kenzari), who is hungry for the throne. But Princess Jasmine, who has a bigger role this time around, won't back down and concede what seems a rightful inheritance of power. She wants to be the first ever female sultan.
The composer Alan Menken, a Disney stalwart who wrote the songs for the original, has added a new one for this film. "Speechless" is Princess Jasmine's fierce chorus of resilience: 'I will not remain silent' is the message. The nifty and awkwardly charming Aladdin by no means holds center stage in this story, which embraces a strong female lead rather than a sweet and supine Princess.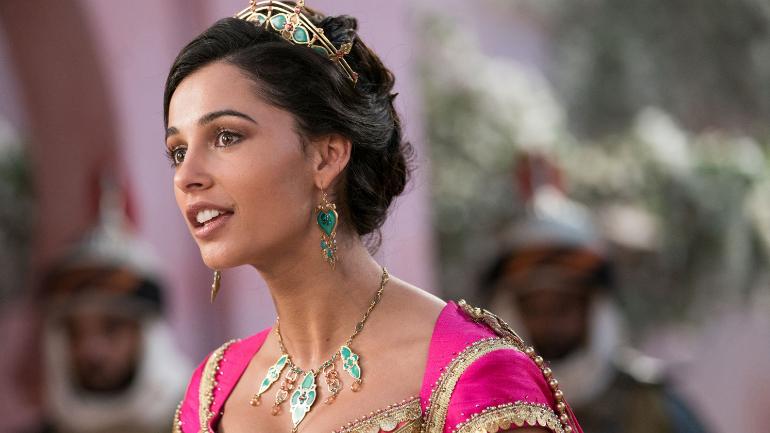 However, the excessively evil Jaffar will not be kept silent either. Once a street thief himself, Jaffar spots Aladdin's skills and has him captured. And then to fantasyland: the Cave of Wonders, the flying carpet, the magic lamp, and the entrance of Will Smith, who has it toughest in setting a fresh take on the electric wit of Robin Williams' Genie, the most beloved of the original characters. Smith's Genie is brash, chummy, ludicrous and ultimately lovable too, providing a helpful antidote to the shallow fairy-tale clichés. With the aid of CGI he morphs to Aladdin's (and his own) will, and adds sharp-tongued sarcastic commentary (it is a Guy Ritchie film after all) to his buddy's romantic blunders. During a party scene in the palace in which Jasmine leads a traditional dance, the Genie controls Aladdin's body, composer-like, from a distance, throttling him through breakdance moves. Aladdin comes off as an unskilled dork, but in his magic-induced desperation manages to impress the Princess.
Most of the original hits, such as "Prince Ali", have returned in updated form, thankfully with orientalist stereotypes removed. The songs retain the lavish grandeur of the Disney musical mould, and the soliloquies are – in a wise move – kept relatively short. But the film would have failed if not for Will Smith's Genie, whose buoyant dialogue and zippy wit (and his sweet bromance with Aladdin) rescue an otherwise so-so affair. Disney, and many original fans, will be proud to have an updated Aladdin for 2019. Let's hope their next ventures – get excited for The Lion King – give off a touch more magic.
Smith's Genie provides an antidote to the fairy-tale clichés
rating
Explore topics
Share this article