theartsdesk Q&A: Composer Alan Menken |

reviews, news & interviews
theartsdesk Q&A: Composer Alan Menken
theartsdesk Q&A: Composer Alan Menken
With Aladdin the musical bound for the West End, meet Walt Disney's composer in chief
Alan Menken rules: the musical theatre composer's career stretches from 'Little Shop of Horrors' to 'Sister Act'
For many years the composer who made his name with Little Shop of Horrors abandoned the theatre to work in Hollywood. He returned to Broadway in 2008 with an enlarged songbook for The Little Mermaid, but it closed within a year. Later came the gospel-tinged Leap of Faith, based on the 1992 film starring Steve Martin as a faith-healing charlatan, and the stage version of the Whoopi Goldberg vehicle Sister Act (pictured below right).
Menken's contribution was a parody of Seventies disco kitsch, a delicious palette stretching from Barry White to the Weather Girls, plus an eponymous ballad, which was pure uncut Menken, the shameless tugger of heart-strings.
Menken's most fruitful collaboration was with Howard Ashman (Little Shop, Mermaid, Beauty and the Beast, much of Aladdin), but his other partnerships down the years have been with the wittiest lyricists of the age – Tim Rice ("A Whole New World" from Aladdin), Stephen Schwartz (Pocahontas, Enchanted), David Zippel (Hercules) and Lynn Ahrens, with whom he wrote A Christmas Carol, for many years a seasonal favourite at Madison Square Gardens. Menken talks to theartsdesk about what got him started, and what keeps him going.
JASPER REES: How many did Little Shop of Horrors have?
ALAN MENKEN: Little Shop never really had what you'd call a preview period. We opened in an Equity showcase Off Off Broadway. It had a handful of performances, like a weekend, and then out in front of the press.
In previews does there come a moment like Richard Rodgers before South Pacific opened saying, "Fellas, forget it, it's perfect"?
You'll never get a creative team to say, "It's perfect." Or the Merman line, "It's bird's eye." You try to interpret how you're doing also. And with musicals, number one, it's a moving target. It changes from night to night. It's such a collaborative form, one person's ceiling could be another person's floor.
How have you learned to cope over the years with the frustrations of colleagues...
Not agreeing with me?
Wanting to go in a different direction. Having to collaborate.
I've learned to do it a lot. Number one, if I feel in my gut that I really know what I want I'll fight for it. And then if I can't win I will let go. I'd rather stay on the horse that simply be bucked off than have the horse go riding off and I'm saying, "Where are you?"
How often does it happen?
It happens in small ways a lot. It's a hard question because the truth is – I'm full of these metaphors but you know the whole thing about a blind man feeling an elephant's rump and says, "The elephant is round." And then another one feels the elephant's trunk and says, "The elephant feels like a snake." A musical can be so many different things. And you can see it purely as an entertainment and go, "It really needs to please a crowd," which is frankly where I weigh in. But you are also building a structure that people and casts will be inhabiting hopefully for the rest of your life and in another country at different ages, and so you want it to be structured in such a way that it can survive all kinds of interpretations.
Have there been occasions when you've realised you were wrong in wanting to take a show in a certain direction?
Oh my God, that happens all the time. Oh boy. I tend to block those things out. If you give me a minute to think about it. That happened on Little Shop. We had a ballad in act two called "We'll Have Tomorrow", a beautiful ballad for Seymour and Audrey. It came after things are looking really bleak for the plant and Seymour is saying to Audrey, "It'll be OK, I'll get us through this." Howard said, "We have to lose it. We don't need to two ballads in act two." This was early on when I still tried to hang on to things. And we cut it and the show was better for cutting it. And that happens a lot.
Has it been used anywhere else?
It was actually an alternative track for the album. I don't have a trunk where I go, "Oh that's a good song, let's use this for something else." I don't do that. Some do. I don't. I think that's mixing your shows up. It's like trying to take a little of this stock for this soup and I'm going to put it in that soup. They're different soups. I'd rather keep them separate.
How did you get involved in the soup of Sister Act?
Peter Schneider called me. I had turned down Hairspray years before. It felt close to Little Shop. In fact I don't think I would have done a better job at all than Marc Shaiman and Scott Wittman, they did a fantastic job [on the film] and I had recommended them for the movie. But then Glenn Slater (pictured left with Menken), my collaborator who is also working for me on this, was a little miffed I had said I really don't want to do it. So when this came along I had also said, "I don't know if I want to do this." The movie had a lot of gospel in it and Motown. We were already doing Leap of Faith which is a gospel musical. I felt we were already in that palette, it's a really well-known movie, and how thankless is it to take on something so well known when everyone has a sense of it? Do I want to walk into that challenge? Glenn said, "I think I know how to do this." I go, "OK, well let's do it."
I have a lot of faith in Glenn. I was really busy also. Glenn did carry the ball at the beginning of the process. I knew that I had a condition. Number one, that I wanted an entirely new score and I wanted it to be front-to-back original. I didn't want to have to accommodate pre-existing song parodies. Certainly as a condition of starting it. If we got into the process and we found that it was just not working, it would be one of those moments where you have to think, "OK, what are going to do?" I've never had a problem with a challenge. I wanted it to be in a disco style. I'd always thought there's a lot of fun to be had with that era in music. It's a particularly fun silly era in the music in the Seventies with Donna Summer and the Bee Gees and Barry White and Curtis Mayfield and Lou Rawls.
Curtis Mayfield was a great artist though.
They're all great artists. Do you think I'm denigrating the musicianship?
You did say "silly".
'Silly" is a great thing. I was into the disco period. It was funny-looking clothes and very dance-oriented music. I'm an old hippie so to me disco was something that was a little bit... I adored it. Things I gravitated towards were the Bee Gees and Saturday Night Fever.
What did you look like in 1976?
I had longish hair, I was moving towards the mullet. The vestige was the long hair in the back but it was spiky on the top. We weren't doing the falling over your eyes thing any more.
Were you influenced by disco as a composer?
Sure. There was a lot of great stuff in disco. The Pointer Sisters. Donna Summer. Songs like "It's Raining Men". It was a very flamboyant period. And I enjoyed disco and at the same time it was such a rich palette to draw from, much as girl groups were doing Little Shop of Horrors. There was fun stuff to draw on and all the associations with that.
What did you grow up listening to?
As a kid I loved classical music. I loved Beethoven and Brahms and Tchaikovsky. I grew up also in a family that loved musical theatre so we listened to show albums. That was my parents' thing, not mine.
Did you go to shows?
With my parents. As soon as the Beatles came out and Dylan and the Stones then I was in the thick of my generation, I was a complete fan.
So you dumped Brahms and Beethoven?
No, I never dumped Brahms and Beethoven. No. I always did and always will love classical music and music of the soul. And rock'n'roll is music of our hormones. And also music of the soul.
Did you play?
I played piano and violin. I was concert master of my high school orchestra. I wasn't very good but I was the best that they had.
Could you play the Mendelssohn?
No no no. I'm not a prodigy. Except you could play me any style of music when I was a kid and I could just sit at the piano and do my knock-off of that. Which is sort of how I knew I'd become a composer. I was much too lazy to practise. While my parents were in the room I'd be playing the Beethoven sonata and as soon as they'd leave I would just play whatever came into my head. It sounded like Beethoven for an hour. I was having fun and they thought I was practising until the teacher said, "Alan is not learning the piece." "He's been practising for an hour." He said, "What do you do?" I said, "Well, actually I'm just making up stuff." He said, "Well, show me what you do." Then he said to my parents, "I think this is something we should encourage Alan to do."
I consider myself a bit of chameleon basically but when I was wanting to be an artist it was Jackson Browne, Elton John, Billy Joel
How old would you have been?
Eight years old, something like that. Ten. Well, you know, if you're going to have musical talent it's going to present itself at a young age. My poor older sister would practise and she could sight-read and she really worked so hard and Alan was lazy and faked it and look what happened.
When did you last play the violin?
I stopped before my 20s. I remember I hitchhiked across the country playing fiddle on street corners. This was back in 1969. I remember playing in Central Park – we had our "be-ins", and I remember playing these ragas on the violin.
It's not a very Sixties instrument.
Yes it was, sure, sure. I treated it like a sitar. I treated it like a guitar.
You say you knew you were going to be a composer and yet you trained at medical school.
Well, yes. All my family were dentists. I thought, "Well, I guess I'll be a dentist." The Menken line was very very committed to teeth. My dad is 88 and he's still practising.
Still has a steady hand?
That and a generous supply of nitrous oxide. Don't use that. He's a really good dentist. And my father's father was a dentist and my father's brother is a dentist. I just didn't know what else to do with my life.
You were still doing music as an amateur.
I played piano and I played guitar and I played violin. I played everything I could get my hands on. I would have been considered ADD [Attention Deficit Disorder], but we didn't know what ADD was back then. Even now it's hard for me to sit down and read a book. I think it's related to my music. I have an ability to distil ideas and emotions into song. But what I tend to do is I need to distil big emotions and big ideas into a containable package. That makes songwriting the perfect medium for me.
"A Whole New World".
There you go. "A Whole New World" is Tim [Rice].
Watch "A Whole New World" from Aladdin

With that song it feels like the music comes first.
Thank you. I agree. With any song, especially in a theatrical context, you should be able to hear the music without any lyric and go, "I basically get what the song is saying." Musicals are a particularly specific form because the music has to have a literal aspect to it. And it has to belong to the story, inexorably belong to the story. It's not Alan making the music. It should be Sister Act music or Little Shop of Horrors music or Beauty and the Beast music.
Is there such a thing as Alan Menken music?
Yeah, there is.
Could you put your finger on what it is?
I consider myself a bit of chameleon basically but when I was wanting to be an artist it was Jackson Browne, Elton John, Billy Joel. I was the classic pianist singer-songwriter. I love Jackson Browne.
So you did pre-med and thought better of it?
Well, I was a terrible student. First of all I went to NYU during the hippie years. I was less ADD because I was doing the things in the Sixties we did that...
Calmed you down?
You might say. I did it all. I was considered a wild hippie, with no regrets. And I barely finished NYU. I scraped through. And I think my parents were genuinely worried. I wasn't terribly worried, but what am I going to do with my life? I don't know. First I had to make a living. I had notebooks of songs that were like really out-there songs. I wasn't going to go to graduate school. Now I should say, parenthetically and subsequent to this, I am now a star at NYU. There is a scholarship in my name, I have a doctorate, I mentor students. You know you learn at a certain point in your life that you actually do know quite a bit. It's just when you're a kid and you're not in exactly the right educational environment you're really going to slip between the cracks and I just slipped between the cracks.
I can always get along with talent. The best people I've worked with are tough. They all have black clouds over their heads
When I left school I joined this thing called the BMI Musical Theater Workshop with Lehman Engel. And Lehman just took me in because he said, "Oh he's wildly talented but totally undisciplined." I remember saying, "Well, I can play piano." So I worked up my classical repertoire and I went and started playing ballet classes. And after some gruellingly difficult experiences with some Russian ballet mistresses I actually became a very in-demand accompanist because I have a really good feel for rhythms and for the needs of a dance class. Right after college I also wrote a rock ballet. It was taken from those weird songs I'd written in NYU called Children of the World.
Any good?
No. Well, interesting, really interesting. But really weird young work. That's when I met my wife. We were both babies then. I was 22 and she was 20. She joined the company, she was an adorable ballet dancer, I met her there and we've been together ever since. That was the reason why I did that rock ballet. And then I made my living playing the classes and accompanying singers and then writing jingles.
How long did you do that for?
I graduated college '71. I say graduated – finished: I didn't actually go to my graduation. And my first produced show was '79, which was God Bless You, Mr Rosewater [based on the novel by Kurt Vonnegut]. Before then I was probably making a decent living but I began making somewhat of a living as a writer when I started writing for Sesame Street and writing special material and contributing to reviews. That led up to finally Little Shop of Horrors (scene from the film, pictured below) and with Little Shop of Horrors I probably actually broke into being an actual writer. Before that I was making a living in music but not through my songs. I had made some living but not a great one. I was thrilled to get $135 for writing a song for Sesame Street. $135! Wow!
How did you meet Howard Ashman?
Howard, at the time just before we did God Bless You, Mr Rosewater was artistic director of the WPA Theater and he was looking for a collaborator and I was a big Vonnegut fan. I got a call from my friend Maury Yeston who wrote Nine, and Maury said, "Alan, there's this guy Howard Ashman." I at that point was exclusively a composer-lyricist as Maury was and he said, "He's looking but he wants to write the lyrics." "Kurt Vonnegut? Let's try it." And so for the first time I worked with somebody who was a book-writer/lyricist and somebody who with his talent.
How good were your lyrics?
Good. Really good.
Do you wish you'd gone down the Sondheim line?
No. No. I have my reasons. First of all I do it sometimes. I wrote the end credit song for Rocky V that Elton John recorded. It was my song, music and lyrics. And Phil Ramone produced it. There is a song for the Aladdin musical that was actually done in the Disney parks. I think Tim was a little miffed. But I just forgot. We had done the movie together and I took a theme I had written and I wrote this theme to it. So I still occasionally do that. But I have a really strong sense of where a lyric should be, what it should say. But with Howard I had somebody who wedded the book-writer voice with the lyricist voice and you can't beat that, number one.
And I continued that with Tom Eyen. He and I wrote a show together called Kicks. I wrote a revue called Real Life Funnies, my music and lyrics. Patch, Patch, Patch was a show, my music and lyrics. Honeymooners. I've done a lot of showcases in New York that were my music and lyrics. And they're good. But I think there is an advantage in just doing music in that I think a lot of the writers who do both – you get a little more of s sense that their voice can sometimes overwhelm the individual voice of a musical. Wonderful writers – I'm not going to give them any names – but I think I'm able to just compartmentalise myself into the musical voice of a project and give it a little more of a distinctive world musically because I'm not trying to deal with the lyricist side of my brain. I can also frankly do so much more work. And ego-wise I'm not suffering from needing the lyric.
When did you first hear the phrase, the Alan Menken Rule?' 'The what?
Why did the relationship work with Howard Ashman?
Talent. I can always get along with talent. And I loved Howard. Howard was tough. The best people I've worked with are tough. They all have black clouds over their heads, to a degree. Howard, Stephen Schwartz, Glenn. Wonderful people.
Sir Tim?
No. He's also wonderful to work with. Tim, David Zippel don't walk around with black clouds over their heads but they're wonderful lyricists. Lynn Ahrens who I wrote The Christmas Carol with: no black cloud.
How does the cloud manifest itself?
Hard to please. Impatient.
Do you find that if there's a lyricist with no musical training...
There's no lyricist that doesn't like my music that I work with.
You'll write a song and they'll always say, "Love it"?
No no no no. But I'm very flexible. I throw out some things so easily because my music kind of comes through me. The point of it is to make sure that I have given myself exactly the right assignment, and then I let it flow and if that's not going to come right, what's going to come next? Can we squeeze the tube a little tighter? Something's going to come that's going to work.
Is there a danger in having that facility? That it's too easy. The most famous example is Marvin Hamlisch who wrote something like 50 tunes for A Chorus Line?
Why is that a problem? It depends on whose hands the facility is in. I pride myself in, number one, having really smart collaborators. I pride myself in really having a sense of what vocabulary a musical needs to have and adhering to that. But I also do pride myself in trusting my gut. And in a sense it can be a bit like an architect. Talk to an architect about a spot and he can go, "Oh yeah, I see this." That's fast. But then he's got to draw the plans, he's got to refine the plans, he's got to decide what strength support beam you have to have and how many rooms he's doing to accommodate. So part of it comes really fast. And then there's a part that you just hone and hone and hone and hone. But you always deal with your intentions. Why does this moment? If it's funny, where are we taking the music that's making a comment that maybe the lyric will be against or with? What is the "I get it"? You always want an audience to have a moment of going, "I get what he's doing." Especially in the numbers that are really musically literal, that the vocabulary has to mean something.
The best directors of comedy are people who love to just sit back and laugh and just enjoy the performances. It doesn't mean there's not a talent there, but you've gotta enjoy it. If you don't enjoy it the actors aren't going to enjoy it. They are not going to give you anything. I would say there are lots of composers who torture out their work and it can be fascinating, it can be wonderful, it can be moving, but at the same time there's nothing to me more moving than music that comes from a place in the gut that the composer loves or the composer relates to or is excited about. I love what I do. In any collaboration I'll dive into something and people will say, "Alan, you just wrote that song last week." "Right, let's do it again." I mean, no question that I'm not Alban Berg. I don't compose that way. First of all I compose often enough with my lyricist in the room. I want to shape it but I want to shape it dynamically. And I can write a piece of music that's so simple but that's what it has to be.
When Howard and I wrote "Be Our Guest", I said, "You know I'm just going to give you some simple French piece of music." [He sings the melody.] It basically tumbled out as fast as my hands could play it. "That's the form, go take it, write the lyric, when you come back I'll write the real thing." And he came back with the lyric and I remember sitting down and going, "OK, forget about that, now I'll write the real music." At the end of the day it had to be... [He sings the same tune] Because you need to know what the form is, it needs to be simple and tuneful, and let the lyric shine. There's other times where I know that I need to find just the right musical edge and it's really very much about the music. Sometimes I'll tell the lyricist, "Back off. I don't need your rhyme pattern here."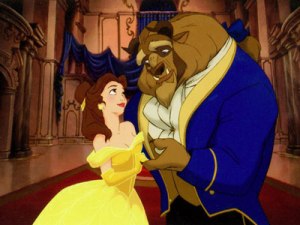 For example?
The title song for Sister Act. That was very hard to come by. "Beauty and the Beast" (pictured left) is a very hard song to come by. As simple as it seems, it was really hard. But I will never claim that writing songs is an intellectual exercise. I mean it involves an intelligence and a sense of knowing what you're going but more importantly it involves you putting the right lenses in front of yourself and going, "OK, that's what it is now." "Turn on the faucet" or "Let the light shine" or whatever image you want to use. And then I become a medium and let it go through. How is it? Is that right? No no no. Is that right? No no no. And then when you've got that piece of music, you also go, "Hold it, this is saying just what I want to say, but I really want it to go up there. I want to raise the stakes. OK, well if I'm doing that there, well I need to shift gears here." So musically you're not spitting out something randomly. But music has got to flow. It's got to have as effortless a journey as possible, even though there's effort in it. At the end of the day after that song is done, if you go, "Look at all the hard work that's gone into that song," you're not going to enjoy that show just because a lot of hard work went into it. There is a moment of going on some not literal level after 50 years of doing this...
Not that many, come on!
I've been doing this since I was 10. After a lot of years of doing this, there is a part of you like an athlete that just knows how to just push the thought process to the side and let things happen. They're not things that happen randomly but it's hard to quantity how that happens.
Do you understand why some shows take off? Little Shop was your take-off show and then you didn't have another socking great hit for a while.
Little Shop was '82. Little Mermaid was '89.
That was a film though.
Oh we're not talking films? Little Mermaid was Howard's and my follow-up to Little Shop. I don't see a distinction. Basically I was working with Tom Eyen. First of all, all my collaborators from that time? The Aids epidemic swept through and took Howard, it took Tom Eyen and it took Steve Brown. Steve Brown I wrote two musicals with, one that Michael Bennett produced called The Teeny Evil Kid in the Galaxy. Trashy. It was a send-up of a Pink Flamingo sensibility. It was a vehicle for Divine. We were trying all kinds of things. But Little Shop was the first, and then there was another 10 years, with a lot of things that were getting some acclaim.
I did a musical based on my therapy sessions called Conversations with Pierre. I used every weird song I ever wrote
Was that period frustrating?
Yeah. It got firstly frustrating when we just could not get Kicks on from about '84, '85. It was really hard. Howard had gone and done Smile with Marvin Hamlisch and I worked on Kicks with Tom Eyen who I'd met when we brought Tom in as a possible director for a show I did with Michael Bennett called Battle of the Giants. That is how Tom Eyen met Michael and ended up doing Dreamgirls.
How did films happen then?
First of all I think David Geffen was very pivotal. David was one of our producers on Little Shop. And David I'm sure whispered into Jeffrey Katzenberg's ear when Jeffrey was over at Disney about Howard. And then when Howard did Mermaid I think Howard had a choice between going back to me or working with Marvin. Thank God he came back to me and I got to do that. And so it was just an offshoot of the work that we had done in theatre. And I think Howard wanted to escape theatre because Howard knew from late Eighties on that he was HIV positive. And that was a death sentence. He was going to die but he didn't tell anybody.
Including you?
Including me. He didn't let me know until literally two days after the Mermaid Oscars. Literally. But until then, until then all I knew was this was a man who was smashing Walkman Pros against walls, he was furious, he was just so angry - but I didn't know.
Did it occur to you why?
I just blocked it out. I believed him. He said he wasn't and I believed him.
Did that translate into furious industry?
Well, it translated into Little Mermaid and Beauty and the Beast and God knows how many versions of Aladdin that we didn't get to finish. It translated into a lot of songs that were about the plight of people like Howard and his friends and everyone who were dying. But it wasn't acknowledged that he was sick and dying. I mean everybody was dying.
Were any of those songs subliminally about the plague?
I think so. They didn't make it in the movie but there was a song written for Aladdin called "Humiliate the Boy" when Jafar is just taking everything from Aladdin. "Take his turban, take his fancy clothes," and he's being stripped bare. Howard always sang on his own demos and he had had a neuropathy and had lost his voice and he couldn't do our demos any more. There's a thing called Music Behind the Magic - it was a box set of the finished scores and all the demos leading to those scores and a lot of my and Howard's demos. We demoed all of the Little Shop material and played the characters. It's how I really got the craft of doing what I do, which is very demo-oriented. There isn't a show I write that I haven't demoed the songs for people to hear and that becomes the basis of where we go from there. That's a really important part of what I do. I would say that song was one. I always associate "Beauty and the Beast" with the pain of Howard's passing. I mean more than any others. It's beautiful, it's poetic, it's heartbreaking and for 14 years every time I heard that song I would think of Howard singing it.
When did you first hear the phrase, the Alan Menken Rule?
The what? The Alan Menken rule?
I understood it involved the creation of a new Oscar category to allow someone else to win (Menken and Ashman receiving Academy Awards, pictured below)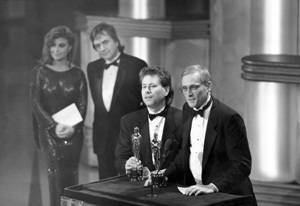 Oh oh oh oh. I see what you mean. Well, I understood that. I mean we kind of had an unfair advantage, which was that scores with songs that everybody knew and everybody's children knew and loved were competing with underscores that were clearly in a much more supportive role. And they shouldn't have been competing in the same category, frankly. How do you compare The Little Mermaid with John Williams's underscore for Born on the Fourth of July? It's a wonderful score. John Williams is brilliant. He's won plenty, he's nothing to complain about. But I think there's a difference between underscore and song score and of course in Hollywood they don't have a song score category because they never have enough possibilities. I wasn't even eligible to be nominated for the film Enchanted because they had eliminated the musical comedy score category completely. So now if you write a score that has songs you're not even eligible. That one I'm not happy about. I thought Enchanted could have been the best...
The worm has turned.
Now the worm has gone to a nasty place. But I've won so many of them I can't really complain.
Where do you keep them?
I have a studio at home. Behind the mixing console is an awards case and it has a lot of stuff. Eight Oscars, 10 Grammys, seven golden Globes, no Tonys.
Is a Tony something you would dearly like to get your hands on?
I don't really care. I don't, really. I've won so many awards. I find the politics in theatre particularly.... if it's meant to happen it'll happen. But in my career now I kind of feel past the point where I'm going to base the success of projects on... The year that Passion cleaned up and beat Beauty and the Beast in everything and ran for like a year and Beauty ran for 14 years, I just stopped really. And by the way, James Lapine is one of my best friends. I love him and l love his work. They needed the award more frankly. So that's part of why I look at those things with a jaundiced eye, I think.
Back to Sister Act. Was this your first time doing a really big stage musical in a while?
Little Mermaid was just on Broadway (pictured left)

But some of that had already been written.
The last original musical that I did was Christmas Carol that I did in the States at Madison Square Gardens with Lynn Ahrens, Mike Ockrent, Susan Stroman. It was a great team of people. Mike also did my King David. Sister Act and Leap of Faith are what you'd call my first two Broadway musicals written from scratch.
How did Leap of Faith come to you?
The writer of the movie, Janus Cercone, was a friend going way back. And the producers came to me with it. I was already prone. I thought it was a good idea. I like the fact that it's almost like Leon Russell, that style of gospel revival. I love the interface between gospel and rock'n'roll that Leap of Faith had in the movie and I liked the idea of turning that into a musical. It's been quite a trek.
Do all new musicals now have to be based on a well known film?
Of course not. They don't have to be. You're talking about financially as opposed to artistically? Spring Awakening. Rent. First of all musicals are an adaptation medium. You're going to be adapting something. You're going to be adapting a movie or – nobody reads any more so God knows.
It's perhaps telling that your career as a writer of musicals began with an adaptation of a highly literary author.
Yeah. Kurt. He loved it. We did a revival about three years ago and I remember his wife intimidated that she didn't know how much longer he'd live and he didn't live that much longer. Now the first music I did at BMI was based on Herman Hesse's Steppenwolf. Boy, that was a disaster. I did a musical based on my therapy sessions called Conversations with Pierre. I used every weird song I ever wrote. Well, it came out of my brain: must be part of my therapy.
If they say they want to do Little Mermaid, I better jump on that ship or else that ship's going to sail anyway
What did Pierre make of it?
Pierre doesn't know about it but what Lehmen Engel made of it was a piece of crap. Lehman used to get very frustrated with me. And then I wrote a musical based on Midnight, the Billy Wilder movie with Claudette Colbert and Don Ameche. I wrote a musical based on the Jules Pfeiffer novel, Harry the Rat with Women. Michael Bennett wanted to produce but Jules didn't want it done. Now Jules wants it done but it's maybe a little late. Like 30 years later.
What is it that has brought you back to Broadway?
I'm good at it. The Disney thing, that's just Disney. If they say they want to do Little Mermaid, I better jump on that ship or else that ship's going to sail anyway. I'm not letting anybody else get their hands on it. Disney is all about the Disney product. Who knows if they'll be an Enchanted stage musical or The Hunchback that we did in Berlin? I ride on the good ship Magic Kingdom. I happen to love it and I happen to think it's a great tradition to be a part of. And they've had a great respect for me and my sensibility. If they want to move on something, they move.
Does working in theatre feel like coming home?
Literally yes. I'm a New Yorker. Certainly working on a musical keeps me closer to home. There is a trade-off. With musicals you have an ownership generally. Even with Disney you have more of an ownership that you do with a movie. So as an author you really have a piece of that for the rest of your life. That's a pretty big distinction between that and a movie project film score where you're just hired. There is that advantage. The disadvantage is there are going to be no fees. Anybody with a couple of bucks can get the rights to something and say, "I'm a producer, I'm doing whatever. The Addams Family, I'm doing Spiderman." You name it, everybody's doing something. It doesn't mean they are.
Is the idea that Sister Act will go to Broadway?
I only want it to go to Broadway if it's going to do well on Broadway. I think it probably can. I just want it to do well. I don't get involved in all that stuff. I'm not Andrew [Lloyd Webber]. I don't know how he does that. I don't have that chip in my brain that wants to be a business man at all.
What song title do you want on your headstone?
No you can't just do one song. You can't. No way.
How many do you want?
I want the entirety of my career. What would you do? "Beethoven – he wrote da da da Daaaa."
You're not equating yourself with Beethoven?
Of course I am. Did Beethoven write any disco? I ask you. It's the worst question. Nothing personal. I just hate that question. What's your favourite? I mean you really want to be the one that gets the answer to that question? Let me think about that. Because I hate the question. No offence. OK, to begin with, I'm a composer-lyricist who works primarily with lyricists, so the words are not... I can't answer it. I just can't. I do feel round that my career has really gone through a lot of different places. That's the thing I'm most proud of in a way, that I've remained a viable voice.
Will you ever quit?
If I think I'm not doing good work, I guess.
My poor older sister could sight-read and really worked so hard and Alan was lazy and faked it and look what happened
Share this article