theartsdesk in New York: Sondheim On Sondheim On Broadway |

reviews, news & interviews
theartsdesk in New York: Sondheim On Sondheim On Broadway
theartsdesk in New York: Sondheim On Sondheim On Broadway
Sondheim - or is that God? - served up twice-over on Broadway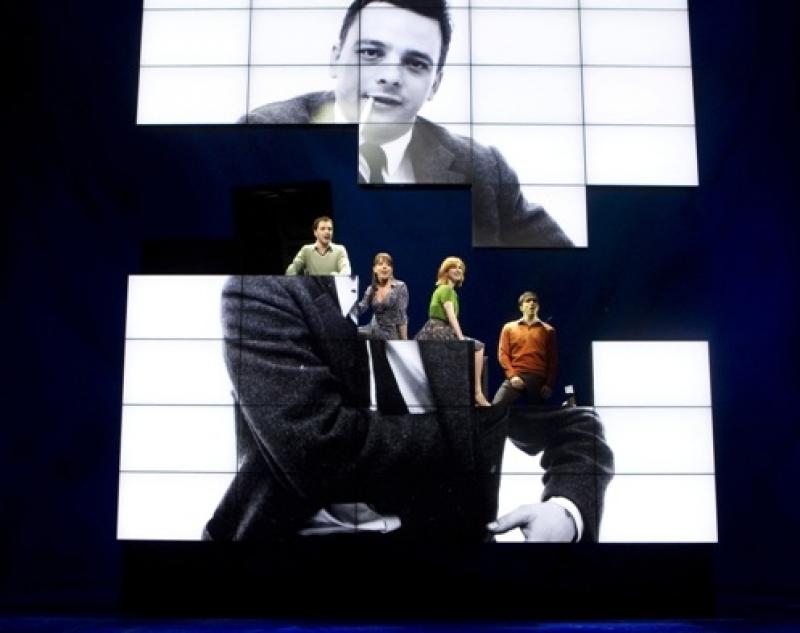 God? No, just Stephen Sondheim with the cast of 'Sondheim on Sondheim'
Broadway tends to go into overdrive in May, that time of the theatrical year when New York stages are at their buzziest in the run-up to the Tony Awards (to be awarded on 13 June).
Heavyweight star vehicles (Denzel Washington back on Broadway after five years in
Fences
) vie for audiences with London imports (
Alfred Molina and Eddie Redmayne in Red),
while musicals generate their own considerable clamour: literally so in the case of the Green Day-scored
American Idiot,
a 95-minute aural immersion that has prompted more delicate members of the show-going public to plump for earplugs. But amidst all this year's activity, one silver-haired presence reigns supreme in the form of that recent octogenarian, Stephen Sondheim.
The composer, turned 80 in March, has so recognisably helped define and reshape Broadway for much of the last half-century that it's tempting to think of him as less man than God. That may seem rather too ripe an appraisal, but it makes for a delightful second-act opener to Sondheim on Sondheim, the infinitely touching musical revue that is running until the end of June at Studio 54, the one-time disco that is now a not-for-profit Broadway house.
James Lapine's production, headlined by a fellow octogenarian in the shape of legendary actress-singer Barbara Cook, functions as a commendably low-key, altogether smart variant on the numerous one-off galas and Sondheim-themed extravaganzas that have flooded New York stages over the last few months. Is it possible to get too much of a good thing? Not if the subject of all this affection is a musical theatre deity, a notion that has prompted Sondheim to pen an original song on that very topic at the top of the second act of this show: enough already, the song suggests, in its gently self-mocking way. But true Sondheim enthusiasts can never get enough and will leave Sondheim on Sondheim wanting even more of the man himself.
Sondheim on Sondheim has come under fire for being little more than an illustrated lecture
The conceptual ace in the hole of this production is its usage of Sondheim himself, who functions in the piece not as some awful Olivier-style hologram from the long-departed but never-to-be-forgotten musical, Time, but as our guide through a richly illuminating look back at the composer's own life and work. The result allows Sondheim to explain himself better than anyone else could via archival footage from interviews conducted over the years, coupled with new material filmed specifically for this show.
Curious about a song ("Smile, Girls") that was cut from Gypsy after only one performance during its pre-Broadway tryout? Here it is as sung by a sleek Vanessa Williams, a former Broadway Witch in Into the Woods who is as unlike Gypsy's abiding Mama Rose, the late Ethel Merman, as anyone could be. We hear the output of the teenage Sondheim, a song entitled "I'll Meet You at the Donut", as well as the various attempts in Company to come up with the defining climactic number that in the end became "Being Alive": Norm Lewis does that anthemic favourite proud.
Lapine directed the original Broadway productions of Into the Woods, Sunday in the Park with George and Passion, and it is fascinating to find him revisiting familiar terrain, albeit afresh. There's no way at this point that Cook could credibly play Passion's devouring heroine, Fosca, in an actual revival of that show, but Sondheim on Sondheim allows her to don a headscarf during an extended sequence from that 1994 musical, to which her voice brings its characteristically shimmering, gossamer-toned colours. Cook is here allowed to reprise "In Buddy's Eyes", the Follies hymn to self-deception that has long been one of the mainstays of her cabaret repertoire, and her "Send in the Clowns" in the second act follows a delicious first-act video compilation of the numerous interpreters (and their sometimes bizarre choices) of what remains Sondheim's most popular song: those glimpsed having a go range from Judi Dench, Judy Collins and Barbra Streisand to an unnamed young tween giving it her all on YouTube. (Ah, bless.)
Sondheim on Sondheim (pictured right) has come under fire in some quarters for being little more than an illustrated lecture, an apt description that strikes me as an entirely positive way of looking at what Lapine and his eight-person cast have accomplished. Putting It Together on both sides of the Atlantic exposed the limitations of contriving yet another Sondheim revue where songs are wrenched out of context for no particular reason beyond feeding a narrative that bears no relation to the scenario for which the numbers were originally written. Even the UK-spawned Side by Side by Sondheim nowadays looks a bit arch, never more so than in relation to the unaffected honesty and integrity with which the composer is here seen discoursing on the art of making art, to co-opt a lyric from Georges Seurat (or is it a veiled Stephen Sondheim?) in Sunday in the Park with George.
Sondheim tells us during Sondheim on Sondheim that his work is not autobiographical and that he most emphatically isn't Bobby in Company or Seurat (or, thank heavens, Sweeney Todd): the one genuinely self-exposing song of his, or so he says, is "Opening Doors" from Merrily we Roll Along, a paean to the hopes and dreams of young musical theatre-makers in Manhattan. Nonetheless, I defy anyone not to be affected by the juxtaposition of Sondheim's blistering memories of a mother who avowedly regretted giving him birth and "Children Will Listen" from Into the Woods. Sondheim, of course, listened, and our culture is the richer for it, as this scintillating masterclass nimbly proves.
At the same time, why hear "Send in the Clowns" live once when you can do so twice? As it happens, six Manhattan blocks away from Sondheim on Sondheim, Catherine Zeta-Jones can be found (until 20 June) delivering a dusky-voiced interpretation of that second-act show-stopper to rapt audiences in Trevor Nunn's revival of A Little Night Music. A version of Nunn's earlier Menier Chocolate Factory take on the same show (subsequently seen at the Garrick Theatre in the West End), Night Music's New York incarnation boasts added box-office catnip in the elegant form of Angela Lansbury as the liaisons-happy Mme Armfeldt: yet another octogenarian in a theatre culture seemingly awash with them. (To that list, let us add 85-year-old Elaine Stritch, whose own Sondheim-centred cabaret recently concluded a run at the Hotel Carlyle that was met with encomia galore.)
Truth to tell, this Night Music seems to have abandoned the Chekhovian affinities it displayed in London in favour of a tits-and-bum approach to proceedings that makes the maid Petra, for instance, look as if she wandered on to the stage of the Walter Kerr Theatre from some nearby Times Square bordello of old. The hormonally rabid young Henrik clutches at Petra's breasts, to which she responds by patting his crotch. "Perpetual anticipation", as the song lyric puts it? More like expensively attired foreplay veering toward softcore porn.
Still, Zeta-Jones offers up eye candy, and then some, in her Broadway debut and may in fact be arguably too glamorous for the Scandinavian theatrical backwaters that, we are told, constitute the life of the ever-itinerant actress, Desirée Armfeldt. On the other hand, you fully believe Alexander Hanson's sturdy-voiced Fredrik when he sings here of his erstwhile lover that "the woman was perfection". (Hanson marks the staging's lone hold-over from London.)
And if this Night Music has been coarsened into something less than perfection in its leap across the pond? Fear not, there's Sondheim on Sondheim to set things right. "Isn't it bliss?" - so "Send in the Clowns" famously asks at the outset. You have until 27 June to decide for yourself.
Perpetual anticipation, as the song lyric puts it? More like expensively attired foreplay veering toward softcore porn
Share this article