Stephen Sondheim at 80, Royal Albert Hall |

reviews, news & interviews
Stephen Sondheim at 80, Royal Albert Hall
Stephen Sondheim at 80, Royal Albert Hall
A slick and stylish Proms spin through some of the music man's greatest hits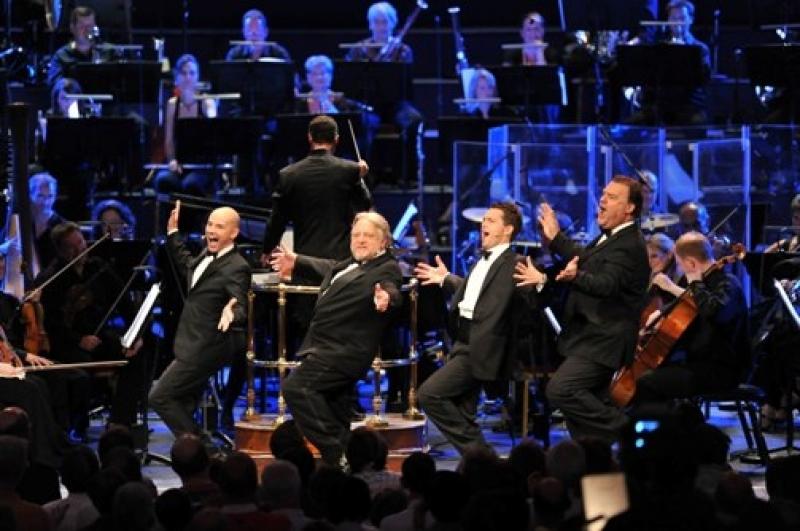 Send in the clowns: Daniel Evans, Simon Russell Beale, Julian Ovenden and Bryn Terfel
Everybody in the business says don't think Sondheim is easy. I've seen galas where big names stumbled in under-rehearsed numbers, and last night Bryn Terfel and Maria Friedman slipped and almost fell on the same banana skins that had done for them in a hastily semi-staged Sweeney Todd. Not enough to matter, though, and they rightly brought the house down. And the show as a whole? Not quite a so-great-you-want-to-get-up-and-join-in event like last year's MGM Prom, but still a stylish and slick homage to the great man in his 80th birthday year.
The rhythms, the patter, the pathos, the pace: all were well adjusted. But before I embark on the inevitable roll call of praise for the big show voices in British musical theatre - the only Americans in evidence were conductor David Charles Abell and the spry octogenarian himself at the end - as well as their energetic signer Paul Whittaker, just a few quibbles.
The context: Sondheim rarely writes a song which doesn't achieve a greater impact from its place in the music-drama, and some, like the Princes' "Agony" from Into the Woods, make little sense at all unless you know what's gone before, as did at least half the Albert Hall audience. Perhaps, for once, we really did need a presenter, though Edward Seckerson's affectionate programme notes told you everything you needed to know.
The miking: from where I was sitting centre-back, a lot of the words got swallowed. The estimable Maria Friedman disappeared vocally a couple of times, and I never did find out what rhymes with "fart" in the opening Invocation from the adaptation of Aristophanes's The Frogs, breezily delivered though it was by the impeccable - and resonantly baritonal - Simon Russell Beale side by side with younger top thespian Daniel Evans.
And the crowds: Sondheim has increasingly preferred his shows intimate, so there aren't many big company blazes to appropriate. Sorry, but "Our Time" from Merrily We Roll Along makes my toes curl: not quite as much as Lord Lloyd Webber's Eurovision flop "My Time", but I couldn't feel as generously as I wanted towards the Proms Sondheim Ensemble and the rainbow-dressed young singers from the BBC Performing Arts Fund.
No problem, though, with the large forces of the BBC Concert Orchestra. Abell was right to want the big, symphonic sound and fabulous counterpoints that orchestrator Jonathan Tunick conjured up in the string of hits: the brass strutting their stuff in the Follies Overture, the thoughtful clarinet (Michael Pearce) eventually joined by cushioning strings for "Send in the Clowns". Even when Abell and colleagues needed to expand the sonorities of chamber-piece Sunday in the Park with George you got luscious harmonic shifts à la Ravel or Debussy, better than anything in Opera Holland Park's Zandonai car crash the previous evening.
I've never experienced the roar of the crowds at the veteran star-turns of an American Sondheim gala, but this Prom ran it close as National Treasures - perish the phrase - Russell Beale and Dame Judi Dench (pictured above right with Sondheim) made their entrances. Dame Judi justifies the "ownership" Sondheim has conferred on her, post-Glynis Johns, of his most often reproduced, and misappropriated, song. "Send in the Clowns" had a different kind of impact in its proper place at the heart of the National Theatre from when she sang it last night, cracked and quietly broken-hearted on "the one that I wanted", before the packed amphitheatre. But there's a special magic about a quiet solo number, be it piano or voice, drawing in the Albert Hall thousands, and it happened on cue.
The Demon Barber's bloody segment kicked off the second half with a blast
The younger 'uns had their moments too. "Being Alive" from Company is another that sometimes makes my flesh creep when it's over-emoted, but the gorgeously charismatic Julian Ovenden was backed to the hilt by the Bolero-like crescendo from the big band. Kooky Caroline O'Connor had the misfortune to strike with showstopper "Broadway Baby" a bit too early, for me at least as I grappled with the texting psychopath on my right, but, yes, she put it across. And most instantly in character was Jenna Russell as Seurat's sympathetic model/ lover Dot - her partnership with Evans was one that took us straight into the special emotional colour of Sunday in the Park.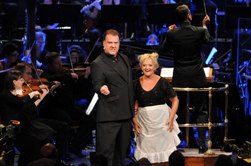 Another duo, the similarly well-established Terfel-Friedman Sweeney double act (pictured left), had no trouble setting the crowds nervously laughing and, finally, euphorically roaring. The Demon Barber's bloody segment kicked off the second half with a blast: Roderick Elms at the Royal Albert Hall organ, making our hair stand on end with his Gothick voluntary before the screaming factory whistle brought the excellent "Sondheim Ensemble" onto the stage. Terfel slipped instantly into manic, vengeful character and used the mikes to produce a uniquely sinister growl when his capitalistic partner in crime-to-be asks him if he's "got" her bright idea to pop people into pies. The vaudeville number that brings only a little relief from the intensity of the "Epiphany" monologue seemed to be lacking a verse or two - what, no clerks, sweeps, financiers or beadles to propose as fillings? - but Abell swept the grotesque waltz refrains along with aplomb.
Part Two, slickly staged by Martin Duncan, had its lighter comic relief, a real highlight. The running gag of "Everybody Ought to Have a Maid" from A Funny Thing Happened on the Way to the Forum - which had one of the best Sondheim stagings ever at the National some years back - brings on a third, a fourth participant. The four principal blokes had a whale of a time camping it up (pictured top). But we needed a torchsong or two more; what Mozart does at his three-quarter mark is certainly observed in Follies and Company, and even a gala needs a bit of sustaining. How could we do without "Losing My Mind" or "I'm Still Here"? Well, that depends on whether the Merrily and Sunday sequences were enough for you. I was hoping that another Dame, Cleo Laine, whom I'd been listening to on one of my favourite Sondheim CDs, would be the only possible choice for the ultimate showbiz survivor's litany. Well, maybe next year.
Watch the evening's supreme variety act, "Everybody Ought to have a Maid", courtesy of the BBC



And Dame Judi Dench performing "Send in the Clowns":




Abell was right to want the big, symphonic sound and fabulous counterpoints that orchestrator Jonathan Tunick conjured up in the string of hits
Share this article
Subscribe to theartsdesk.com
Thank you for continuing to read our work on theartsdesk.com. For unlimited access to every article in its entirety, including our archive of more than 10,000 pieces, we're asking for £3.95 per month or £30 per year. We feel it's a very good deal, and hope you do too.
To take an annual subscription now simply click here.
And if you're looking for that extra gift for a friend or family member, why not treat them to a theartsdesk.com gift subscription?