Into the Woods, Regent's Park Open Air Theatre |

reviews, news & interviews
Into the Woods, Regent's Park Open Air Theatre
Into the Woods, Regent's Park Open Air Theatre
Taut ensembles and three star turns in Sondheim's knottiest show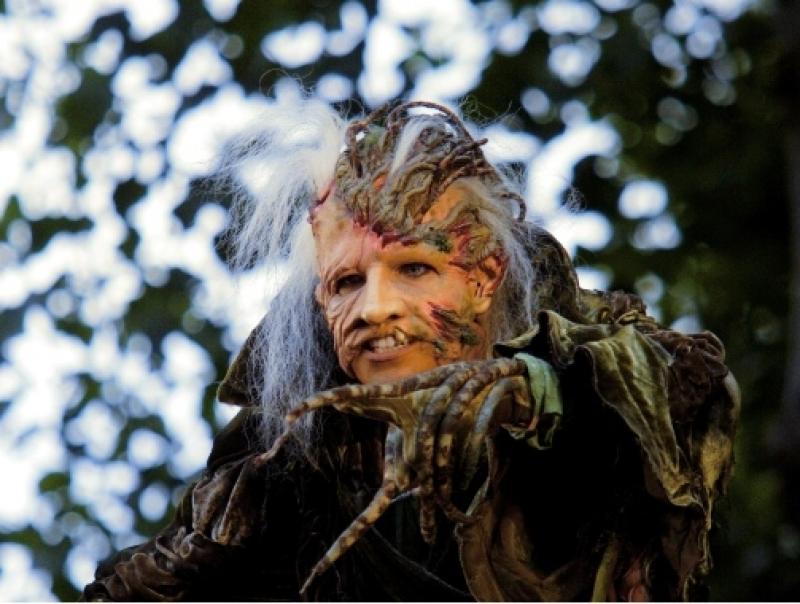 Hannah Waddingham as an especially twisted witch in Sondheim's dark tapestry of fairy tales
Sometimes people leave you halfway through the wood. Sondheim meant that in a life-and-death kind of way, but it applied literally to this ingenious show at the autumnal August preview I attended. Some folk thought Act One's knitting-up of polyphonic fairy-tale lines really was the happy end. Others found unseasonable damp gnawing their bones and slunk off to comforting warmth. Don't go, I pleaded, it gets deliciously darker.
Yet given a production even the teensiest bit less incisive than Richard Jones's 1990 London premiere staging, I found myself doubting both the quality of that darkness and the proportions of Sondheim's moralising. Was all well that ended well? Not quite.
Nor was that exactly the intention: despite the Broadway-style sermons, the future's not clear - spoiler notice - for orphaned Jack the Giant Killer or the bereaved Baker. Given fitful performances from the two singer-actors concerned, Ben Stott and Mark Hadfield, you feel there's still safety in numbers and breathe a sigh of relief when the homilies are over and we can all enjoy a wiser-and-sadder reprise of the opening number.
That's a dazzling start to a show, perhaps the best through-composed quarter-hour in a musical semi-comedy since Gilbert and Sullivan's The Gondoliers, and the maze of walkways among the Regent's Park venue's breathtakingly beautiful amphitheatre of imaginatively lit trees serves the introduction of fairy-tale characters superlatively well, as everyone had long hoped it would. Soutra Gilmour's fantasy costumes catch the imagination from the first and director Timothy Sheader also has the bright idea of letting the tales be told by a schoolboy lost in the woods whose significance will only become clear much later on (Ethan Beer on the night I went, excellent); that stops us getting nostalgic for Nicholas Parsons and his hilarious demise in the Jones show.
Sheader's wide-spreading of his diverse ensemble around the park glade doesn't always keep everything crystal clear: some of the audience laughed when the Baker's Wife took her untimely leave, and did that puppet Giantess with electric fans for eyes come to avenge her dead husband - splendidly voiced, as even those who didn't recognise her acknowledged, by Judi Dench - really eat up those cast members who vanish at key points in Act Two?
Somehow this supposedly more realistic re-telling and reinvention of mythic plot lines didn't carry the breathtaking impact it had in Jones's West End production. Suddenly, it seemed, we'd exchanged the ever-wacky twists of the fairy tales which so exercised Sondheim's imagination via Bruno Bettelheim's The Uses of Enchantment for a Hollywood blockbuster like The Poseidon Adventure. Its saving grace was a leavening of wit - though not all the great one-liners worked - and bittersweet sentiment. Leaving most of us helpless with her sheer charm, the heavenly Jenna Russell (pictured right) never put a songline or a speech wrong as the Baker's Wife, seeking a quick thrill with a randy prince once her dreams had been granted and her earthbound husband had given her the child she wanted.
Am I being over-earnest in detecting funny little homages here to the key fantasy themes of Strauss and Hofmannsthal's Die Frau ohne Schatten? Well, maybe in the plot, not in the music. Though let's not forget this is Sondheim at his most sophisticated. It's taken me some hearings to understand quite how much the seven-note floaty vocalise sung by Rapunzel in her tower infiltrates the score - as counterpoint, as bass, as polytonal nightmare when things go wrong: true symphonic development from a little thematic cell. The musical-dramatic symmetries manage not to be too didactic, either. It was a bit of a pity that Gareth Valentine's excellent nine-piece band had to be out of sight, and that the multi-miking left us uncertain of where the voices were coming from sometimes.
The centre-stage action, though, was amusingly done, especially the business with Valda Aviks's Granny, Beverly Rudd's vividly gluttonous Red Ridinghood and the creepy-suave Wolf of Michael Xavier (pictured left). It's one of the plot's many clever ideas that, once cut up to make a pelt, he resurfaces as Cinderella's voracious Prince. Xavier played his second role as a kind of Rupert Everett caricature with better projection and a stronger singing voice. Both "Agony" duets with his Rapunzel/Snow White-hungry brother (Simon Thomas) carried all the hilarity and energy that had been so absent from the first's flat-as-a-pancake, out-of-context Proms performance the other week.
Russell, Rudd and Xavier are the note-perfect principals, though there are also focused turns from a mysterious father (Billy Boyle), a mother (Marilyn Cutts), a stepmother (Gaye Brown) and two stepsisters (Amy Ellen Richardson and Amy Griffiths). Cinderella and the freak-turned-glamourpuss Witch are harder turns to nuance, and I wasn't quite sure about Hannah Waddingham's very English delivery of the spellcaster - though she did deliver her big number, "The Last Midnight", with real panache. Helen Dallimore made a reasonably sympathetic Cinders, but like Hadfield needed stronger vocals to carry the perilous sentiment of "No One is Alone".
And then, just when I was beginning to question its toe-curling American homily, along came Jenna Russell again as the Baker's ghost-wife to show how touchingly it can be done. But that's Sondheim for you: heart always in the right place, a bit hit and miss in terms of human truth, but definitely with more hits than misses. The same applies for this production, which should wax in total confidence as the run progresses and the evening sun condescends to appear as well as to set on further performances.
The maze of walkways among the breathtakingly beautiful amphitheatre of imaginatively lit trees serves the introduction of fairy-tale characters superlatively well
Share this article