Anna Karenina: The Pan
Anna Karenina: The Pan
A theatrical version that loses the emotion among smoke and mirrors
Thursday, 06 September 2012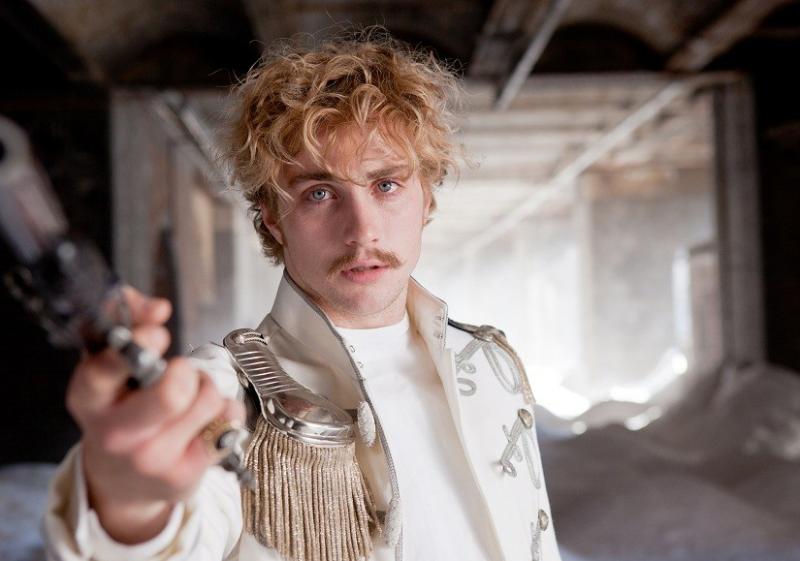 Aaron Johnson is the hollow centre of this epic romance
"You can't ask why about love," Aaron Johnson's Count Vronsky croons tenderly to his beloved, pink lips peeking indecently out through his flasher's mac of a moustache. Maybe you can't, but you certainly can ask why you'd take a thousand-page realist novel and choke it in the grip of meta-theatrical conceptualising and Brechtian by-play. Anna Karenina feels as though its director just discovered the fourth wall and felt the need to graffiti all over it: "Joe Wright woz ere."
Apparently it was all a question of budget. Denied expansive tracking shots of snow-covered vistas and bustling St Petersburg streets, Wright decided to throw out the borscht with the bathwater and move proceedings to a studio in the UK. All this, it seems, without telling screenwriter Tom Stoppard, whose adaptation largely sails on, grandly regardless that its sincerity is being undermined at every turn by stagehands trundling across ballrooms, or white-faced orchestral musicians invading an office of clerks.
A competent director, Joe Wright just isn't a good reader, and it shows
The trouble is that this is all classic Stoppard territory. He is the playwright who took us gently and wittily by the hand in the likes of The Real Inspector Hound and pulled back the theatrical curtain to show us the puppet-master. Anna Karenina feels like the bastardising of all this early elegance, wheeling out a technique like an old smoke machine that happened to be lying around.
We understand (as endless films have already taught us, not to mention historians) the theatre that is Society, that while professional actors may escape their audience once they remove their stage-paint and costume these ladies and gentlemen are forever condemned to remain in character. It's a solid enough concept, attractive even in Seamus McGarvey's fluid camerawork that whisks between worlds with every new shot, but one that is surely at odds not only with the spirit of the story but its success.
Scenes such as the horse race in which Vronsky's mare Frou-Frou meets her end become all but risible. You can't alienate your audience with layer after layer of cinematic affectation and then expect them to care. And that's the trouble with Wright: a competent director, he's just not a good reader, and it shows. His wilful misreading of the delicate social rituals of Pride and Prejudice (Atonement was saved because McEwan did all the work for him) here becomes an unhappy marriage of technical showmanship and heartless melodrama.
There are of course redeeming features. Jude Law (pictured above with Knightley) as Karenin finds a sensitive and deeply ambivalent evil in this rigid bureaucrat – more sinned against than sinning it almost seems – and Kelly Macdonald (Dolly) and Alicia Vikander (Kitty) transform two of literature's most challengingly sweet-natured domestic angels into flesh and blood women. Even Keira Knightley's Anna, though a little gripped at times, makes a mature reach for the role. But these are forced to struggle against Johnson's vapid Vronsky – a man you wouldn't leave the bar for, let alone your husband – and pacing that transforms an epic page-turner into a distinctly fidgety and clock-watching two hours.
As failures go this one is bold and desperate. You can't fault Wright for his commitment to his concept, but it's a misplaced energy. The appeal of this story, what keeps writers, filmmakers, composers and artists returning, is not surely its complexity but its simplicity. Wright loses this among his babel of images and layered realities. No matter how many times or how loudly his film proclaims "There is no truth", it doesn't stop us searching for it and finding it wanting.
Johnson's vapid Vronsky is a man you wouldn't leave the bar for, let alone your husband
rating
Share this article