Arthur |

reviews, news & interviews
Arthur
Arthur
Emotionally unengaging but perfectly fine remake with Russell Brand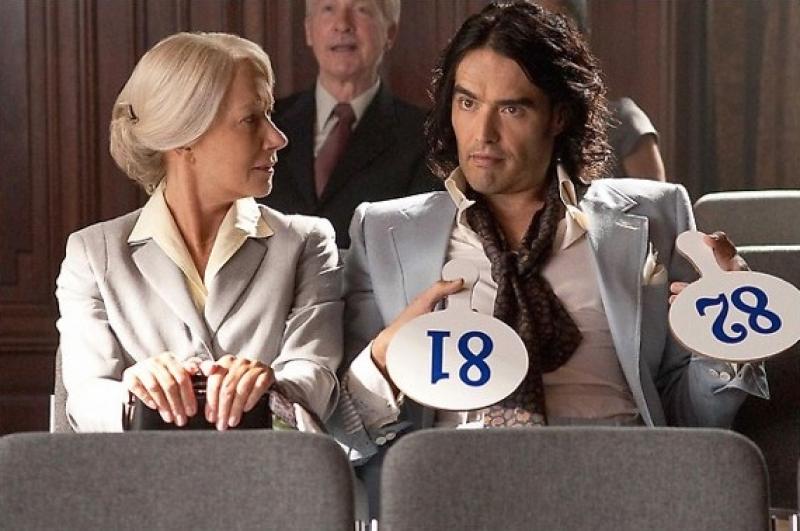 Helen Mirren and Russell Brand in 'Arthur': Watch for her mouth twitching when he ad-libs
Back in 2004, Russell Brand performed Russell Brand's Better Now at the Edinburgh Fringe, one of the best shows I have ever seen. In it he described his recovery from addictions to alcohol and drugs and how he had lost his job as an MTV presenter after one too many, er, misjudgments - coming into work dressed as Osama Bin Laden the day after 9/11, for instance.
Only Brand made it sound a lot funnier than that, and his descriptions of his life were phrased in the most fantastical and florid language. But he didn't even get a look-in for any awards, which was shameful, and ever since has received a press that is at best begrudging of his undoubted talent as an entertainer, at worst driven by the most pathetically obvious envy. And not just journalistic envy of his erudition and way with words, but also of his former exploits as a legendary swordsman (before he married Katy Perry, of course).
That puts me firmly in the pro-Brand camp, but even so I went along to a screening of Arthur with some trepidation because it has been panned in some quarters. And indeed there were some in the screening room - you know who you are - who were determined to hate Arthur even if it was the best film ever made. Or rather remade, as it's an updated version of the 1981 film that launched Dudley Moore's Hollywood career, and is directed by Jason Winer, who directed the Emmy Award-winning Modern Family.
Arthur, the permanently sozzled heir to the Bach family fortune, squanders his hideous wealth on drink (lots of it) and women (lots and lots of them). His man-child life is kept just on the rails by his childhood nanny, Hobson (Helen Mirren), who throws out the more obvious fortune hunters from his bed in his sumptuous apartment, which is full of boys' toys, and tries to stop him swigging alcohol with his breakfast soldiers.
Hobson is the mother substitute for his cold-as-ice mother (Geraldine James), who insists he marries her protégée, the hard-as-nails Susan (Jennifer Garner), to keep the family business going. But then Arthur falls in love with girl-next-door Naomi (the excellent Greta Gerwig, giving quite the best performance in the film) and has to choose between love and money.
You can fill in the rest because love always triumphs, and how we get there isn't so markedly different from the original or has any greater insight into humanity than Arthur Mark I did. But there is a lot that's nice to look at as New York City plays a starring role (Grand Central Station, where he takes Naomi for their first date, in particular) and Brand wears a succession of beautifully designed outfits - the man really is a clothes horse. Oh, and the camera frequently lingers lovingly on his crotch, too.
Peter Baynham's script has some great one-liners, Mirren is always good value (although Nick Nolte's peculiar acting style these days makes him look as if he's recovering from a stroke, here in the role of Susan's father) and there's much fun in seeing various actresses' mouths twitching when Brand is clearly ad-libbing.
Surprisingly, though, considering he once spent much of his life inebriated, Brand can't convincingly play a drunk and is no great shakes as an actor, and I found myself unengaged by either the love story or Arthur's redemption. Still, it's easy on the eye and is perfect holiday entertainment.
Watch the trailer for Arthur
Surprisingly, considering he once spent much of his life inebriated, Brand can't convincingly play a drunk
Explore topics
Share this article