Black Sea |

reviews, news & interviews
Black Sea
Black Sea
There's gold under them waves, and Jude Law and his crew aim to find it
Wednesday, 03 December 2014
Pieces of hate: Captain Robinson (Jude Law) hopes all this gold can turn his life around
Despite the presence of Jude Law as a disillusioned old underseadog, the real star of Black Sea is the 50-year-old Russian submarine on which most of the action takes place. Now called Black Widow, the vessel lives on the river Medway near Rochester (pictured below right), whither director Andrew MacDonald and his crew hastened with cameras at the ready .
Black Sea is the story of a group of battered, embittered North Sea workers spat out by various companies and corporations. Law plays Captain Robinson, an ex-Navy man and veteran submarine commander who has just been sacked by salvage company Agora after decades of service. The fact that he was fired by some gormless young middle manager with no clue about the dirty, dangerous work he'd been doing made the experience especially irksome, not to mention the fact that his long periods at sea have left him estranged from his wife (Broadchurch's Jodie Whittaker, glimpsed in idyllic flashbacks) and son.
As Robinson drowns his sorrows in a dockside bar, he's told a yarn about a lost German U-boat in the Black Sea, crammed with Russian gold given to Hitler as a bribe by Stalin during World War Two. The narrator says he knows the location of the U-boat, and Robinson is immediately fired up by the notion of being able to find the treasure, get his family life back on track and stick it to his scumbag ex-employers. He recruits a (literally) motley crew of Russians, Brits and an Australian. With a bit of help from Daniels, a slimy American fixer (Scoot McNairy), and some cash from mystery investor Lewis (Tobias Menzies) to help them buy an old Russian sub currently rusting away quietly in Sevastopol harbour, the hunt for the gold is on.
As many a filmmaker has learned, the claustrophobic interior of a submarine makes an excellent crucible for drama. The creaky, clanky sub earns its keep with its wondrously Cold War technology, all old-fashioned dials, ancient pipework and valves that have to be operated by laboriously turning heavy metal wheels. The sense of the crew as a cross-section of salt-of-the-earth working men abused by brutish capitalism imparts a sharp political edge (surly matelots, above left).
However, in this workers' struggle, some are more equal than others. Screenwriter Dennis Kelly (Matilda, Utopia) and MacDonald exploit the culture clash between the mostly non-English-speaking Russians and the other crew members, while Robinson's decision that everyone will get an equal share of the loot prompts some of his shipmates to start calculating how much more money they'd earn if the crew was somehow made less numerous. Echoes of The Treasure of the Sierra Madre and its gold prospectors driven mad with greed are not, apparently, coincidental. Ben Mendelsohn (pictured below) excels as Fraser, the Australian, a gifted professional when he's inside his diving suit, but a psychotic maniac the rest of the time. Law successfully projects an aura of grizzled threat, though his Aberdeen accent spins wildly around all points of the linguistic compass.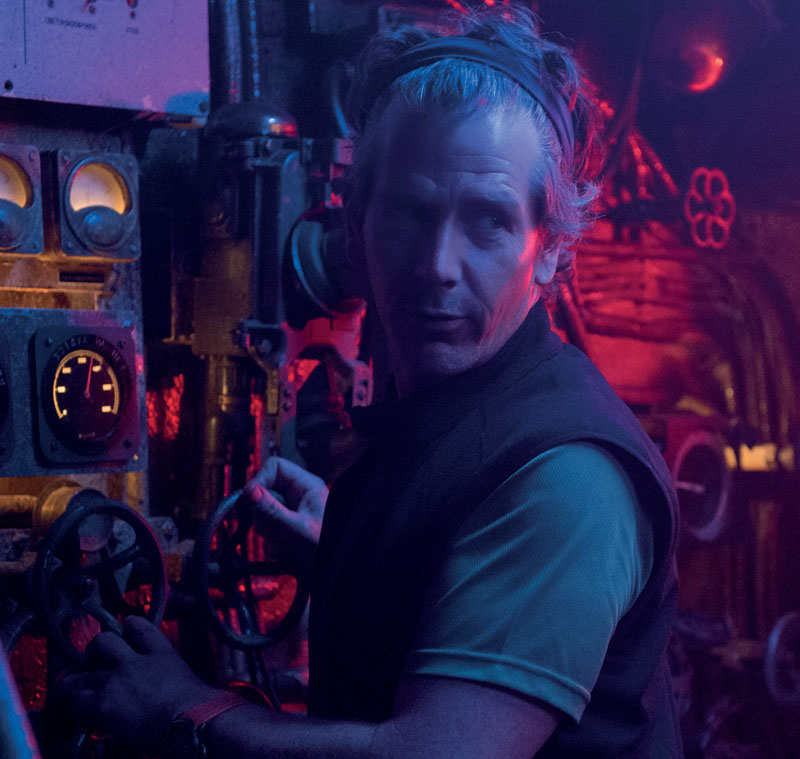 The flick was obviously written to a budget, so perhaps nobody could afford to paper over some gaping plotholes (not least how a couple of guys could drag tons of gold and a submarine propeller shaft across the ocean floor). There are also moments when it seems that the easiest way to get out of a narrative cul-de-sac is to set off another underwater explosion. It's a tense and watchable tale but without any real surprises, and demands that you drown a little too much of your disbelief.
The sense of the crew as a cross-section of salt-of-the-earth working men abused by brutish capitalism imparts a sharp political edge
rating
Explore topics
Share this article