In Bloom |

reviews, news & interviews
In Bloom
In Bloom
Striking naturalistic drama of Georgian life in changing times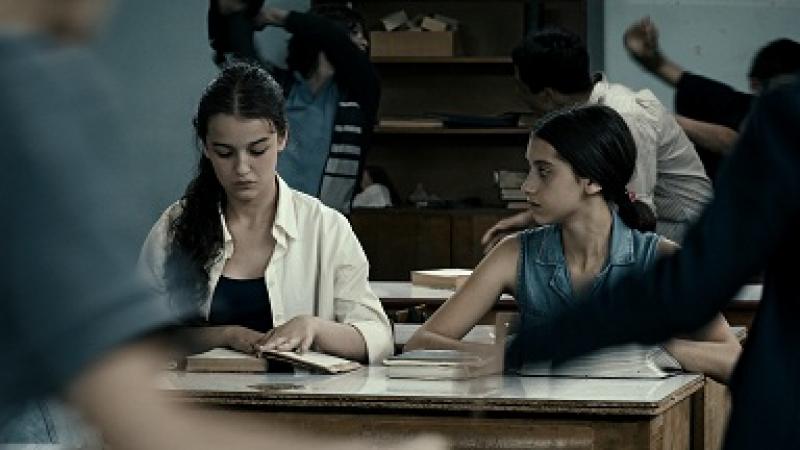 We two girls together clinging: Natia (Mariam Bokeria) and Eka (Lika Babluani) at school
The teenage heroines of In Bloom may be only 14, but in the world in which they live – the film is set in the Georgian capital Tbilisi in 1992 – they are forced to act much older, to take on responsibilities beyond their ages. The action of the film takes place a year after the break-up of the Soviet Union, and their newly independent nation is afflicted by conflict, both on the wider level – the separatist war in Abkhazia is in the background, while queuing for bread involves exhausting daily squabbles – and on the smaller, domestic front, in which families are fractured. The "bloom" which they are experiencing is an early, forced flowering (the film's Georgian title, literally translated as "Long Bright Days", would be no less ironical).
Co-directed by a Georgian, Nana Ekvtimishvili (who wrote the script, based on her own childhood memories), and Simon Gross, who is German, its subject is the friendship between the two girls. Eka (Lika Babluani) is the quieter one, overshadowed at home by an extrovert elder sister in a household where the father is away in prison. Natia (Mariam Bokeria) is rather more conventional, her home life dominated by quarrelling parents, with only the presence of a protective grandmother to maintain anything like emotional balance.
It's the closest we come to a feeling that 'ethnic' traditions survive, but we sense they're compromised
The first half of the film is broadly naturalistic, establishing the context for its closing elements of drama. We see the girls' school life – chaotic enough, but in an essentially benevolent way – as well as the city streets through which they roam. Though it has the welcome sunny quality of early summer, life seems somehow straightened – the traditional generous feasts for which Georgia has always been famous now co-exist with the pawn shops that enable them to happen.
There's an atmosphere of surrounding danger too, highlighted by the fact that the gift that Natia's admirer Lado (Data Zakareishvili) chooses for her, rather than anything more indulgent, is a pistol. The gun somehow fascinates the two girls; it passes between them, with Eka too having on occasion need of the protection it provides. The comely, sensitive Lado is, we sense, Natia's partner of choice, but when circumstances send him off to Moscow in search of temporary work, it leaves her open to the attentions of the rather thuggish Kote (Zurab Gogaladze).
Kote's variation on courtship is to revert to the traditional practice of bride-snatching, pulling Natia out of the bread queue she's standing in with Eka, away to what is, essentially, rape, followed by the girl's – despite the fact that she's only 14 – acquiescence in marriage. Natia raises no resistance, though, in what is virtually the only indictment of the society she sees around her, the normally polite Eka launches a vernacular condemnation of those who had been standing around and allowed the "bride-theft" to happen.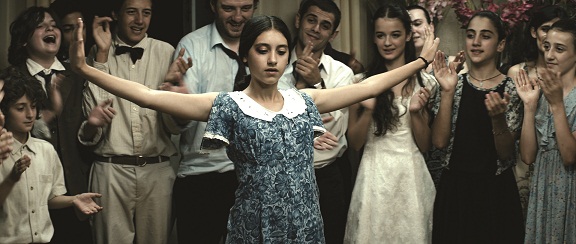 In a grand wedding ceremony (even if it's being paid for on hock), Eka steals the show with a sensitive solo dance performance (pictured above). It's the closest we come to a feeling that "ethnic" traditions survive, but we sense they're compromised, as much by changing values as by the fact that Tbilisi is now a city of power-cuts. Reversing the Chekhovian adage that, if a gun appears in the first act, then it will be fired before the finale, Lado's return precipitates a closing showdown – cold steel is now the instrument of vengeance. The closing scenes show powerfully both how the crisis comes to a boil, and how Eka finally achieves a kind of new peace in herself.
If that makes In Bloom sound like a bleak blossoming, it's leavened by the sheer fact of survival, coloured by a loving sense of observed life, some humour, and remarkable performances from the two non-professional leads, as well as the surrounding ensemble work. It's all outstandingly shot, with pronounced hand-held elements, by the leading Romanian cinematographer Oleg Mutu (known from films like Beyond the Hills). Ekvtimishvili is based between Germany and Georgia, and her directorial collaboration with Gross works well. In Soviet times, especially in the Sixties, Georgia had an outstanding cinema school in which humanism-naturalism, of the kind seen here, frequently dominated. If it manages to absorb anything of the recent Romanian experience, particularly that country's "New Wave", in which stories of everyday life with all its tribulations have attracted real international acclaim, that might seem a promising direction for a rebirth of Georgian film. Here's hoping.
Overleaf, watch the trailer for In Bloom
Subscribe to theartsdesk.com
Thank you for continuing to read our work on theartsdesk.com. For unlimited access to every article in its entirety, including our archive of more than 10,000 pieces, we're asking for £3.95 per month or £30 per year. We feel it's a very good deal, and hope you do too.
To take an annual subscription now simply click here.
And if you're looking for that extra gift for a friend or family member, why not treat them to a theartsdesk.com gift subscription?