Blu-ray: The Men |

reviews, news & interviews
Blu-ray: The Men
Blu-ray: The Men
Brando's dangerous debut, as a rebel paraplegic veteran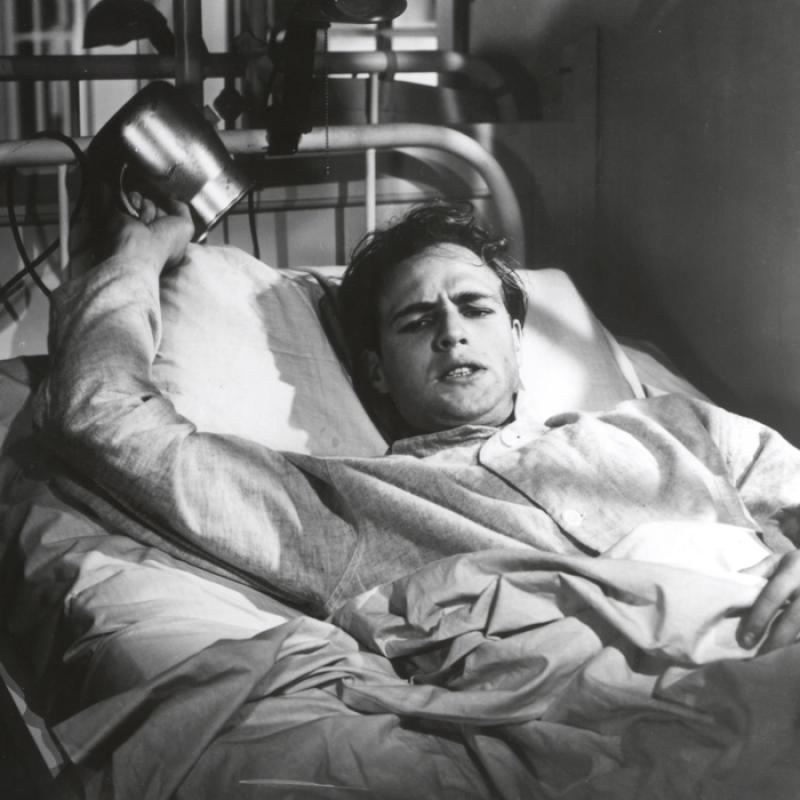 Whadda ya got?: Ken (Marlon Brando) fights the system
"Arriving late at a performance… I looked up and saw what I thought was an actor having a seizure onstage," the critic Pauline Kael wrote of watching Brando on Broadway in 1946. "I lowered my eyes, and it wasn't until the young man who'd brought me grabbed my arm and said, 'Watch this guy!' that I realised he was acting."
Kael was recalling the first, visceral shock of the actor's capacity to merge with a role, having just watched its climax in Last Tango in Paris (1972), in which he dug agonisingly deep into his raging, flailing masculinity. Brando's screen debut as paraplegic war veteran Ken Wilocek in The Men (1950), making its Blu-ray debut here, already simmers with the calibrated explosiveness of a natural revolutionary.
We first see him as a more conventional hero, a helmeted officer leading his men across a European field, till he's shot in the back, and futilely reaches for his gun as further bullets puff the dust. His voiceover, though, is already something else, a slow, meditative murmur of cynical disgust. The rhythm and emphasis draws you in and trips you up. "That's funny. That's very, very funny," he sneers, as director Fred Zinnemann cuts to the noir darkness of a hospital isolation ward. "I was afraid I was going to die. Now I'm afraid I'm going to live."
Zinnemann, screenwriter Carl Foreman and producer Stanley Kramer would reunite for High Noon (1952), and were separately responsible for many subsequent popular classics. The Kramer-Foreman partnership had already made Kirk Douglas a star in the searing boxing drama Champion (1949), and Zinnemann had directed The Search (1948), the first released film by Brando's early rival in Method intensity, Montgomery Clift, forging an abrasive new generation of leading men.
Kramer has been derided for his long career of liberal "message" films, but in 1950 he was an independent producer who shared a faith in documentary realism with all his collaborators; Brando researched by masquerading as a paraplegic on a ward, and Foreman rooted his script in conversations with paraplegic veterans, many of whom joined the cast.
Made when World War Two had made such veterans an everyday reality, The Men's treatment of disability is startlingly, empathetically realistic, as ward guru Dr Brock (Citizen Kane's Everett Sloane) discusses "paralysis of the bladder and bowels" and worries about impotence with the men's partners, among them Ken's Ellie (triple Oscar-nominated Teresa Wright, Shadow of a Doubt's suspicious niece, pictured bottom left with Brando and Sloane). "There's no hope, the wires are cut," Ken tells her, voice raw. The able world's discomfort is also reflected unblinkingly. "We remind them that their own bodies can be broken – just like that," states Norm (Jack Webb, already famous on radio for Dragnet's super-straight cop Joe Friday, here a soft-spoken, philosophical, bearded Beat soldier).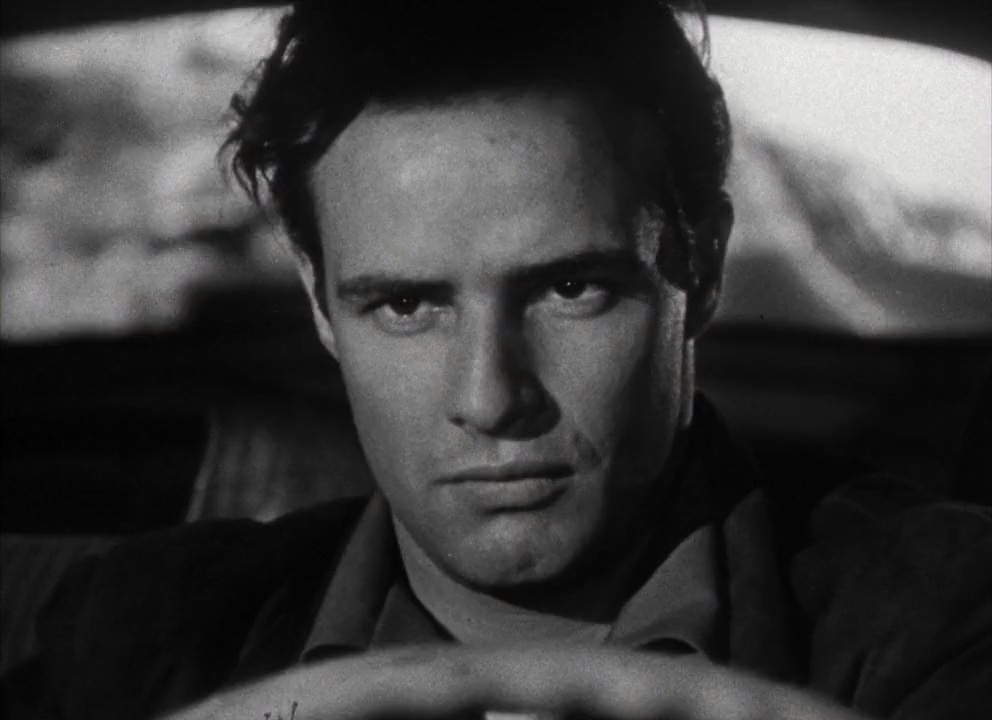 Brando stops The Men dating. He's surrounded by pipe-smoking, paternalistic authority figures from the suburban consensus set to rule Eisenhower's Fifties, but his sidelong, quietly calculating glances assess his real social situation, from restaurant gawkers to Ellie's fears. In the last reel he explodes, surging dangerously through the ward in a wheelchair, splintering chairs and smashing cars, and beating up a condescending old drunk. Ken's nickname is Bud, as was Marlon's, and perhaps his own tyrannical, small-minded dad was symbolically thumped. His acting investigated himself.
"Wha' did I do? Why'd it have to be me?" Brando whines in a final confrontation with Brock, jaw and body jutting challengingly forward, as if ready to spring from his wheelchair confinement. "Someone always gets hurt in a war," the doc answers. Emotions shift across Brando's face like the weather, from bitter superiority to stunned acceptance.
The masochism which marked later roles is there as he painfully pulls himself up from his bed before collapsing back, the subtly conflicted machismo of burly, broken-nosed, sensually lipped young beauty Brando too. The post-war, male-defined sexual revolution which resented women's supposed constricting, castrating yoke also sees Ken roughly grab Ellie and berate her, with an attitude which runs through to Jack Nicholson's waitress rant in Five Easy Pieces, his One Flew Over the Cuckoo's Nest lobotomy, and Brando's own Last Tango.
This important account of disability is saved almost completely from earnestness by a more general post-war dissatisfaction already embodied by Brando. "C'man!" he jeers, as if already listing The Wild One's infinite rebel demands.
This BFI edition includes career contexts for The Men's principle talents, and a 1969 audio interview with Foreman. Most notably, two British films give remarkable accounts of post-war attitudes to the nation's 300,000 military and civilian war-disabled. Return to Action (1947) is a government short about rehab and labour exchange attitudes which, if true, would be enviable now. Paul Dickson's The Undefeated (1950) stars Gerald Pearson, an ex-para who really lost both legs in action, in an artful, first-person camera account of a traumatised pilot's psychological and physical healing. "A kind of bridge is being built for them between their disabilities, and the other chaps who were lucky," a decent ministry man explains.
It's the sort of adult realism war-shocked societies briefly wanted, in phenomena from film noir to The Men's barely varnished physical damage. The Korean War's renewed, ruthless patriotism then overwhelmed The Men at the box office, beginning a mind-numbing new decade, which Brando would fight his way through.