Blu-ray: Tokyo Story / The Flavour of Green Tea Over Rice |

reviews, news & interviews
Blu-ray: Tokyo Story / The Flavour of Green Tea Over Rice
Blu-ray: Tokyo Story / The Flavour of Green Tea Over Rice
Slow-paced poetry from a master cineaste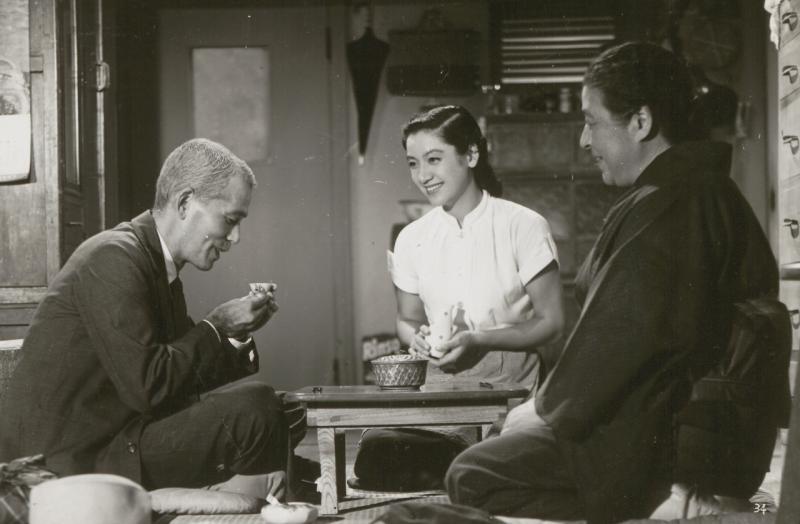 Ozu's 'Tokyo Story': 'Honour your parents while they are still alive'
Yasujirō Ozu's The Flavour of Green Tea Over Rice and Tokyo Story were released in 1952 and 1953 respectively. Tokyo Story regularly features in critics' Top 10 lists and was voted Best Film of all time in a 2012 poll of film directors in Sight & Sound magazine.
The two films sit well together as a pair, each one a perceptive examination of human relationships set in a rapidly changing post-war
Japan
.
Tokyo Story still packs a powerful punch, this tale of a retired couple visiting their self-obsessed urban offspring unfolding with piercing accuracy. Watching it after a gap of some years, I'm struck by how buttoned-up and repressed these characters are, their obvious emotional distress and heartache barely hinted at. Chishū Ryū and Chieko Higashiyama as the ageing parents are met with indifference and embarrassment by their grown-up children, none of whom seems to be doing quite as well as they'd hoped. The visitors shuffle around, desperately trying not to get in the way, their children unwilling to take the time off work to entertain them.
Only their widowed daughter-in-law Noriko (a luminous Setsuko Hara) displays any warmth, sacrificing a day's pay to take Shūkichi and Tomi on a bus tour of the capital and actually engaging with them. When none of the other family members is willing to step up on the following day, they club together and pay for the couple to have a break at an upmarket spa resort, alarmed when they return to Tokyo after just one night. The parents' polite refusal to admit that they're having a miserable time at the spa is excruciating ("This place is for the younger generation"), and Ozu's signature shooting style, his camera invariably static and positioned low, gives Tokyo Story its verisimilitude.
Children will always break their parents' hearts, and that they'll always drift away to lead their own lives is inevitable. Things take a darker, sadder turn: there's a plea to honour one's parents "while they are still alive", and when daughter Kyōko (Kyōko Kagawa) and Noriko have their famous exchange about life's disappointments, you may feel the need to lie down in a darkened room. The film is more inspiring than depressing, however – an exhortation to go out and engage with family, friends, and the world. I envy anyone seeing it for the first time.
The Flavour of Green Tea Over Rice's odd title alludes to a touching scene near the film's close, the affluent estranged couple (pictured right) reconciling whilst preparing a simple meal in the pristine kitchen they never use, their long-suffering servant having gone to bed. Michiyo Kogure's Taeko at last appreciates why her husband Mokichi (Shin Saburi) prefers simple pleasures like cheap cigarettes and third class train travel, Ozu suggesting that the couple might just salvage a happy future together. Their story is set against that of their feisty niece Setsuko (Keiko Tsushima), who's determined not to have a spouse chosen for her.
It is wonderfully told, the location shots more varied than we might expect from this director, with sequences set in baseball grounds, on cycle racetracks, and in a noisy pachinko parlour. Ozu's dry wit lightens the bittersweet mood; it's hard not to smile at the well-wishers manically waving Mokichi off as he attempts to fly to Uruguay on a business trip, or at the brief sequences set in the offices of the engineering company where he works.
Both of these BFI reissues look and sound superb, each one provided with generous extras and outstanding documentation. Tony Rayns' introduction to Tokyo Story is excellent, and the Green Tea package includes, unexpectedly, The Good Housewife 'In Her Kitchen', nine minutes of useful domestic advice from 1949. Buy the pair.
That children will drift away to lead their own lives is inevitable
rating
Share this article