Border review - genre-defying Oscar-nominated Swedish film |

reviews, news & interviews
Border review - genre-defying Oscar-nominated Swedish film
Border review - genre-defying Oscar-nominated Swedish film
A quasi-Gothic fairytale which delivers many dark surprises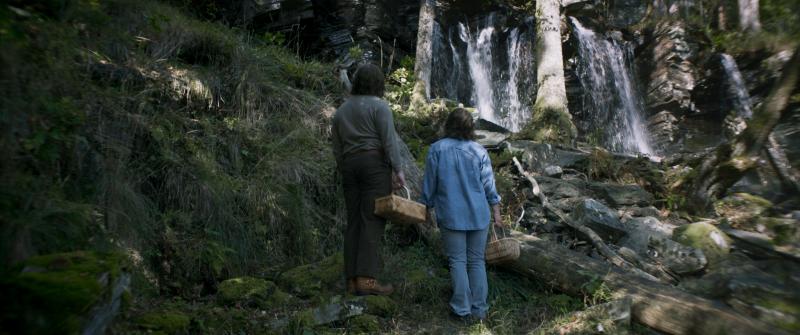 If you go down to the woods today, you're sure for a big surprise
This might just be the most challenging film review I've had to write in decades. The best thing would be to go and see Border knowing nothing more than that it won the prize for most innovative film at Cannes. Don't watch the trailer, and definitely don't read those lazy reviewers who complete their word count by writing a detailed synopsis ruining every reveal and plot twist.
Border
is simply brilliant and best seen clean, although a duty of care means that viewers of a delicate disposition are warned that there's a significant amount of body
horror
on screen. Fans of David Cronenberg, early David Lynch and perhaps Walerian Borowyczk will be happy.
I first saw Border during the London Film Festival, stumbling into a screening just because it had been co-written by the screenwriter John Ajvide Lindqvist, who had adapted it from one of his own short stories. Lindqvist wrote Let the Right One In back in 2008. That was a fever dream of a film about outsider teenagers in a wintry Swedish housing estate; it may well be the best vampire movie ever made. If you loved Let the Right One In, which went on to become a haunting play, that's as good a reason as any to track down Border. But don't go expecting snow, bullied youths or tormented vampires, this is something else completely. While Border does have scenes set in harshly lit offices and there are vile crimes perpetrated in IKEA-perfect apartments which are a little over-familiar from Scandi-noir policiers like The Killing, the film's main action takes place in a Sweden of wooden cabins, sun dappled pine forests, naked lake swimming and eerie encounters with elks. Border draws on Scandinavian imagery that harks back to folklore; the fairytale illustrations of John Bauer and Elsa Beskow are here refracted through a warped, adult lens.
Border is a hard film to classify, as evidenced by the authoritative International Movie Database (IMDb) where under the heading of 'Genre' the movie is listed as Drama Fantasy Romance Thriller. Those labels don't even begin to touch on its range. Add to the Genre list Horror, Police Procedural, Sci Fi, Gothic and Family Tragedy, and it still wouldn't describe the film. I'd argue that Border is also a subtle but passionate diatribe about how society treats outsiders, particularly those judged ugly or less than human. After seeing it, a curious viewer might want to read up on Sweden's shameful embrace of eugenics that continued beyond its Nazi inspiration in the 1940s right up to the '70s.
Border is directed by Ali Abbasi, an Iranian who moved to Sweden when he was 20 to study architecture, before going on to the National Film School of Denmark. Abbasi's own experience of being a stranger in Scandinavia means he not only identifies with its central character, but he also portrays the landscape with a fresh eye. This is no rerun of Dogme's pared back rules of film-making, there's a score that makes much use of ominous drone electronica as well as lyrical passages. The camerawork is ingenious and the production design inspired. There is significant filmic artifice involved throughout, which should have won Border an Oscar in the craft category in which it was nominated. Eva Melander (pictured above), who plays the pivotal role of Tina, gives a startlingly brave performance; it takes real courage to bare so much to the camera with so little vanity. Anyone impressed with Olivia Colman and Christian Bale's recent transformations should check out Melander in real life. But please, don't do that until you've seen Border; I hope I've managed to write over 500 words without ruining too much of the experience of seeing this fabulous film. Phew! Or fy fan as they say in Sweden.