Café Society |

reviews, news & interviews
Café Society
Café Society
Woody Allen's latest ravishes the eye and, at times, the heart
Friday, 02 September 2016
Hollywood daze: Jesse Eisenberg and Kristen Stewart in `Cafe Society'
Whatever one thinks of Café Society - and responses to Woody Allen's latest as ever are likely to be divided - few will dispute the visual lustre that the legendary cameraman Vittorio Storaro has brought to this tale of love upended and deferred, set in 1930s Hollywood to a period-perfect soundtrack pulsing with the music of Rodgers and Hart.
Every frame has a ready-made, natural shimmer that communicates Allen's love affair with the cinema, however one responds to a narrative about displaced nebbish Bobby Dorfman (Allen soundalike Jesse Eisenberg), who falls hard for LA glamour girl Vonnie (a radiant Kristen Stewart), a one-time Nebraskan who by the final credits has against the odds become Bobby's aunt.
That might sound like a sort of inverted commentary on Allen's much-debated personal life, but it's possible to look past the writer-director's circumstances in a story which exerts an unexpected emotional pull. The ending, set on the cusp of a new year, finds its leading players casting a ruminative, regretful glance back at their pasts.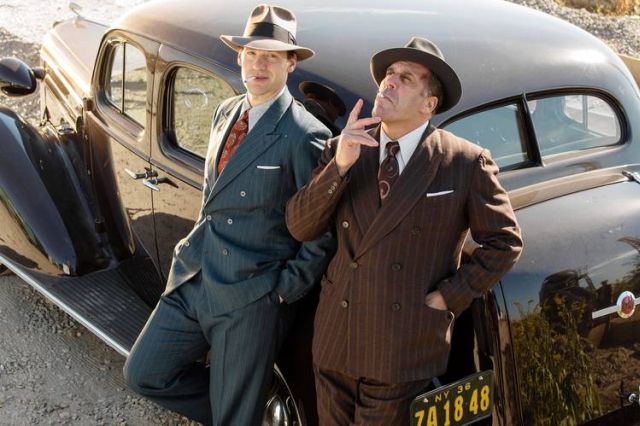 Allen devotees, too, will note the shift in perspective between the mockery to which a sunlit, soulless Hollywood is subjected in Annie Hall and the dreamscape captured so easefully by Storaro here. With Bobby we look on in wonder at a realm in which the likes of Joan Blondell and Adolphe Menjou are only an unseen phone call or canapé away, while Bobby's gangster-brother Ben (Corey Stoll, pictured above with Saul Stein) casually cuts short the lives of all and sundry on his grubby home turf.
The boys' echt-Jewish mother Rose (Jeannie Berlin, terrific) clocks but doesn't want to address how exactly it is that Ben spends his days. That, in turn, makes the itinerant Bobby's screen outings with Vonnie to catch the latest from Barbara Stanwyck seem a welcome alternative - at least for a while - to shadier goings-on back east, and Allen gets considerable comic mileage out of the disparity between Rose's beer-swilling, cantankerous husband (the wonderful Ken Stott) in the Bronx and the swellegant poolside environs newly available to Bobby. Eisenberg plays the perennial Allen surrogate with an open-faced gentleness that couldn't be further from the self-immolating distress he brought to his recent London stage turn in The Spoils.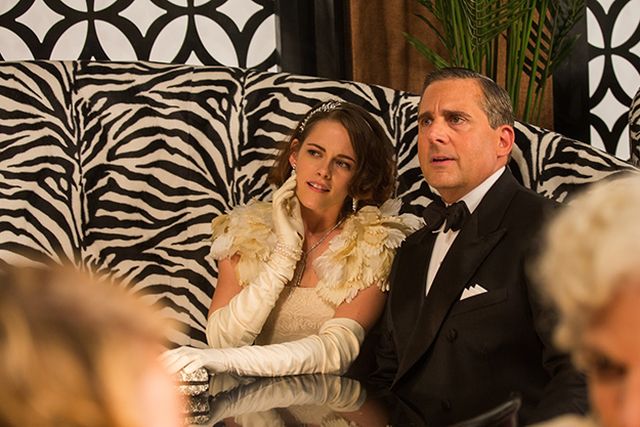 The twist, of course, is that a glistening LA casts its own confusion and gloom when it transpires that Bobby's beloved Vonnie is in fact the mistress of Bobby's long-married Uncle Phil (Steve Carell, ably inheriting a role earmarked for Bruce Willis), the hot-shot agent who ends up taking Bobby under his wing, with Vonnie the appointed guide to his newfound home. The resolution lands both young lovers with a more-than-acceptable mate, even as they can't help but ponder the road not taken. Bobby, we're informed, has "a touch of the poet" about him (note the O'Neill reference), but the narrative, one feels, wouldn't be out of place in Chekhov.
Stewart, on this evidence, would make a natural Yelena in Uncle Vanya, and her performance is the revelation here, as Vonnie shuttles between Bobby and Phil, alive to the needs of both men yet dulled on some level to doubts she clearly harbours within and about herself. Playing an ad hoc philosopher who puts her life up for examination but only to a point, the actress finds a soulmate of sorts in Storaro, who gives Vonnie the shimmering entrance of anyone's dreams. And if Allen is heard but not seen in an intermittent narration, he continues to gift his performers with unanticipated grace notes, none more so than a leading lady whose triumph in society comes tempered by a sense of loss.
Kristen Stewart is the revelation here, playing an ad hoc philosopher who puts her life up for examination but only to a point
rating
Explore topics
Share this article