Chico and Rita |

reviews, news & interviews
Chico and Rita
Chico and Rita
Sensational animated film set in 1950s Cuba and New York
Wednesday, 17 November 2010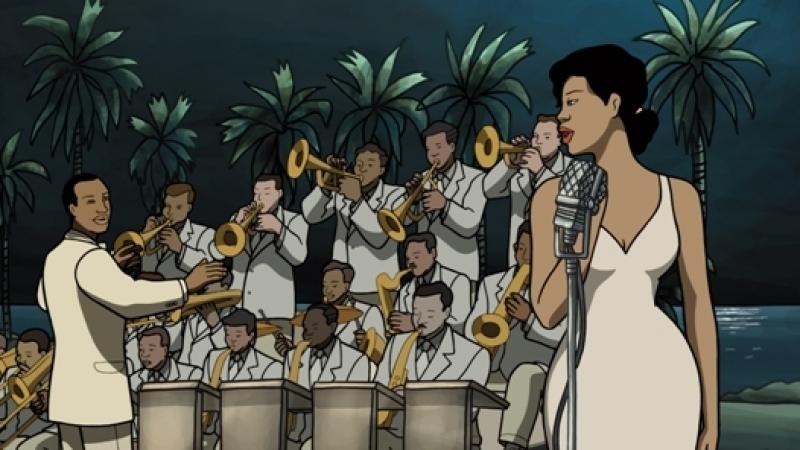 Chico and Rita performing at the Hotel Nacional
On-screen kissing rarely works; even the sexiest, most practised Hollywood couples usually can't manage it. But when the eponymous Chico and Rita turn to each other against smoochy strains of "Besame Mucho" and their lips touch for the first time, it looks - and feels - like the real thing. Even though the couple were conceived with pencil on paper and born into a digital world, their kiss actually feels erotic.
Animation
never was my favourite medium, but within minutes of the start of
Chico and Rita
, I was hooked.
The Spanish directors of this sensational film are three multimedia film-makers and designers who share a passion for Cuban music. Oscar-winning director, scriptwriter and producer Fernando Trueba (Belle Epoque with Penelope Cruz) is at the heart of it, and he brought in Spain's most inventive designer, painter, comic-book artist and architect, Javier Mariscal; his brother, Tono Errando, with a background in music, film and animation, completed the team. Trueba met Mariscal through his hugely successful Latin Jazz documentary Calle 54 in the Nineties, and hired him to design its poster. Chico and Rita was a logical follow-up. And given the collective talent involved, its magnificence is not surprising; it is an original, sensual, fresh and exciting experience.
As a love story, the film shares some elements of the oft derided Latino telenovelas (soaps) in its sometimes predictable plot twists and underlying romance. But this is a far more complex, layered and sophisticated production. The love affair between the pianist and songwriter, Chico, and singer Rita is only part of the story; woven throughout are clearly spelled out and contemporary plot lines built around issues of race, social and sexual politics. The structure, the producers say, follows the changing form of a bolero (poetic Cuban love song), moving to shifts between sadness and joy, passion and despair, like sunshine and clouds in spring. The designers and animateurs are responsible for a set of dynamic, emotive characters (pictured above right: Manolo Galiana drawing Rita) filled out with personality, habits and realistic life stories – and superb dialogue.
The story loops and hops between time zones and geography, from 1948 when the couple meet, to the present, and from Havana to New York, with pit-stops in Las Vegas, Paris and London. Havana in the early Fifties is minutely detailed right down to the bar names and the street posters and hoardings (pictured left: Chico and Ramón in a Havana bar). The information came from a pre-revolution photographic archive of every street in the city, and discovered by Trueba and Mariscal during their Havana researches. If you know Havana, this film is a treat as you spot familiar landmarks and buildings still standing, and feel the ambiance of pre-revolution street and night life.
Winding back to the beginning, Chico is seen at work, shining shoes, then shuffling home. It is a direct reference to Ibrahim Ferrer, another brilliant performer (singer) who lost his career after the revolution and ended up cleaning shoes until the good fairy Buena Vista Social Club changed his life. Chico sits with a beer in his small apartment room, listening to the radio and hears the song - his song - which launched Rita's career. With her sensual beauty and her sinuous dancing, she was an instant hit and her fame came fast, but ultimately, she resisted the American showbiz machine, lost her true love, and vanished into Americana, as Chico declined in Havana.
This is a classic music-biz story about a talented, beautiful, exotic (ie non-white) singer (pictured right: Rita dancing the rumba at home in Havana) who is picked up by a manipulative gringo manager (who uses Havana weekeds for R'n'R and talent-spotting), then whisked away from the hick pianist to New York and then hits Vegas. Chico followed her to New York and sneaked into clubs and posh parties, bribing his way to being the replacement piano accompanist (cue: passionate reunion kiss). When we enter a basement dive with Chico and his hopeless but almost loyal Havana friend and manager, Ramón, we drop into the revolutionary bebop scene and are probably as wide-eyed as Chico on spotting Charlie Parker playing across a room. Down with Dizzy Gillespie, Chico meets up with old Havana mate Chano Pozo, who is busy with Dizzy transforming bebop into Cubop via his sensational drumming. And that meeting develops into the conga genius's accurately detailed death over a drugs deal in Harlem.
What unites the story is the musical soundtrack (pictured below left: Tono Errando and Fernando Trueba) which was built up with outstanding musicians including members of the Buena Vista Social Club back-line who represent legends in Cuban and American music: John Coltrane, Nat King Cole and the Mambo King, Tito Puente, and the invisible man who connects the whole thing musically, 91-year-old pianist and composer, Bebo Valdés. He met Trueba through his comeback album Bebo Rides Again in 1994, and in some way his life story – and that of the similarly brilliant pianist, Ruben Gonzalez -shaped the character of Chico. A key figure on the Fifties Havana scene and in New York during the mambo heyday, Valdés abandoned Cuba and New York for Sweden, leaving his son Chucho Valdés in Cuba to build his own international reputation and astonishing personal style as a pianist.
Bebo Rides Again inspired Trueba's production of the Calle 54 film and his role as provider of Chico's lustrous, rhythmic piano playing throughout the film. His inspired collaboration with the dynamic flamenco singer Cigala on the 2003 album Lagrimas negras surely led to the appearance in Chico's life of the smoky, bluesy vibrato voice of flamenco singer Estrella Morente, who reignites his performances.
For anyone interested in the history of Cuba the musical element will be entrancing. It is crucial in the story and was as intensively researched and illustrated as everything else in the film. It's fun to see Nat King Cole pop up with Rita at the Hotel Nacional – and anyone who has visited that place recently will recognise Havana's still grandest hotel, which in Rita's day was Sinatra's second home. Similarly, Rita's performance at the spectacular Tropicana Club in front of American tourists shows the same décor, palm trees and girls with Carmen Miranda headdresses still entrancing the tourists but now from everywhere but the USA. At New York's Palladium, the Mambo King, Tito Puente gives a mean timbales solo - recorded for the film by the world's greatest timbalero, Armadito Valdés of the Buena Vista Social Club.
Anyone not too roused by the music, but who has been to Havana, will be amazed at the detailed accuracy of the backdrops, the street scenes, bars, hotels, cars, clubs, interiors. The craftsmanship and drawing skills which feed the animation is outstanding. And it carries through to the sensuality of Rita's moves, snakey dancing, expressions of ecstasy and rage, but is also exceptional in the depiction of the musicians as they play: Chico's hands on the keyboards, Chano Pozo's flat-palmed drumming – all perfectly synched to the nuances of rhythm and melody, which must have taken hours of watching Bebo Valdés, German Velazco (as Charlie Parker), Amadito Valdés and others. It's a marvel.
In the background to the final part of the story, another layer of narrative is added as the Cuban Revolution rumbles and the island is closed down to the rest of the world except the Soviet Union. Rita's wicked manager launches a drugs scam and gets Chico deported for good; time passes and old Chico shines shoes and still dreams of Rita. But then, with the recent loosening of travel rights to Cubans, he sets off to find his amour… And the rest is a predictable and charming reunion which (pictured above: Chico and Rita on a New York street) involves a repeat of that passionate kiss.