Conviction |

reviews, news & interviews
Conviction
Conviction
Hilary Swank and Sam Rockwell shine in true-life legal odyssey
Hilary Swank as Betty Anne Waters, dragging herself through law school by sheer willpower
The real-life story behind Conviction had a big balloon over its head saying "Hollywood screenplay!!!", and sure enough here's director Tony Goldwyn's big-screen version, with Hilary Swank striding out front carrying the banner for truth, justice and the supernatural properties of sibling devotion. There's no denying it's an incredible story.
Swank plays Betty Anne Waters, a working-class woman from rural Massachusetts (a region depicted here as startlingly primitive and impoverished) who shared an unusually close bond with her brother Kenny (Sam Rockwell) after the pair of them had endured a painful upbringing in a variety of foster homes. As Rockwell has commented, "Their childhood was so traumatic it was kind of like being in a war together… They made a vow never to be separated ever again and that gave them this inseparable bond that never weakened."
The opening of Goldwyn's film portrays the catalytic event that jump-started the whole saga, as the camera makes a slow, ominous approach to the trailer home where a waitress called Katharina Brow was found murdered in 1980. We glimpse the corpse almost in passing amid nauseous quantities of blood smeared over the walls and across the floor, Brow having died from multiple stab wounds. She'd also been robbed of $1,800. Kenny Waters is hauled in for questioning by the cops, with hatchet-faced Officer Nancy Taylor (played by Melissa Leo, pictured below) leading the interrogation and making no secret of her desire to see Waters convicted. He responds with a kind of mocking contempt, and is eventually released without charge.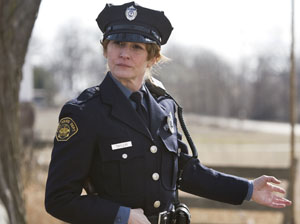 However, it's merely a case of nemesis delayed. Two years later, Kenny and Betty Anne are attending their grandmother's funeral when the police burst in and drag Kenny outside, where a sneering Officer Taylor tells him they now have the evidence they need to convict him. Thanks to catastrophic testimony from a couple of his ex-girlfriends (one of them played by a spectacularly raddled Juliette Lewis, looking like she's been living three or four dissolute lifetimes simultaneously), he's sent down for life.
From here, it becomes the story of Betty Anne's obsessive commitment to getting her brother freed, to which end she undertakes the seemingly impossible task of putting herself through law school and taking her bar exams to equip herself with the tools to battle the judicial system on Kenny's behalf. Ridiculously, as a school dropout, she even had to go back and take her high-school diploma before she could hit the legal trail. If it wasn't a true story (give or take the presumably considerable dollop of Hollywood spin that has been applied) you wouldn't believe it could have happened, but at least as incredible as Betty Anne's Himalayan feat of self-education is her inability to conceive of her brother's guilt. Rockwell (pictured below) delivers a pitch-perfect performance as Kenny, a drinking, brawling semi-delinquent hopelessly prone to self-destructiveness, but who never quite looks capable of robbery and murder. Or does he? Director Goldwyn leaves it ambiguous enough to keep you wondering whether Betty Anne is locked into her own delusional highway to hell.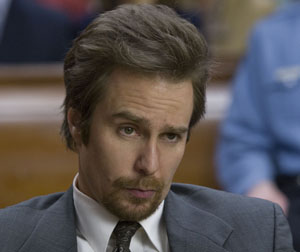 Yet, for all the true-life drama of the tale, Conviction frequently struggles to sustain dramatic tension, and Pamela Gray's screenplay is apt to limp mechanically between plot waypoints as if her obligation to lay out the facts of the story has acted like a general anaesthetic on her imagination. The revelation that science has discovered this thing called DNA that can wave a magic wand over dodgy convictions delivers a near-fatal blow to the narrative, which finds itself desperately manufacturing delays and obstacles to spin out a bit more time before the inevitable conclusion arrives.
But Conviction is worth seeing for the quality of the central performances. Swank, perhaps drawing on her own memories of dragging herself out of the trailer-trash twilight zone, seems to be fuelled by a seething core of almost demented certainty, and her relationship with Rockwell strikes real sparks of plausible emotion. Also impressive is Minnie Driver as Betty Anne's law school gal-pal Abra, always ready with a supportive shoulder and a stiff drink when the legal battle and life as a single mom become overwhelming, while Peter Gallagher brings some ballast to the role of Barry Scheck, head of the Innocence Project organisation which is dedicated to exposing wrongful convictions. The story isn't perfectly told, but that doesn't mean it wasn't worth telling.
Watch the trailer for Conviction