Dark Shadows |

reviews, news & interviews
Dark Shadows
Dark Shadows
Tim Burton somewhat recovers from the disappointing Alice in Wonderland with this gothic rib-tickler
Modern life is rubbish: Johnny Depp's 18th-century vampire takes on the 70s
Tim Burton is a man who has always been at home in the shadows. His is a world of demon barbers, headless horsemen, deformed sewer dwellers and corpse brides, of chalky complexions, dusky aesthetics and billowing fog. His films are designed to chill children, or bewitch big kids, they hark back to the Brothers Grimm and Hammer horror - not least in the recurring presence of avuncular abomination Christopher Lee.
At his most creatively successful, with films such as
Beetlejuice
,
Edward Scissorhands
and
Batman
, Burton gives us anarchy, askew humour and misfits clad in black. And so it is that
Dark Shadows
- based on the cult US soap opera - with its vampires, witches and men in flared trousers fits him like a murderer's glove.
Dark Shadows ma
rks Burton's eighth collaboration with Johnny Depp. It's a lavish, often wickedly witty retelling of the wonderfully creaky old series of the same name, created by Dan Curtis, which ran between 1966 and 1971 (and has already been remade once for TV in 1991). This big-budget reimagining - featuring guest appearances from members of the original cast - eschews the TV show's po-faced gusto in favour of a more knowing exuberance. It's the story of the tortured Collins family and is dripping in blood - that which "defines us, binds us, curses us". Whereas the original's soap opera format meant that it ran for over 1,200 episodes during its five-year stint, to the film's detriment it has a meagre 113 minutes to explore the family and their horrible history.
Depp (a fan of the original show) plays Barnabas Collins, an 18th-century Liverpudlian whose family up sticks to Maine, where they establish a thriving fishing business and a town, Collinsport. They crown their achievements by constructing a palatial home, Collinwood, which is 15 years in the making. However, when the caddish Barnabas cannot return the romantic declarations of one of the estate's staff, Angelique (Eva Green, pictured above right), she curses his family, murdering his parents and sending his beloved Josette (Bella Heathcote) over a cliff. To hammer home the lesson she turns Barnabas into a vampire before confining him to a coffin and burying him alive (or should that be undead?). As he mournfully reflects, "Of all the servants I could have spurned, I got the witch."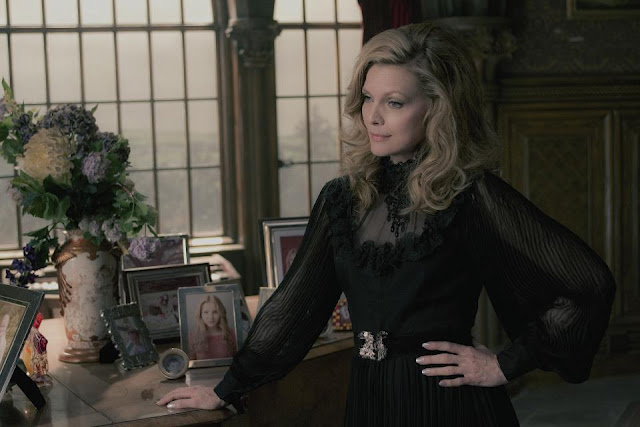 The eerie and melodramatic "Nights in White Satin" eases the transition from gothic devilry to a less conspicuously supernatural 1972 and the story begins proper when Barnabas is freed from his nefarious, near-two-centuries-long containment by a group of luckless construction workers. After that horror, hilarity most definitely ensues and the film gets ample mileage out of Barnabas' fish-out-of-water introduction to the modern age. He returns home to his unsuspecting family, to people for whom he is merely a long-dead ancestor bearing down from a painting on the wall: to matriarch Elizabeth (Michelle Pfeiffer, pictured above left) and her tempestuous daughter Carolyn (Chloë Grace Moretz), Elizabeth's slimeball brother Roger (Jonny Lee Miller) and his haunted son David (Gulliver McGrath), live-in psychiatrist Julia (Helena Bonham Carter) and mysterious governess Victoria (Heathcote again). Barnabas faces an old foe when he realises the woman who attempted to imprison him for all-time still lives. Now known as Angie, she's a glamorous business rival and stalwart of the town.
Dark Shadows starts unpromisingly with a rushed prologue, hurrying humourlessly through Barnabas Collins' back story. Despite this, from the moment Depp is released from his coffin it's on more stable, firmly comedic ground – that is up until its rather clumsy and chaotic finale. Once the irreverent tone kicks in, the gags come thick and fast. Barnabus delivers terrific verdicts on such Seventies staples as Scooby Doo ("this is a very silly play") and Alice Cooper ("the ugliest woman I've ever seen").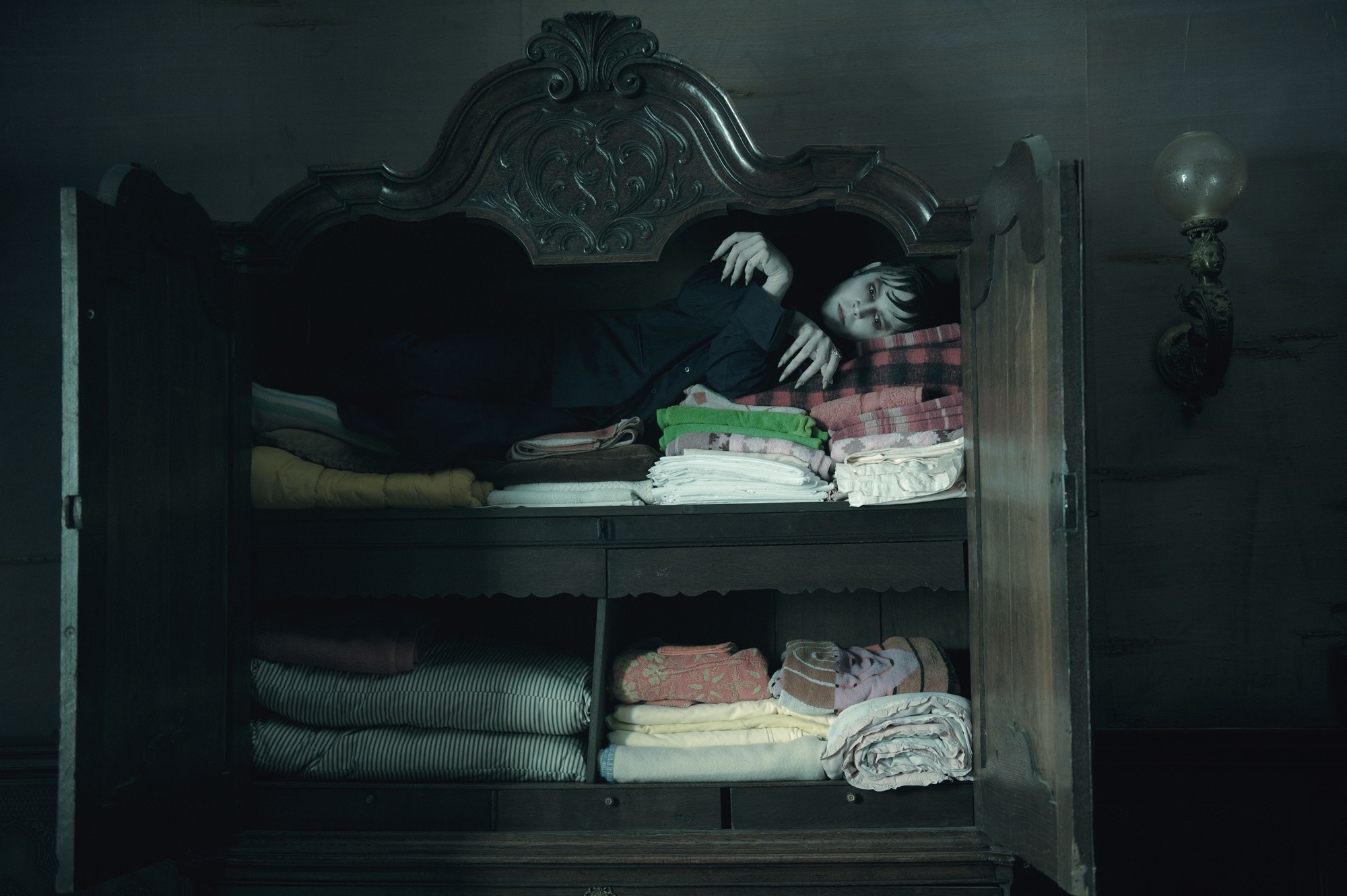 Like the similar Addams Family films, the key to a successful reboot is in the casting and in this respect Dark Shadows is at least partly successful. Depp is wonderful, with his considerable gift for comedy being put to good use after a number of recent critical misfires (The Tourist, Pirates of the Caribbean - On Stranger Tides, the aforementioned Alice). Green, playing a bunny boiler on a supernatural scale, attacks her role with admirable zest and she makes for a hot-blooded vampy villainess, an energetic counterpoint to Barnabas' stuffed-shirt eyebrow-raiser. Unfortunately their barnstorming bickering plays out at the expense of Barnabas' less than thrilling romance with the wan Victoria. The grand, age-defying Pfeiffer is similarly short-changed story-wise and Moretz, who has impressed in other genre fare (Let Me In, Kick-Ass), is wasted as a stroppy teen, with a revelation concerning her character coming too late in the game.
For the most part Dark Shadows represents fun for all the family (a few moderately risqué moments aside) but those expecting a macabre masterpiece will be desperately disappointed. It's a case of character development be damned; the family's troubles might have been better explored in a(nother) small-screen remake. Additionally, it may promise dark shadows but it delivers nothing more than light entertainment. It's as insubstantial as a spectre and as menacing as dear Barnabas chained into his coffin and buried deep underground.
Follow @EmmaSimmonds on Twitter
Watch the trailer for Dark Shadows
It may promise dark shadows but it delivers nothing more than light entertainment
rating
Explore topics
Share this article