DVD: Tides |

reviews, news & interviews
DVD: Tides
DVD: Tides
This beautifully shot boating-trip film needs bailing out with a bit of drama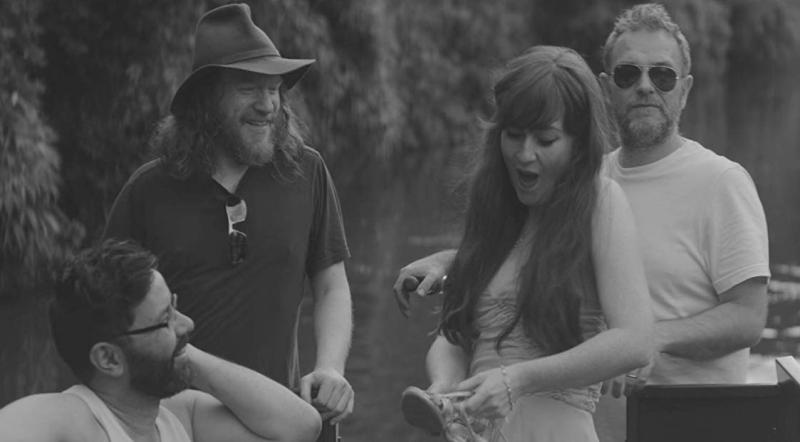 Friends afloat - the quartet cast of 'Tides'
Tides tells of fortysomething angst and camaraderie, though "tells" might be an exaggeration.
Tides tells of fortysomething angst and camaraderie, though "tells" might be an exaggeration. In a concerted attempt to make a film with minimal incidents and structure, first-time feature director Tupac Felber made a likeable observational piece, based mostly on improvisation, rather than a compelling "watch".
Over a long summer weekend, Jon (Jon Foster), matey but highly-strung, and his quiet and equable friend Zooby (Jamie Zubairi) travel on a barge along some lovely Surrey waterways. They are joined by their cheerful, mouthy woman pal Red (Robyn Isaac), and the self-contained Simon (Simon Meacock). Zooby and Red privately discuss a loss Jon has suffered. Jon pilots the barge, Zooby cooks and paints. We learn who is and who isn't married and who are parents. At one point, Jon goes on shore to buy groceries – Paul O'Callaghan's camera tracking with him past suburban homes like Robby Müller's camera tracking past houses on the Louisiana Bayou in Jim Jarmusch's Down by Law.
On the one night Red stays on the barge, everyone gets drunk and the banter gets raucous. Jon says something to upset Red, with whom he was seemingly involved in the past, but they make up. The next day she leaves for a London wedding – first walking atop the barge like Dita Parlo in L'Atalante – and the energy sags. A mystery remains: what's the nature of the loss that causes Jon's sudden anxious outbursts? The answer is sad but commonplace.
The DVD's main extra is a 45-minute post-screening Q&A, on another barge, with Felber, Foster, Isaac, and Meacock (who, with Zubairi, share the screenwriting credit). We learn that Felber made Tides in three days with actor friends because other projects were stalled. We learn that O'Callaghan – whose vérité-style cinematography is gorgeous – shot it in black and white to avoid numerous lighting set-ups and because Felber wanted to emphasise that, thin though the story is, the film is still a fiction.
Felber also discloses that the foursome's chats about storytelling – Zooby, Red, and Simon are jobbing actors and Simon is a video game nut – reflect on the film's play with narrative. What never becomes clear is why Felber opted to make an experimental movie with potentially rich characters (played by very good actors) whose lack of development guaranteed that it would be affectless. Tides almost perversely fetishises humdrumness; it screams out for drama.
Watch the trailer for Tides
'Tides' almost perversely fetishises humdrumness
rating
Explore topics
Share this article