DVD/Blu-ray: Aftersun |

reviews, news & interviews
DVD/Blu-ray: Aftersun
DVD/Blu-ray: Aftersun
Exquisite depiction of a father-daughter relationship
Tuesday, 28 February 2023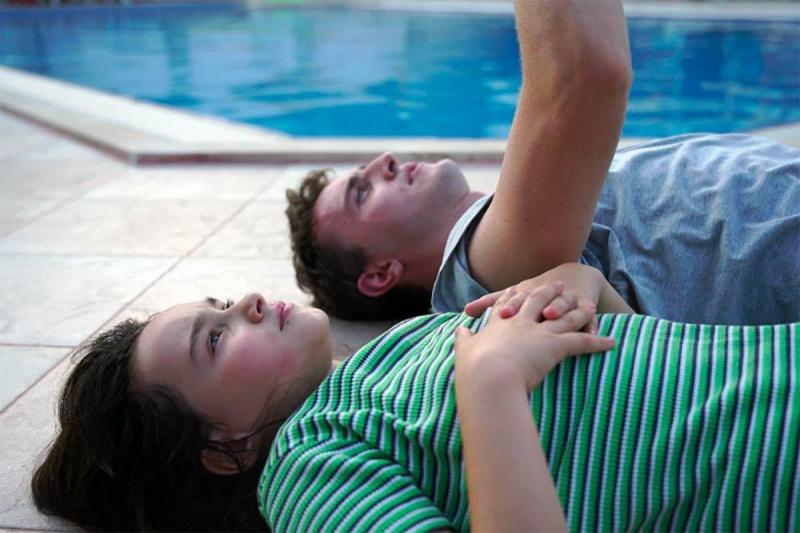 Innocence and experience: Frankie Corio and Paul Mescal in 'Aftersun'
Begin describing Aftersun to someone who's not seen it and you'll struggle. Charlotte Wells' debut feature looks embarrassingly slight on paper, its 93 minutes following a young girl on a Turkish package holiday in the late 1990s with her youthful dad.
The trip is mostly seen through the eyes of 11-year-old Glaswegian Sophie (Frankie Corio) in flashback, much of the footage recorded by her on a camcorder. Paul Mescal's affable Calum, seemingly amicably separated from Sophie's mum, is a superficially sunny presence. Wells hints at Calum's demons only obliquely; there's a suggestion of money problems and a career crisis ("I've a new thing going with Keith"), and at one point he admits to being surprised at having made it to the age of 30. Young Sophie is blissfully unaware that anything could be wrong, dismissing Calum's tai chi as "weird slow-motion ninja moves" and paying no attention to the self-help books he's brought with him.
Wells continually wrongfoots us. Scenes where we expect disaster to strike, as when Calum is scuba diving without the requisite experience or Sophie falls in with a crowd of sexually aware teenagers, pass without incident. Watching the film a second time makes it easier to spot the warning signs; Calum stumbles across a road at one point, oblivious to the bus which nearly flattens him. Glimpses of the adult Sophie (Celia Rowlson-Hall), wistfully looking back at the trip and haunted by visions of Calum dancing in a strobe-lit nightclub, further muddy the waters, hinting at the tension between real and imagined memories.
So far, so gloomy, but much of Aftersun is blissful, the chemistry between Mescal and Corio lighting up the screen. Their banter feels deliciously unscripted, reminiscent of the exchanges between the young Ellar Coltrane and Ethan Hawke in Richard Linklater's Boyhood. Calum and Sophie giggle at a terrible club singer and throw bread rolls at the tour reps dancing the macarena. Calum's own dancing is a source of acute embarrassment for Sophie, and there's a tender moment where she covers her sleeping father with a sheet.
Theirs is a relationship to cherish and envy, the film's mood increasingly poignant and elegiac as the holiday draws to a close. Clothes, colours and music combine to create a vivid sense of time and place, and there's a haunting, ambiguous closing sequence. It's marvellous. Mubi's extras include a commentary from Wells and an entertaining Q&A with her and the two leads.
Clothes, colours and music combine to create a vivid sense of time and place
rating
Explore topics
Share this article