DVD/Blu-ray: Dheepan |

reviews, news & interviews
DVD/Blu-ray: Dheepan
DVD/Blu-ray: Dheepan
A Paris banlieu offers no respite for an ex-Tamil Tiger in 2015's Palme d'Or-winner
Impromptu family: Kalieaswari Srinivasan, Claudine Vinasithamby and Antonythasan Jesuthasan in 'Dheepan'
One of European cinema's most dynamic storytellers, Jacques Audiard chose to follow his iconoclastic romance Rust and Bone and remorseless prison drama A Prophet with a film addressing Europe's refugee crisis. The no less searing Dheepan won the Palme d'or at Cannes last year.
The decision to depict the experiences of three Hindu Tamils newly arrived in France was prompted by the likelihood that the movie's predominantly French audience would be relatively unfamiliar with the fallout of the Sri Lankan Civil War, which ended in 2009. In terms of posterity, it was a smart move – if a sad reality – since a film about blameless Moslem immigrants would not now curry much favour with certain sections of a country reeling from the ISIS attacks.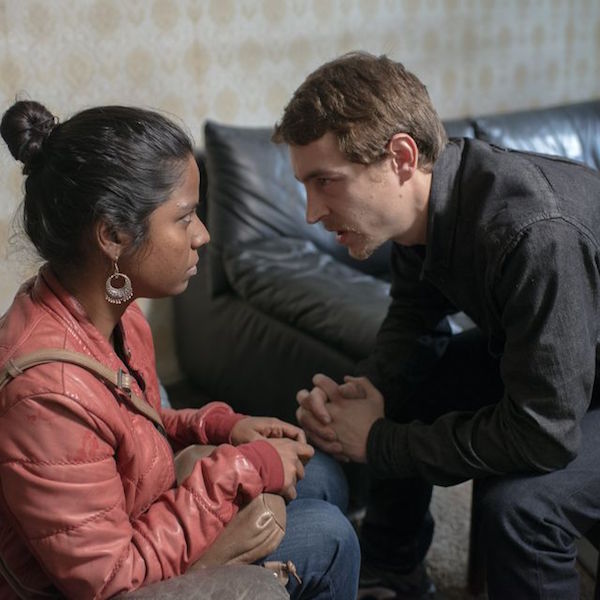 Supplied with a dead man's identity at a refugee camp, the newly named Dheepan (Antonythasan Jesuthasan), a surly former Tamil Tiger whose children have been killed, falls in with an asylum seeker, Yalini (Kalieaswari Srinivasan), and the nine-year-old orphan, Illayal (Claudine Vanasithamby), whom she has taken pity on. Pretending to be a family eases their escape to France, and they settle eventually in a crime-ridden banlieu in Le Pré-Saint-Gervais, north-east of Paris, where Dheepan works as a caretaker and Yalini as the home-help of a man with Alzheimer's.
The trio's rough acculturation is complicated by their slender ties. Illyal demands a mother's love from Yalini, and because she doesn't get it, she directs her anger at a schoolmate. Dheepan expects Yalini to comport herself like his wife in public but doesn't treat her like one at home. Sexually ignored by him, at least initially, she tries to attract Brahim (Vincent Rottiers, pictured above with Srinivasan), a drug lord and ex-con related to the old man. The elephant in the room – metaphorically represented by the pachyderm that rampages in slo-mo in Dheepan's dreams – is the violence that will inevitably reclaim him, bringing forth his inner Charles Bronson in the simmering concrete jungle.
The film's shoot-out climax has been widely criticized, the common complaint being that the story doesn't earn it – or the soft coda that follows. One wonders how much Audiard's interaction with leading man Jesuthasan, a Sri Lankan author-activist who by 19 was a disillusioned Liberation Tiger, determined the purging. And, for that matter, how much Srinivasan contributed to the fierce Yalini's emotional trajectory. They barely seem as if they are acting.
Audiard and Noé Debré (who co-wrote the screenplay with the director and his frequent collaborator Thomas Bidegain) provide an audio commentary and a video conversation; deleted scenes are also included on the disc.
The elephant in the room is the violence that will inevitably reclaim him
rating
Share this article