DVD/Blu-ray: Under the Tree |

reviews, news & interviews
DVD/Blu-ray: Under the Tree
DVD/Blu-ray: Under the Tree
Summer in Iceland and the living's not easy: a devastating suburban satire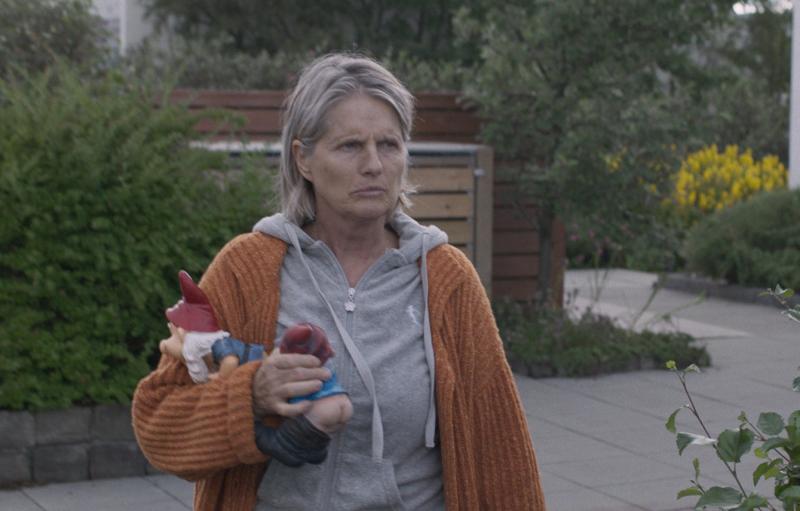 Revenge of the garden gnomes: Edda Björgvinsdóttir as Inga
If you've ever had an argument with a neighbour, watch Under the Tree and take notes. This mesmerising story of a dispute over a tree blocking the sun in a next-door garden is based, says Icelandic director Hafsteinn Gunnar Sigurðsson, on an actual domestic conflict, though surely one with less cataclysmic consequences. But trees are relatively rare in Iceland and the summer is short, so too much shade is no laughing matter.
Although billed as a suburban satire, the film is much darker and more complex than that, with death, loss, sex and broken relationships examined with a dispassionate wit. In his third feature, in which the whole cast is excellent, Sigurðsson uses actors who are known as comedians in Iceland, such as the formidable Edda Björgvinsdóttir (Inga) and Sigurður Sigurjónsson (Baldvin), and the boundary between comedy and tragedy is wonderfully fluid.
Inga and Baldvin, a retired couple, live in a Scandi-modern complex of low-rise houses in suburban Reykjavik, where their towering tree is preventing younger next-door neighbour Eybjorg (Selma Björnsdóttir, well known in Iceland as a Eurovision singer, pictured below) from sunbathing. Frowsy, embittered Inga calls her "the cycling bitch" and tells her witheringly that no one can escape reaching 40: "Us girls all get older." Eybjorg and her husband (Þorsteinn Bachmann) want Inga and Baldvin to cut the tree back. They refuse. Devastating complications follow, involving a cat, a dog, some garden gnomes and a chainsaw, while a pale sun glints through the impervious leaves of the tree.
Although it's summer, there's a grey, lowering, claustrophobic air to cinematographer Monika Lenczewska's lens, underlining the lack of communication and simmering tension that pervades. "We're here to discuss the drainage," stammers the chair of a housing meeting, but actually he's incensed by a couple having sex so loudly that it reverberates through the building. Or is he the only one who can hear it?
Inga and Baldvin's son Atli (a fine, subtle performance from Steinbor Hroar Steinborsson) tries to stop his mother blaming every mishap (slashed tires, cat going missing) on the neighbours – and her vengeance is way over the top. Dog lovers, look away. But Atli has problems of his own. He's back home with his parents because his wife has thrown him out after she catches him watching a home-made sex tape on his laptop. She presumes that he's cheating on her with the ex-girlfriend in the video. He protests, but too late.
The car-park at IKEA is about as scenic as it gets
She changes the locks and denies him access to their four-year-old daughter, driving him into a frenzy that leads him to collect the daughter early from school and take her for a lovely picnic. No lava landscapes here: they make for the IKEA car-park, which is about as scenic as it gets – where he falls asleep. Not terribly threatening behaviour, but because he's late back to school his wife reports him to the police, which brings on more frenzy.
Inga is no help to Atli as she's deranged with grief after the disappearance, probably a suicide, of her elder son Uggi some years before. Atli does not measure up. "You were always whining," she sneers at him, before cooking a leg of lamb for Uggi's birthday. The meal is eaten in silence, except for Inga tearfully singing happy birthday to her dead son. "He killed himself. Can you please stop it," says Atli, whose numb detachment in his relationship with his wife may stem from the loss of his brother. "I'm off to choir practice," says Baldvin, his usual get-out clause.
There's redemption: father and son bond over a bottle in a tent in the garden (they're keeping an eye on the neighbours at night); Baldvin visits Atli's wife and convinces her that their child's happiness is what matters most. But this promise of peace is short-lived, and Under the Tree reaches a startlingly bleak and violent climax, on a par with Fargo, that leaves you gasping.