The Eagles at Sundance - History in the Making |

reviews, news & interviews
The Eagles at Sundance - History in the Making
The Eagles at Sundance - History in the Making
New documentary tells the 40-year story of the legendary Los Angeles band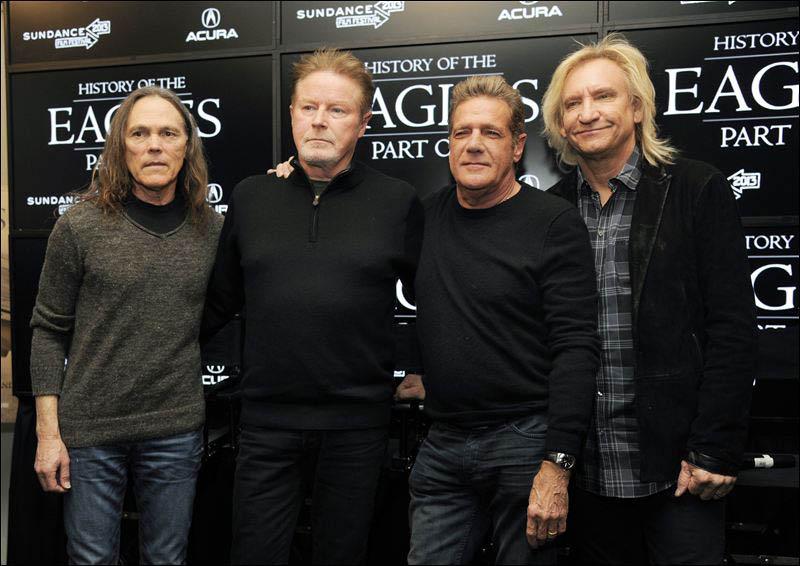 Eagles 2013 style: (left to right) Timothy B Schmit, Don Henley, Glenn Frey, Joe Walsh
The Eagles recorded their first two albums in London in the early Seventies, though they couldn't have imagined they'd be back 40 years later to present their new documentary, History of the Eagles Part One, at Sundance London. There is, as you may have surmised, also a Part Two, which is available in the DVD and Blu-ray package that goes on sale on Monday 29 April.
The band now comprises Glen Frey, Don Henley, Timothy B Schmit and Joe Walsh. Former lead guitarist Don Felder, once a major stakeholder in the cash-spinning conglomerate that the Eagles became, has been cast into limbo following a bitter and litigious falling-out with the band's twin peaks, Frey and Henley.
The fate of Felder is one of many intriguing topics explored in the two-part documentary. Mixing superb concert footage with previously unseen home movies and newly-shot interviews, it ranges across the band's musical development and flabbergasting record of commercial success, the exotic and seethingly creative Southern Californian milieu of the early Seventies, the group's relationships with managers, businessmen and each other, and the extraordinary crowd-pulling power they still possess despite an apparently irrevocable split which lasted from 1980-1994. It was directed by Alison Ellwood, whose credits include (among other things) Magic Trip: Ken Kesey's Search for a Kool Place. She was assisted in the latter by Alex Gibney (director of Enron: The Smartest Guys in the Room and the Academy Award-winning Taxi to the Dark Side, about CIA torture and the Afghan conflict), and Gibney acted as producer on the Eagles project.
Facing the press at a Mayfair's Connaught hotel, Don Henley claimed that "we wanted someone who had not done a lot of band documentaries, to avoid the sameness of that. Glenn said to our management, 'Go and find me somebody who has won a lot of awards doing documentaries about things other than bands,' so that's how that came to be."
Gibney and Ellwood signed on, explained Glenn Frey, "and they just unearthed all this incredible historical footage on us, and we proceeded to do interviews with them as they did interviews with everybody else. We gave them a long list of people that we were close to at that time and from there they did a terrific job. We didn't do a lot of 'oh you've go to take that out' or 'you need to re-do this, I have to say that'. There wasn't a lot of that required because we made a good hire and Alison is a terrific up-and-coming film director now."
Anybody with a soft spot for the harmony-drenched West Coast sound and the era's resonant historical associations will find a lot of the movie irresistible (Eagles in 1974, pictured left). It opens with a dramatic clip of the band warming up beside the stage with a soaring acapella version of "Seven Bridges Road", and goes on to cover their early history, their fledgling LA scufflings, and remorseless ascent from the sweet country rock of "Take It Easy" and "Peaceful Easy Feeling" to the funkier, rockier and vastly more ambitious likes of "One of These Nights" and "Hotel California". The film's second half covers what happened to the band members during the Eighties-Nineties interregnum, which included a plummet into substance-abuse purgatory by Joe Walsh, and how they bounced back and started conquering a slightly older planet all over again.
The notion that Ellwood and Gibney were given carte blanche to make the film however they liked would have to be classified as science fiction, since Frey and Henley keep a steely grip on how they want the Eagles presented and positioned - at the press conference they dwelt on the maturity, perspective and tolerance which, they postulate, age and fatherhood have brought them - and their career continues to be guided by Irving Azoff, one of the premier hardball practitioners in the history of the music industry.
Still, the film-makers have at least succeeded in suggesting the conflicts and out-and-out rancour that lay beneath the surface (by the time of the 1980 split, the band members could barely stand to be in a studio or on a stage together, and travelled individually). We actually hear the live recording of Frey threatening to beat Felder to a pulp when they were onstage at a benefit gig for California senator Alan Cranston, a gig Felder didn't want to play (Mk 1 Eagles, 1972, pictured above) .
As for the band's relationship with Azoff, Henley comments that "he may be Satan but he's our Satan", prompting Azoff to beam with pride. If a manager doesn't upset people as he promotes his artists' interests, he says, then he's failing to do his job. He shows the cameras around his office, and displays the only bauble hanging on the walls. It's a plaque commemorating "the bestselling album of the 20th century", Their Greatest Hits (1971-1975), the Eagles compilation which is said to have sold 42 million copies.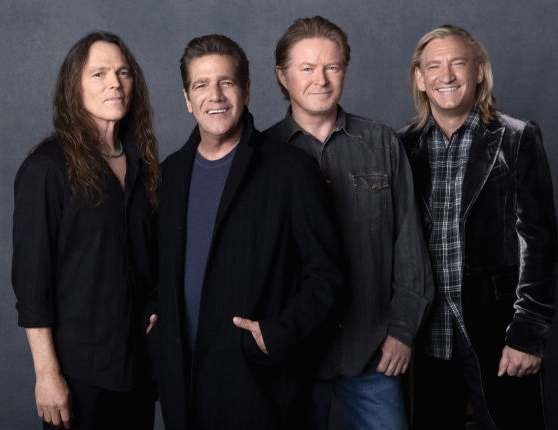 Some of the film's most touching moments involve Walsh, who comes across as a down-to-earth guy who loves playing rock'n'roll guitar and smashing up the occasional hotel room. He also became over-fond, as we see in several lurid clips, of recreational stimuli.
"It's uncomfortable seeing me when I was a mess," Walsh confessed, "but I think it's very important that that be in the documentary. When the band stopped I didn't really have a life, and I didn't know what to do and I was sad. So I pretended that we didn't stop, and basically I ended up alcoholic and dependent on substances."
It was an approach from Frey and Henley to reform the band in 1993 that pulled him out of it, since sobriety was a precondition. "There was a period of time in the early Seventies where the whole world was different and I'm not really ashamed of anything," he added. "We had an amazing journey and that was part of it."
Glenn Frey wanted to reaffirm the Eagles' new-found aura of beatitude. "Part of what this documentary has taught me is that I need to be a little more generous with myself," he suggested. "You've got to look at yourself and you have to look at your past and you have to accept who you are and what you did, be thankful that no one got hurt, say you're sorry for the things you did that were wrong, and get on with it." Don't let the sound of your own wheels drive you crazy, eh?
History of the Eagles

is released on DVD and Blu-ray on 29 April
Watch the Eagles play "Hotel California"
Frey and Henley keep a steely grip on how the Eagles are presented and their career is guided by Irving Azoff, one of the premier hardball practitioners of music business history
Share this article