Eye in the Sky |

reviews, news & interviews
Eye in the Sky
Eye in the Sky
Helen Mirren and Alan Rickman star in a morality drama with modern tech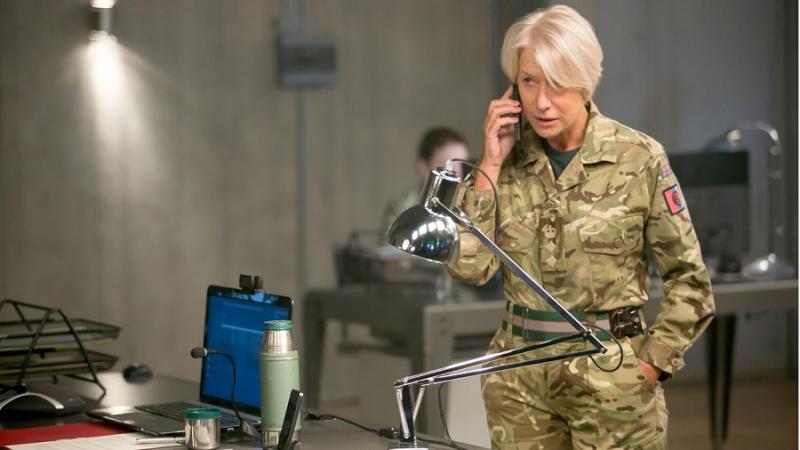 Jane Tennison in camouflage: Helen Mirren directs air traffic
Colonel Powell (Helen Mirren) has a problem: she suspects that a British woman who converted to Islam and tops the international terrorism hit list is holed up in a house in a suburb of Nairob controlled by Al-Shabaab. Can her local agent (Barkhad Abdi) fly his tiny spy drone inside the house and confirm the terrorist's identity?
And are the local military ready to capture the terrorist if she leaves? Powell is orchestrating the operation from an army hangar in Sussex thousands of miles away, with all the stern precision of a Jane Tennison in camo uniform.
Director Gavin Hood has assembled an impressive cast for Guy Hibbert's original screenplay. Alan Rickman (pictured below), in his final screen role, plays Mirren's superior, Lt Gen Frank Benson. He's called in to a wood-panelled Whitehall office to advise, as politicians on both sides of the Atlantic become involved. When the mission escalates from capture to targeted killing, USAF drone bomber pilot (Aaron Paul), joins in the moral dilemmas from his own bunker in Nevada (yet another windowless set). Calls are made to the British Foreign Secretary (Iain Glen) who is suffering from food poisoning in Singapore while attending an arms trade fair, and to his American equivalent who is playing ping-pong in Beijing on a diplomatic jolly.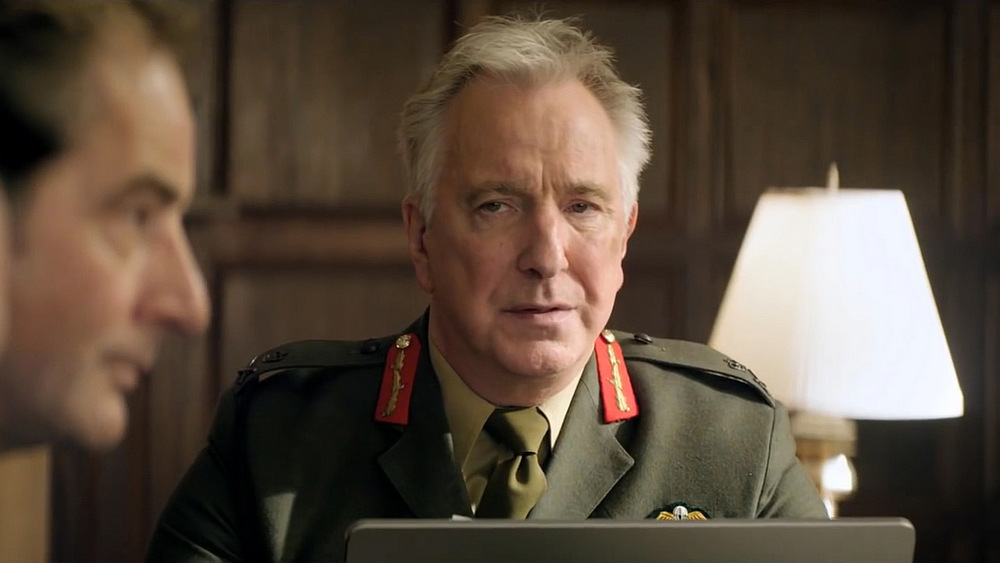 Despite the global settings, Hood filmed Eye in the Sky entirely in his native South Africa, and his cast were all flown in at different times: the four leads never acted together (they must have been delivering their lines to blue screens and stand-ins). Does this account for the somewhat stagey, stilted nature of Eye in the Sky? It's very much an actors' film, with Rickman firing off put-downs to craven politicians; lifting one eyebrow, curling his upper lip, out comes that drawling voice at once withering and velvety: "Never tell a soldier he does not know the cost of war." It's great to see Barkhad Abdi (pictured below) play a very different character from his Oscar-nominated pirate in Captain Phillips, and there's some decent novice acting by Somalian Aisha Takow as a little girl at the centre of the film's dilemma.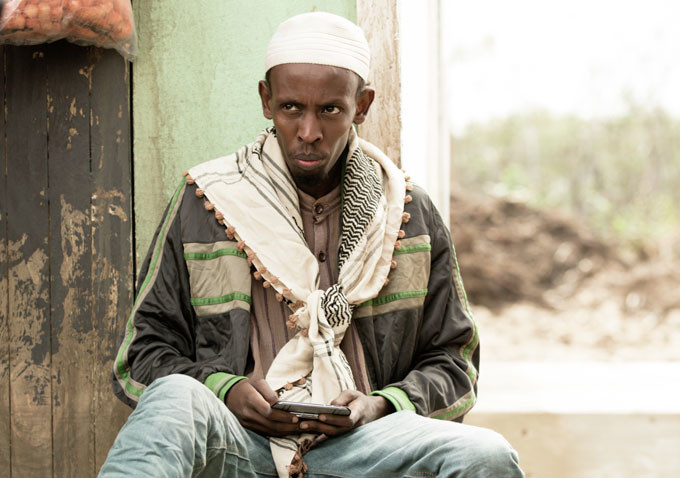 Hood and Hibbert have engaged in a joint effort to make the audience squirm through a real-time drama. We are meant to be in the room, alongside the onscreen mandarins and military specialists weighing up their options. Should Aaron Paul be ordered to pull the trigger in Vegas, sending down the Hellfire missile to blow up a house in that crowded suburb? If he does, he'll undoubtedly execute several "high-value" terrorists intent on mass bombings. But what will the media make of a British-American drone attack on a friendly sovereign nation, especially if innocent locals are "collateral damage"? The politicians worry about footage appearing on YouTube and becoming part of the anti-West propaganda war, not a dilemma faced by Patton or Churchill.
Eye in the Sky is an old-fashioned court-room-style drama which uses the latest technology. Its aim is to force the audience to confront the ethics of remote-control warfare, and encourage us to despair at self-interested politicians endlessly referring up to absent superiors. But it is not the nail-biting thriller it wants to be, not helped by the pitfalls of casting to type (Monica Dolan is too familiar from W1A as an arse-covering wonk). You know you're not gripped when there's too much time to look around the sets and see the artifice.
Overleaf: watch the trailer to Eye in the Sky