Hall Pass |

reviews, news & interviews
Hall Pass
Hall Pass
The Farrellys go gross and grosserer in an extramarital comedy with knobs in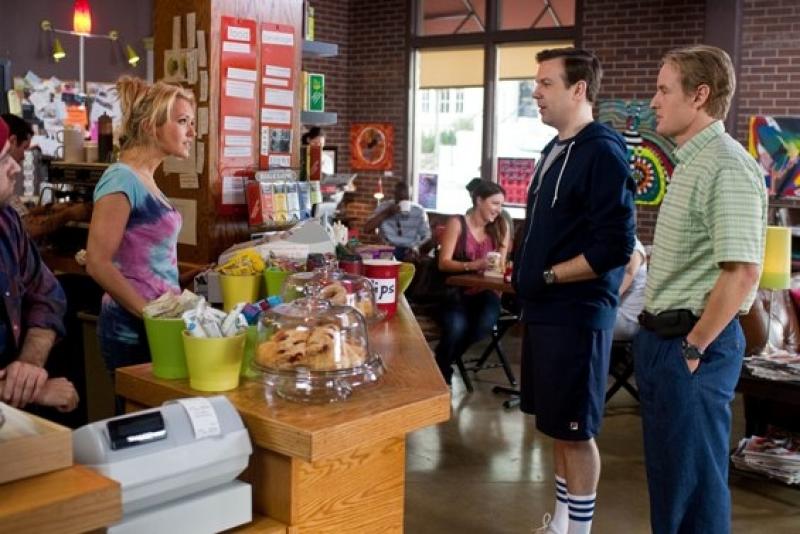 Skinny or extra cream? Nicky Whelan fields the moves of Jason Sudeikis and Owen Wilson in 'Hall Pass'
It is regularly cited as quite the grossest moment in the Top 1000 gross moments in gross-out comedy. Flooping out of Ben Stiller, dangling off his earlobe, whence Cameron Diaz takes a pinch to stiffen her hair flick: the world-famously icky spunk-gel sight gag. The Farrelly Brothers have never been ones to duck a gross-out challenge, and in Hall Pass they may have just knocked their own There's Something About Mary off the Number One slot.
Without bothering to rummage around the history of Things You Never Knew They Could Show in a Family Film, there's a shot in here which pushes the envelope by several inches. About 10 of them. Possibly 12. Getting the picture?
Hall Pass finds the Farrellys giving another outing for their phallocratic Weltanschauung, which can be summed up as: "Yes indeed, the sperm-donating gender mostly consists of unreconstructed Neanderthals, but you got any better options for ensuring the survival of the species?" This time round the pair of representatives up on screen are several notches up the evolutionary scale from the halfwits in Dumb and Dumber (and Dumb and Dumberer) and the conjoined twits of Stuck on You.
Owen Wilson and Jason Sudeikis play two married men, paired in the traditional formulation of leading man and slightly flubbier sidekick. They've got kids, mortgages, jobs, the whole bit. But a small part of them is retroactively parked in adolescence, the part that drools incessantly over passing females. Soon enough, a couple of indiscretions and misdemeanours down the line, their philosophical wives (Jenna Fischer and Christina Applegate) have both handed out a so-called hall pass: a week to get the permanent erection out of their system.
From the moment the whistle blows you know where we're headed. These would-be lotharios are too old for this stuff, and so out of shape that their posse who have booked a ringside seat – a fat guy, a dude and a dork played by (who else?) Stephen Merchant - have sloped off by the end of day two. By day seven – no, by the midway point of the trailer - you just know they'll be gagging for their wives, who have disappeared off to the coast, to rescue them from their own libidos.
Watch the trailer for Hall Pass
As ever, the Farrellys like to keep their homilies super-simple. Along the way there's a series of set-piece capers – seduction fail in a nightclub, a hash-fuelled buggy chase on a golfcourse etc. Sudeikis does the far-out stuff, jerking off, getting punched, arrested, puked on etc. One of the posse takes a dump in a fairway bunker. But Wilson has the headline moment. Losing the girly blond tresses and roping a tie round his neck, he plays a less swaggering version of his regular cut-out-and-keep screen persona. When he takes his shirt off he's not even remotely ripped.
His quarry is an Aussie barista (Nicky Whelan) whom he pursues into a gym, where he falls asleep in a Jacuzzi and has to be rescued from drowning by two monstrously huge men. And, at least in one case, huge specifically relates to an anatomical area of which men particularly like to hear the word applied. The other one's is not in the least bit huge. Wilson's head resting on another man's thigh, in close proximity to an Afro-American truncheon? It's an audacious sight gag addressing male anxiety about size and potency that belongs in a much more – or even less - sophisticated comedy. Can't quite decide which.
Hall Pass pays eventual homage to the state of matrimony, but it wants its hall pass too so that the camera can gawp at hot skinny babes. The Farrelly Brothers are acquainted all too well with what makes men tick. How about women? A legendary womaniser lustily played by Richard Jenkins shares his psychic knowledge of female animal behaviour with the Farrellys' screen alter egos (gallery 3). But in the end no male involved in this film, either on screen or on the screenplay, gives the first sign that they care what goes on inside women's heads. The wives' narrative – out on vacation they are relentlessly pursued by dreamboats – are joined by dots, while back in the city the women are mostly all pneumatic predators. So this is probably the Farrellys Brothers' most honest film yet. There's gross and there's grosserer.