The Hitman's Bodyguard - potty-mouthed, turgid waste of talents |

reviews, news & interviews
The Hitman's Bodyguard - potty-mouthed, turgid waste of talents
The Hitman's Bodyguard - potty-mouthed, turgid waste of talents
Formulaic high-end action movie fails to challenge Samuel L Jackson and Ryan Reynolds
No cliché is left unturned in this odd-couple action comedy. Ryan Reynolds and Samuel L Jackson are the salt 'n' pepper rival bad-boys on the run. Cue shoot outs and high-speed vehicle chases through assorted European cities, interspersed with routine bouts of mutually insulting dialogue before bromance blossoms. Come back, Eddie Murphy/Nick Nolte, Chris Rock/Anthony Hopkins, Will Smith/Tommy Lee Jones, Mel Gibson/Danny Glover, all is forgiven.
Ryan Reynolds plays Michael Bryce, a professional bodyguard who loses his élite status when a wealthy client is taken out by a mystery sniper on his watch – this is shortly after we've endured a split-screen, pre-title sequence composed of men's magazine lifestyle-porn shots of Bryce's modernist glass house, foam-packed cases of armaments and special edition Jaguar.
Who knew it was so difficult to shoot a man driving a powerboat on a straight canal?
Reduced professionally to escorting a cocaine-crazed exec (Richard E Grant) out of a London office just before it explodes, Bryce is then enlisted by ex-lover and Interpol agent Amelia (Elodie Jung) into protecting professional hitman, Darius Kincaid (Samuel L Jackson) from Manchester to the Hague where he's needed as a witness in the war crimes trial of Dukhovich, an evil Belarus dictator (Gary Oldman). Dukhovich has sent hitmen to terminate Kincaid before he can get to the court. At this point, I found myself Ionging for the days when Gary Oldman did more than put on a dodgy eastern European accent and some prosthetics and was allowed to show his real acting chops.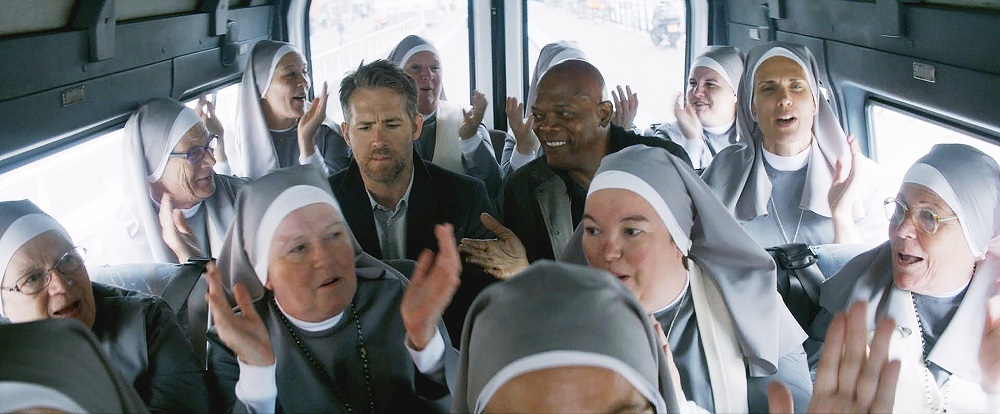 Throughout the film an iPod shuffle soundtrack is deployed drawn from the Grand Theft Auto playlist, turning every action sequence into an oh-so-ironic music video. Foreigner's "I Want to Know What Love Is" plays out against slo-mo slaughter at a funeral (complete with flying canapés and corpses); grating heavy metal enhances torture by a tattooed henchman; Ram Jam's version of "Black Betty" provides the earworm for a chain-choking scene in a hardware store. Unfortunately, in the wake of Baby Driver with its niftily executed marriage of music to action, The Hitman's Bodyguard fails to hit any new beats.
The action scenes mimic Bond movies – aerial vistas of London and Amsterdam highlight tourist landmarks and there's much vaulting from buildings and ingenious vehicle swaps. It's a high-cost production but with odd moments of sloppiness in the CGI: among the many matted-in fireballs there's a dubious windmill just in case you missed out that our heroes are in Holland. There's no shortage of hardware, explosions and eviscerated baddies but it's all a bit baggy. An Amsterdam-set chase sequence goes on for so long (involving trams, motorbikes, 4WD and boats) that you almost feel sorry for Dukhovich who just can't seem to hire assassins who can aim. Who knew it was so difficult to shoot a man driving an open-topped powerboat on a straight strip of canal?
When not involved in chasing and shooting, the two leads settle down to lengthy exposition on their lives (cue a dirge-like flashback to formative childhood traumas designed to engender sympathy for Kincaid's career choice as paid killer). Our heroes debate their relative moral superiority: 'Who is more wicked? He who kills the evil motherfuckers or he who protects them?'; but even more turgid is the endless banter about romance and Bryce's regrests about losing his Interpol sweetheart (Elodie Yung). After the umpteenth splurge of motherfuckery I had a craving for Jackson's character to meet up with Peter Capaldi's Malcolm Tucker from The Thick of It for a serious swear-off.
Salma Hayek is entertaining as Kincaid's sassy wife, locked up conveniently close to the Hague court so he can divert from the main action and impersonate the Milk Tray man delivering lovegifts. There's some unintended amusement to be had in the odd casting of the two Interpol bosses – played by actors who could double as look-alikes for Katie Hopkins and Ilie Nastase – but a comedy scene hitchhiking with a van full of nuns is just painfully stupid. Both Jackson and Reynolds have given far better performances in similar roles; revisiting The Long Kiss Goodnight or Deadpool would make more rewarding viewing than shelling out for The Hitman's Bodyguard.
Overleaf: watch the trailer for The Hitman's Bodyguard
There's no shortage of hardware, explosions and eviscerated baddies but it's all a bit baggy
rating
Explore topics
Share this article
Subscribe to theartsdesk.com
Thank you for continuing to read our work on theartsdesk.com. For unlimited access to every article in its entirety, including our archive of more than 10,000 pieces, we're asking for £3.95 per month or £30 per year. We feel it's a very good deal, and hope you do too.
To take an annual subscription now simply click here.
And if you're looking for that extra gift for a friend or family member, why not treat them to a theartsdesk.com gift subscription?