Hitsville: the Making of Motown - a thrilling celebration of the record label's heyday |

reviews, news & interviews
Hitsville: the Making of Motown - a thrilling celebration of the record label's heyday
Hitsville: the Making of Motown - a thrilling celebration of the record label's heyday
As efficient as a car assembly line: British directors Ben and Gabe Turner explore the secrets of Berry Gordy's success
Competition breeds champions: Smokey Robinson (left) and Berry Gordy
Berry Gordy, who founded the Motown label in Detroit in 1959, borrowed his star-maker machinery from the car assembly line. When he worked at the Lincoln-Mercury plant he was inspired by how a bare metal frame would emerge as brand new car. "What a great idea! Maybe I could do the same thing with my music. Create a place where a kid off the street could walk in one door, an unknown, go through a process, and come out another door, a star."
That process worked. Motown became the largest black-owned business in America. This joyful 60th anniversary documentary by British directors Ben and Gabe Turner, founders of the film production company Fulwell 73 (Carpool Karaoke, I am Bolt, The Late Late Show), is the first to be made with Gordy's authorisation. Why the Turners? The CEO of Capitol Music saw The Class of '92, their 2013 doc about Manchester United, and liked its style.
Having Gordy as executive producer has its pros and cons – there have been litigations over the years, and the film doesn't touch upon those or other negative stories such as Diana Ross's high-handed behaviour, particularly when she was Gordy's lover, or the suicide of Florence Ballard, one of the Supremes, or Marvin Gaye's drug problems. But that's not its point: it concentrates on the company's early years when Detroit was a flourishing city, and the sheer pace of the stories of how hits were made, the rare archive footage and the fabulous soundtrack – though you want the clips to be longer – are mesmerising.
The first scene is an audio recording of the fiercely efficient weekly Motown quality control meeting. "Competition breeds champions," says Gordy, "but you can't let the competition get in the way of the love. Though it always did." Champions indeed: the list of stars on the agenda is mind-blowing – Marvin Gaye, Stevie Wonder, The Supremes (it took years for them to get a hit), The Miracles, Martha Reeves and the Vandellas, the Temptations. Just for a start.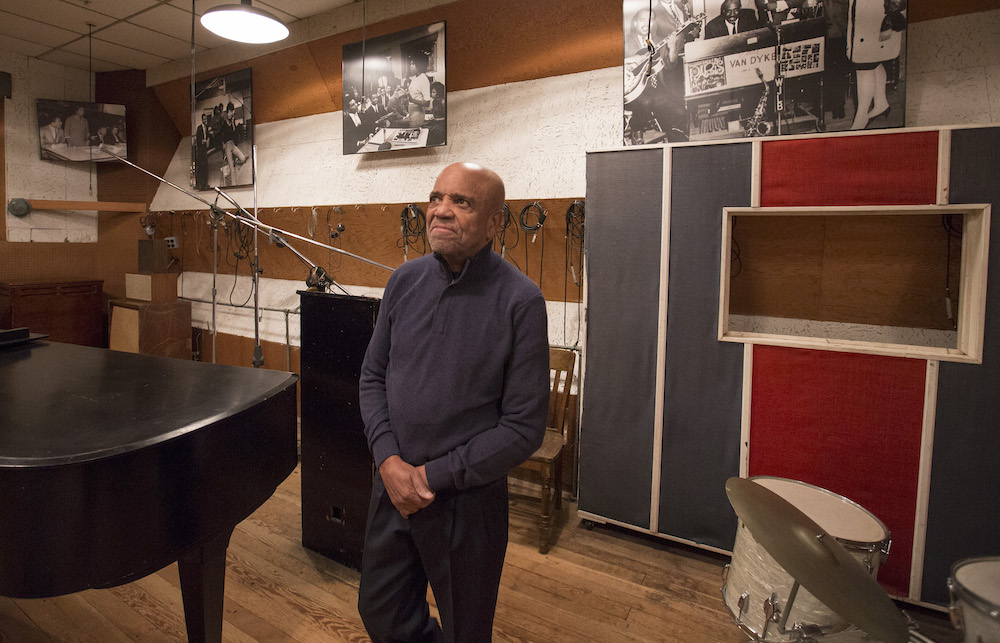 The film creates fascinating flow charts and diagrams to illustrate the various departments in charge of the different disciplines within the hit factory. It's structured around best friends Gordy (an incredibly sprightly 90 years old: he retired last week) and Smokey Robinson, whose early songs Gordy thought were too rambling. There they are together, bantering, laughing, making a bet over who was the first to record "I Heard It Through the Grapevine" (Smokey peels off a $100 bill without blinking), in the original Hitsville USA premises in Detroit (Gordy moved Motown to LA in 1972, not entirely successfully).
The music and the acts themselves, as well as interviews with key people – Mary Wilson, the Four Tops' Duke Fakir, the surviving Jacksons, the Holland-Dozier-Holland creative team, whose bitter exit from the company isn't explored, and the Funk Brothers, the studio musicians who played on every Motown hit along with legendary bassist James Jamerson – are fascinating. Dr Dre, Sam Smith, John Legend, Oprah – even Neil Young, who was briefly signed to the label – all testify to the impact of Motown, with Oprah recalling her excitement at seeing "coloured people on television" for the first time when the Supremes were on the Ed Sullivan Show. Martin Luther King credited the music with helping in the civil rights movement, though the Black Panthers were less enthusiastic.
Here's Michael Jackson, aged 10, auditioning with the Jackson 5 in 1969 and singing a Smokey Robinson song, "Who's Loving You". His singing and dancing are breath-taking. Gordy already had one child genius on his hands – Stevie Wonder's ability to play any instrument at 11 years old is a sight to behold. It was Motown that christened him "Little Stevie Wonder". He was still 11 when he made his first album, 13 when his first hit, "Fingertips", reached number one in 1963.
Gordy rightly believed that "music has no colour, just a feeling" so white America would want to buy Motown records just as much as black. He employed a half-Sicilian sales and promotion exec, Barney Ales (usefully, distributors and radio stations thought he was in the Mafia), who established a white sales team, important in unlocking doors to the mainstream music establishment. "We don't serve coloured people," he and Gordy were told when they went to a Detroit restaurant together. "Good, because I don't eat them," Ales shot back. And etiquette instructor Maxine Powell prepared Gordy's artists for meeting presidents and royalty (one of her directives was "You do not protrude the buttocks.")
Anecdotes abound. When the Temptations toured the South in the mid-Sixties, there was a rope up the middle of the audience, separating whites from blacks. When they returned in 1968, the rope was gone and everyone was dancing together. But not everything went smoothly. In spite of his "innovate or stagnate" maxim, Gordy was "petrified" when Stevie Wonder wanted to reorganise his whole deal when he turned 21, and he didn't like Marvin Gaye's new political direction in "What's Going On" either, though he ended up granting them artistic freedom. He had to admit that "people are not cars".
Hitsville ends with Smokey and Gordy singing the Motown company jingle (other artists, when encouraged to do so, are strangely bashful): "We are a very swinging company/ Working hard from day to day/ Nowhere will you find more unity/ Than at Hitsville USA!"
Gordy believed that music has no colour, just a feeling
rating
Explore topics
Share this article
Subscribe to theartsdesk.com
Thank you for continuing to read our work on theartsdesk.com. For unlimited access to every article in its entirety, including our archive of more than 10,000 pieces, we're asking for £3.95 per month or £30 per year. We feel it's a very good deal, and hope you do too.
To take an annual subscription now simply click here.
And if you're looking for that extra gift for a friend or family member, why not treat them to a theartsdesk.com gift subscription?