Joan of Arc review – tough little number |

reviews, news & interviews
Joan of Arc review – tough little number
Joan of Arc review – tough little number
Part Two of Bruno Dumont's musical biopic ranges from scathing to compassionate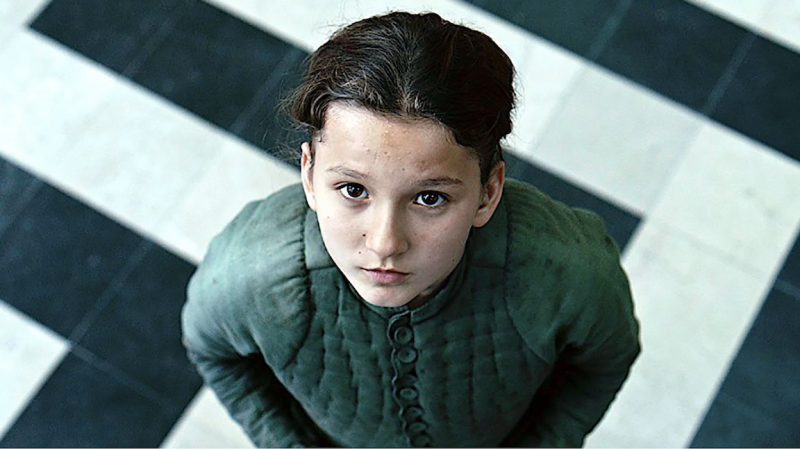 The defiant one: Lise Leplat Prudhomme in the title role of 'Joan of Arc'.
Jeanne d'Arc was 19, she believed, when she was tried for heresy by her English enemies in Rouen in 1431. Of the actors who have played her onscreen – Falconetti, Ingrid Bergman, Jean Seberg, Leelee Sobieski, Milla Jovovich among them – none has evinced more wolf-cub-like fierceness or childlike purity of purpose than does Lise Leplat Prudhomme.
That's because Prudhomme was 10 when she portrayed Jeanne from age 17 onwards in
Joan of Arc
, Bruno Dumont's sequel to his 2017
Jeannette: The Childhood of Joan of Arc
.
Prudhomme appeared in the first half of Jeannette as the little girl shepherdess who receives saintly visions and sings and dances to pastoral songs that morph into death metal anthems, performed by the genre-mashing multi-instrumentalist Igorrr, as she experiences religious ecstasy. Jeanne Voisin, the young woman who played the adolescent Jeanne in the film's second half, apparently changed her mind about continuing in the role in Joan of Arc. Dumont, left in the lurch, turned to Prudhomme.
Given her tender years, she embodies in her perfomance the surreal youthfulness of the peasant mystic-warrior who led the French army to victories at Orléans, Patay, and Troyes, enabling Charles VII's consecration, during the Hundred Years War. It was an inspired move by Dumont – less gimmicky than the casting of kids as hoodlums and molls in Alan Parker's Bugsy Malone (1976), more in line with Dennis Potter's choosing adults to magnify the mannerisms of the kids they play in Stand Up, Nigel Barton (1965) and Blue Remembered Hills (1979), an incongruity also used in the 1969 Monty Python "Children's Interview" sketch featuring Eric Idle and Michael Palin as schoolboys.
In Joan of Arc's first act, Jeanne consults with her captains on scrubby sand dunes near World War II military emplacements and their ruins (Prudhomme, pictured below) while the battles rage offscreen. The devil-faced punk with running sores who angrily upbraids her for preaching to the troops about "God, love, sin, prayer," instead of encouraging them to go looting, is the future mass-murderer of children Gilles de Rais (Julien Manier).
Jeanne's soldiering career collapses with defeat by Burgundian forces at the siege of Compiégne, depicted by Dumont as a dreamy, aerially photographed equestrian ballet, choreographed like a Busby Berkeley routine, in which the rival cavalries wheel around each other but don't engage. There's a suspicion that Dumont is mocking such artifice even as he uses it for a mildly diverting spectacle. More affectingly ominous is a subsequent shot, announcing the absent Jeanne's capture, in which her riderless horse canters into a clearing.
The rest of the film stresses the tragicomic absurdity of Jeanne's show trial, which was filmed in Amiens' dauntingly huge cathedral. The defiant androgynous riot grrrl unflinchingly confounds the corrupt, hypocritical high-ranking clerics and ecclesiastical scholars sent to convict her. They disingenuously offer her clemency while conspiring to ensure that the secular authorities will take full responsibility for burning her at the stake.
Never averse to scolding the Catholic Church for its crimes, the religious atheist Dumont adapted his spartan non-naturalistic diptych from Charles Péguy's play The Mystery of the Charity of Joan of Arc (1910). The topsy-turvy casting serves as a Brechtian device, intentional or not, that distances the viewer from the physical circumstances of Jeanne's military campaigns and the ensuing courtroom drama to emphasize, through Péguy's words, her rational, humanistic ideas in the face of her prosecutors' cant. As her chief denouncer, the gangling Fabien Fenet channels John Cleese in wild-eyed loon mode, echoing Monty Python's influence on Dumont's grand guignol comedy Slack Bay (2016), which also featured Fenet as a clergyman.
Instead of heavy metal, Jeanne now hears the late Christophe's fragile synth pop tunes and his anxious, scratchy singing of lyrics drawn from Péguy. If the songs don't quite come off as bulletins from Jeanne's interior monologue, they suit the strange blend of scrappiness, gracefulness, and deadpan humour that characterizes Dumont's recent films.
Departing from the bleakness and shock tactics of such early provocations as La Vie de Jésus (1997) and Humanité (1998), Dumont showed signs of mellowing with P'tit Quinquin (2014), the heartfelt murder mystery miniseries that remains his best work, and the dotty Slack Bay (for all its cannibalism). Though his Joan of Arc films feel like preparatory experiments for the masterpiece he has yet to deliver, they suffice as semi-whimsical works of scathing criticism and surprising compassion. You have to cheer a wise, self-sacrificing hoyden heroine who speaks to this century as she did the 1500s: "Men are what they are, but we must think about what we must be".