John McEnroe: In the Realm of Perfection review - a fascinating oddity |

reviews, news & interviews
John McEnroe: In the Realm of Perfection review - a fascinating oddity
John McEnroe: In the Realm of Perfection review - a fascinating oddity
Love movies, love tennis, love this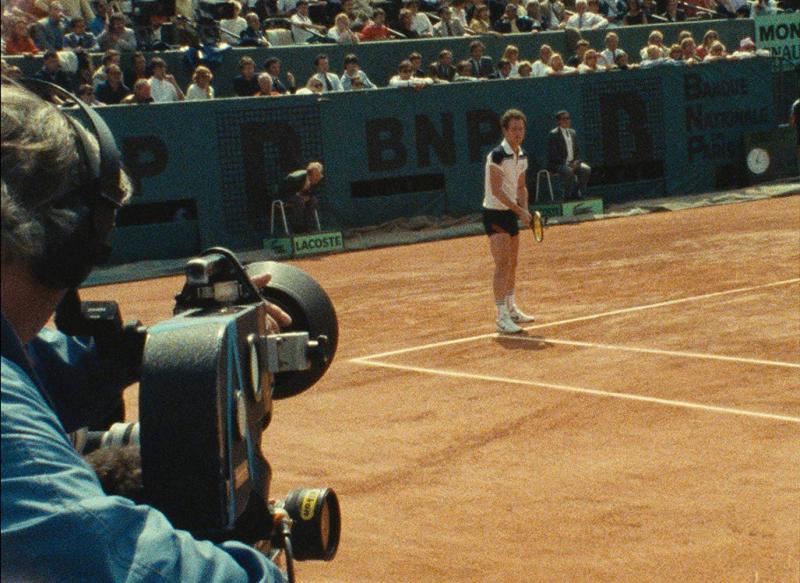 Gil de Kermadec's 16mm cameras were clunky and noisy
Film buffs who are also tennis fans (there must be quite a few of us who fit in that particular Venn diagram) will love this quirky and experimental documentary by Julien Faraut, which uses archive footage and narration to examine the idea of a shared passion for cinema and sport, and how they may unite on film.
Faraut, as actor Mathieu Amalric explains in the voiceover, was working in the archives of the National Sport Institute in Paris when he discovered a huge pile of film reels by fellow Frenchman and documentarian Gil de Kermadec. They were part of a series of instructional 16mm films commissioned by the institute in the 1970s and 80s, made in collaboration with the French Tennis Federation. Each focused on a particular tennis star – including Guillermo Vilas, Bjorn Borg and Jimmy Connors - playing at the French Open. Between 1981 and 1985, his subject was John McEnroe.
The red clay of Roland Garros lends itself to the large screen; it's a superb, garish backdrop for a cinematographer's work, and the archive captures McEnroe when he was at the height of his powers – in 1984 he had an 82-3 singles winning record, which still stands.
In one of several informative anecdotes, Faraut tells how de Kermadec was once offered television footage rather than shooting his own 16mm film courtside with clunky cameras that whirred noisily (or too noisily for McEnroe at least). The filmmaker refused, and one sequence shows the acuteness of his decision.
On TV, we are used to seeing the equivalent of chop cuts or court-long views as the ball moves from one side of the net to the other. De Kermadec, using cameras at various angles and positions on court, concentrated solely on 3/4 shots of McEnroe (his opponents are barely seen) and in Faraut's edit we linger on the American and see him strain every sinew to close out each and every point. The accompanying music, much of it stirringly emotive, is no doubt to remind us of the operatic and heroic elements of physical grace and superhuman effort present in sport played at this level.
The film is a witty and impassioned study of the game and the art of directing – sports stars and filmmakers are, we see, both rigid in their pursuit of perfection – underlined by the quote from Jean-Luc Godard that bookends the film: "Cinema lies, sport doesn't".
Faraut has devised a memorable soundtrack, too – Sonic Youth is blasted out at one point (a choice that would no doubt please McEnroe, a keen amateur musician with his own rock band), while a slow-motion sequence is shown to a Mozart accompaniment.
There are other amusing and inspired touches, too: Robert De Niro's "Did you fuck my wife?" speech from Raging Bull is played in the background as we see McEnroe in one of his rages at the umpire. The only thing missing is a to-camera contribution from McEnroe, who may have been able to reminisce with his usual dry humour.
The film has a timely release for tennis fans in the week before this year's French Open; it's an oddity but a fascinating one.
Read more films reviews at theartsdesk