My Golden Days review - a mesmerising tale of heartbreak |

reviews, news & interviews
My Golden Days review - a mesmerising tale of heartbreak
My Golden Days review - a mesmerising tale of heartbreak
French independent feature shines through honest, raw lead performances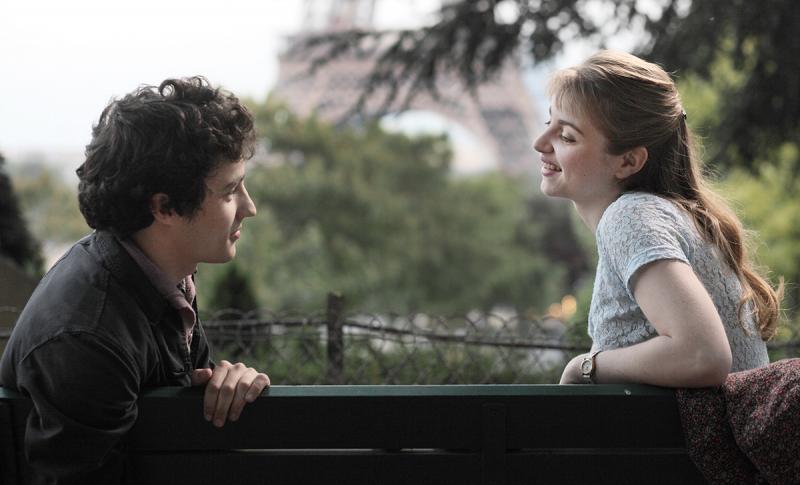 Newcomers Quentin Dolmaire and Lou Roy-Lecollinet bring charm and honesty to their debut feature
Arnaud Despelchin's My Golden Days is a strange beast; it is both a sequel and prequel to the gloriously titled 1996 film My Sex Life…or How I Got into an Argument. Yet it tells its own story in the life of Paul Dédalus (Mathieu Amalric).
Its original
French
title
Three Memories from My Youth
is more interesting and accurate than the bland UK release title, which sounds more like a silver screener starring a selection of British dames.
Paul Dédalus is heading back to Paris after many nomadic years as an anthropologist across central Asia. Feeling nostalgic, he first reminisces about his troubled childhood: flashes of major events or random insignificances, which like all memories of infancy contain little coherent narrative but plenty of character building. During an incident with French immigration, he then tells a story from his teenage years about when he donated his passport in Minsk, helping a Russian refusenik emigrate from the Soviet Union.
However, it is the third memory – that of his long-term teenage relationship with Esther – which dominates the film. Spanning between Roubaix and Paris, Paul and Esther share a relationship that can only exist in French film: together they tour art galleries or hold impossibly cool house parties; when apart, they sleep with other people and correspond through philosophical love letters, softly mumbled through a haze of cigarette smoke. (Everything is done through a smoky haze.)
The script sounds full of clichés, but Despelchin is a filmmaker who finds the human truth in his stories. The teenage duo Paul and Esther, played by first-timers Quentin Dolmaire and Lou Roy-Lecollinet, are a magnetic couple who say more with a stare than others could with a paragraph. Their journey from casual flirtation to mutual reliance is entirely believable. If anything, it's even disappointing that the denouement of their relationship is missing – My Sex Life… starts with the couple in their 10th and final year together.
The dense dialogue implies more than it reveals. If the script has a weakness it is that Esther - impulsive, contradictory, and existing solely as a girlfriend for Paul - could only have been written by a man. Arguably she appears as Paul remembers her – the whole narrative is from his perspective, and he is a likeable but misogynistic narcissist. It is sometimes hard to tell how much this is Paul speaking, and how much Descpelchin, especially in unchallenged statements such as "I'm not fond of women's intelligence. I find it ordinary."
And yet the film is an undeniable pleasure, with a wicked sense of humour and real heart. Every precise close-up or long shot exposes the characters' body language, creating a fierce intimacy in every scene. Its stories and conversations don't amount to a unified plot, but they portray a coherent human being in Paul. Like the man himself, My Golden Days is honest, charming, and flawed movie.
They sleep with other people and correspond through philosophical love letters, softly mumbled through a haze of cigarette smoke
rating
Explore topics
Share this article