Jupiter Ascending |

reviews, news & interviews
Jupiter Ascending
Jupiter Ascending
It's best to to take the Wachowskis' cosmic epic with a pinch of fairy dust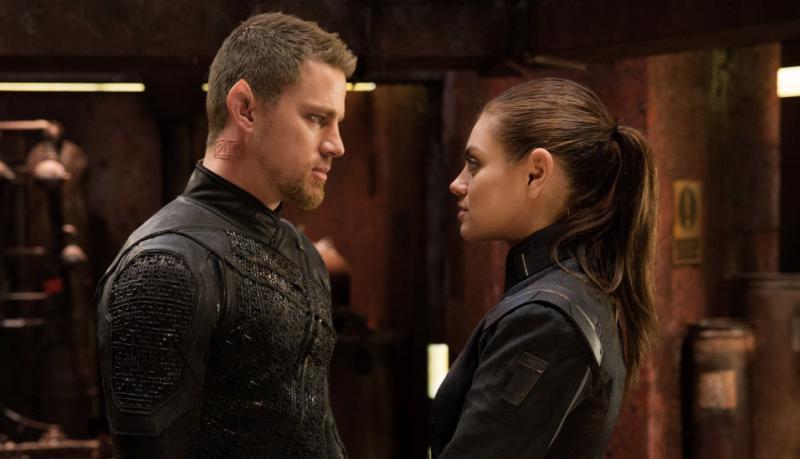 Across the universe: will love blossom for Channing Tatum and Mila Kunis?
The Wachowskis' sci-fi blockbuster has been getting a kicking from the Stateside critics, but perhaps that's because it's a bit of a shape-shifter with multiple personalities. Part dystopian fantasy, part fairy tale, part cosmic epic, all rolled up in a whole lot of astonishingly vivid special effects, Jupiter Ascending is like spending a day at Alton Towers with your brain marinating in mescaline.
Admittedly I was fortunate enough to see this on an IMAX screen in 3D, but I tottered from the exit afterwards with my senses authentically jangled. Two hours of intergalactic travel aboard space ships that resemble birds, insects, cathedrals (the nave of Ely Cathedral is embedded into the celestial CGI at one point) or jagged collections of flying cutlery held together by gravity will do that to you, along with an astoundingly kinetic air battle between rival bounty-hunters above the skyscrapers of Chicago and the whizzy anti-gravity shoes used by star-trooper Caine Wise (Channing Tatum). Channing himself has been having trouble describing the movie. "Lana and Andy Wachowski create from a molecular level to the expanse of the universe," he commented. I've got some valium if that might help, Channing. (Terry Gilliam, pictured below).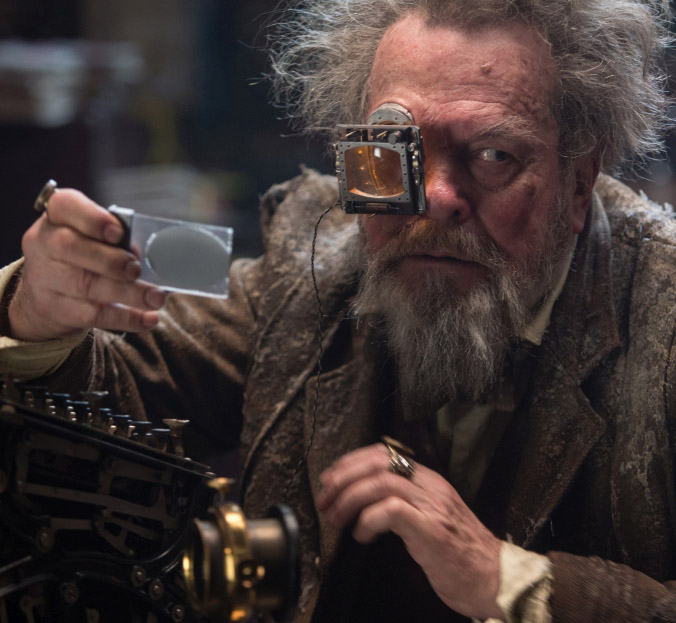 It's difficult to keep up with who's doing what to whom as the story pinballs around the space-time continuum, but when you boil the plot down to the bare bones, there isn't that much there. And you've probably heard most of it before. Mila Kunis plays Jupiter Jones, daughter of a murdered Russian astrophysicist (James D'Arcy) now living a dog's life cleaning other people's lavatories in Chicago with her widowed mother (Maria Doyle Kennedy, alias Mr Bates's first wife from Downton Abbey). As weird visitors from another world begin to seep into her peripheral vision with murderous intent, she learns that she's an exact genetic replica (a "Recurrence", if you will) of a woman who used to be the controlling matriarch of the House of Abrasax, from a galaxy unknown to us.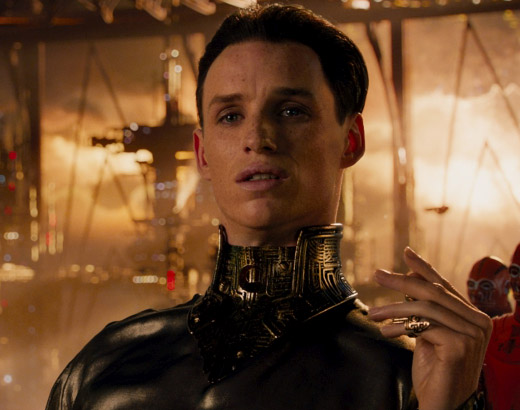 Long story short, Jupiter is the rightful and royal heir to the Abrasax empire, or would be if she could escape being assassinated, which controls vast business interests across the cosmos. These include, but are by no means limited to, using the Earth's population as a human harvest which can be converted into an eternal-life serum, which is naturally quite valuable. It's Caine who must protect Jupiter from the various teams of killers sent by the jealously warring Abrasax siblings if she is ever to claim her rightful inheritance, though the poor girl hasn't a clue what's going on and just wants to get back to her humdrum existence in Illinois. Classic echoes abound, from King Lear and The Odyssey to the Cinderella myth, and perhaps a glimpse of the Warchowskis' Matrix series.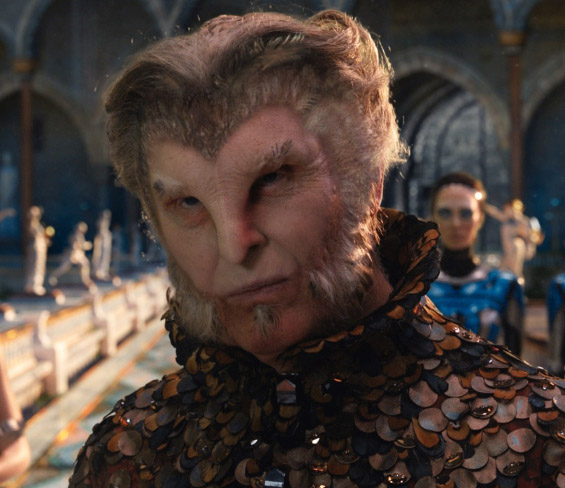 Anyway you can forget all that and just bathe in the warp-speed special effects, while enjoying some nifty cameos from a terrific mostly British cast. Jeremy Swift is just the right side of ludicrous as Vassily Bolotnikov, Jupiter's bossy Russian relative, while Tim Pigott-Smith (pictured right) is still quite recognisable despite being made up to resemble a rather pompous owl. Man of the hour Eddie Redmayne (pictured above) is genuinely sinister as Balem Abrasax, hissing like a dehydrated vampire in his determination to seize control of the family empire, and Tuppence Middleton gets to demonstrate the amazing effects of a bath in the rejuvenating potion. Sean Bean wrings a little more mileage out of the old-soldiers-never-die routine as space-wars vet Stinger Apini, while Terry Gilliam makes a rare screen appearance as the fusty and ancient "Seal and Signet Minister" in a distant bureaucracy reminiscent of his own movie, Brazil.
Sprawling and over-long as it is – the climactic sequence is like one of those huge Romantic symphonies which can't find a way to stop – this is a movie with a good heart and a sense of humour. Make sure you see it in 3D though.